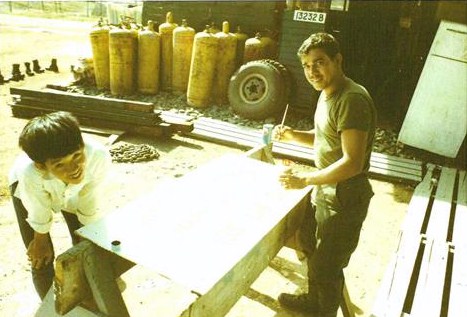 Ta Tran and Morales(?) at BMB, December 1969.

Very recently, I received a very nice and unexpected email from Mr. Ta Tran, who currently resides in Texas. As it turns out, Mr. Tran is an honorary Redcatcher, having worked at the Brigade Main Base in 1969 and 1970. This is his amazing story.
"I was born in North Vietnam and in 1954, my family and I moved south to escape the Communist takeover when the country was divided into North and South Vietnam. I moved to Ho Nai Village, which in time would be right across the road from the 199th's Brigade Main Base."
"As a teenager, I was going to school for half a day and then working at BMB for the 199th as a civilian interpreter for the rest of the day. I also oversaw the other civilian employees that were on post. Because of financial hardships, I had to quit school and went to work full time at BMB for the DIC and 1Lt. Willard Grummert. I was 16 years old at the time."
"I am in great debt to the folks that I worked for in the 199th. Because of this, my English improved greatly and at the age of 18, I joined the Vietnamese Navy with a medical occupational specialty. I trained in the United States from August of 1972 until June of 1973 where I then returned to Vietnam. When the country collapsed in 1975, I was evacuated to the United States."
"Looking back on all of this, I don't know where I would be now without my association with the 199th Light Infantry Brigade."
"After almost 40 years, I had the opportunity to re-connect with Lt. Grummert. The reunion was very emotional. He gave me the picture that is posted above."
WELCOME HOME TA TRAN!