After months of fighting and patrolling in the vast expanse of endless nipa-palm groves and sweltering rice fields in the Pineapple Region south and southwest of Saigon, the Brigade was ordered northward into the triple canopy jungles of Long Khanh Province in late 1969. The 199th would stay there until October, 1970. 1LT BJ Khakifah records this movement for A/5-12.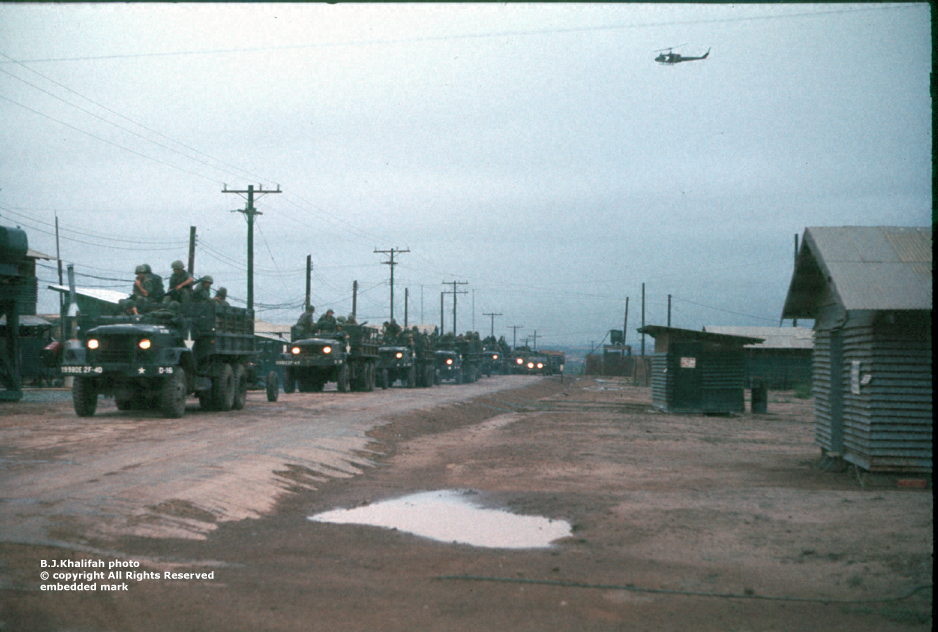 We assembled at BMB before dawn. The convoy left BMB when we had enough light.
5/12/199, June , 1969. Moving up to Fire Base Libby, Long Kahn Province.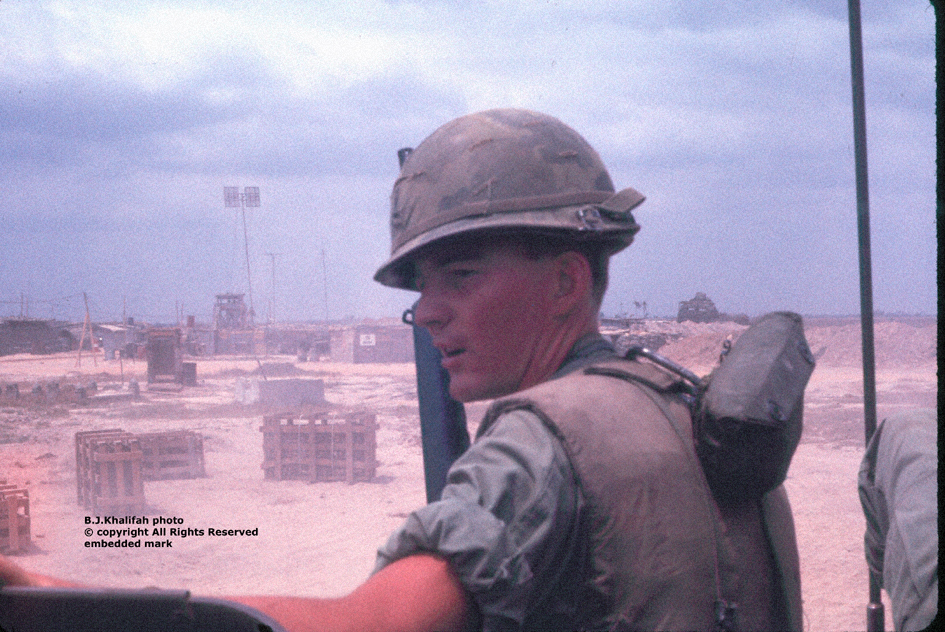 PFC Hector Perez (Puerto Rico) had his M-60 machine gun at the ready the entire trip. He was always alert.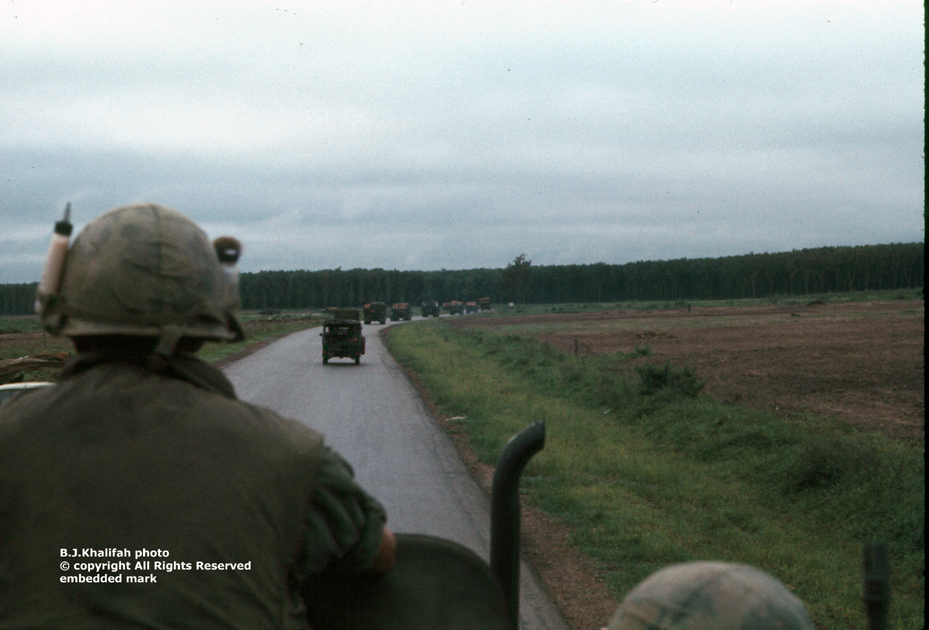 On QL 1 on the way to FSB Libby.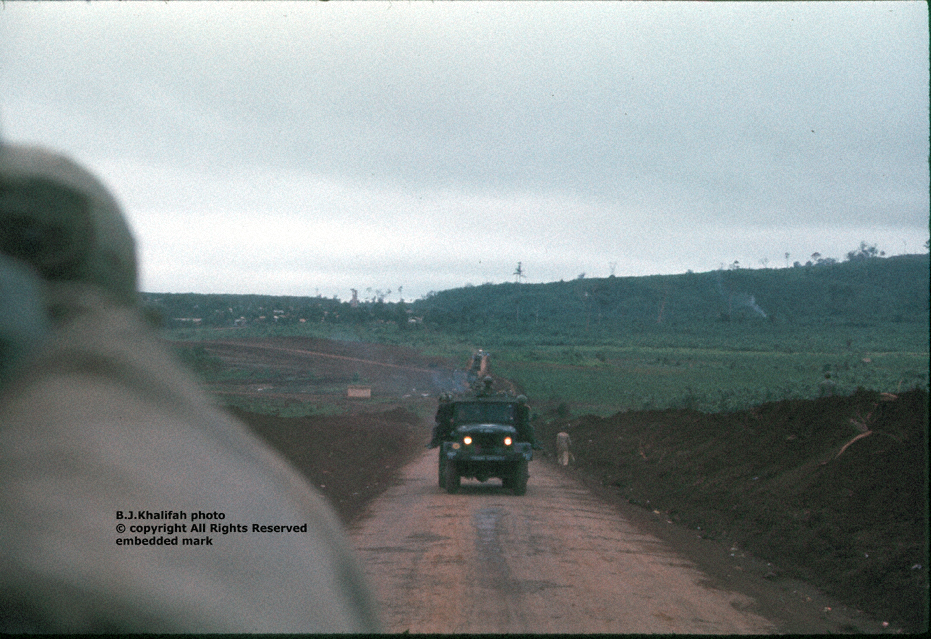 Arriving at FSB Libby.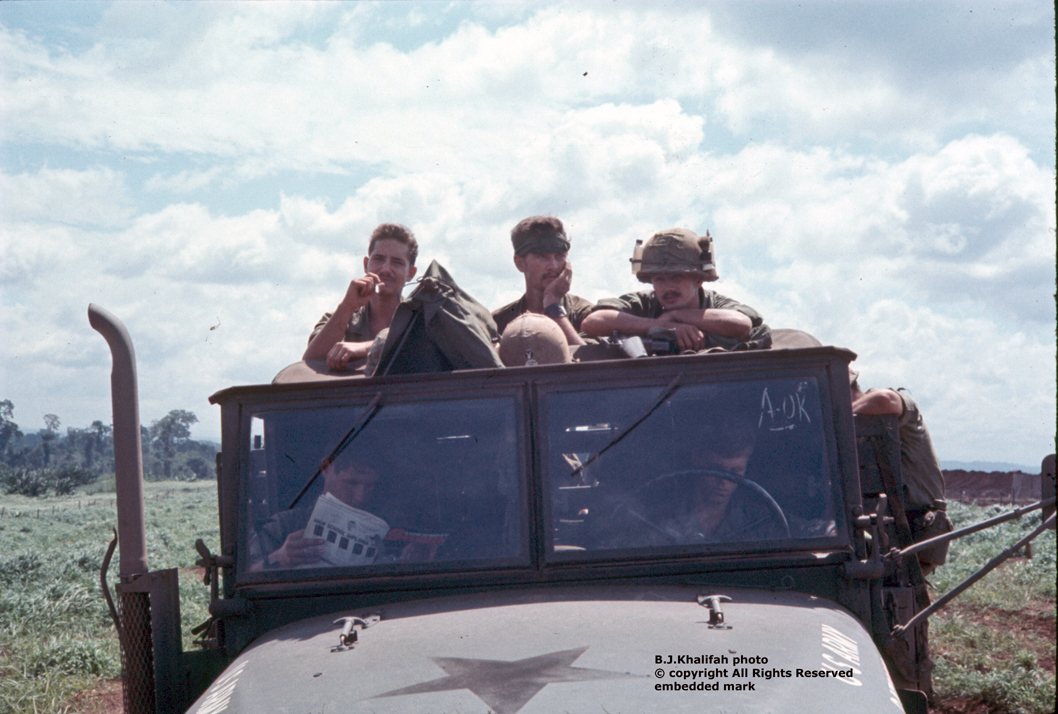 Left to right on top of truck: Mussman, Peltier, and Sgt Chet Sczymczk. Sitting shotgun is Sgt Steve McDonald (reading newspaper from home).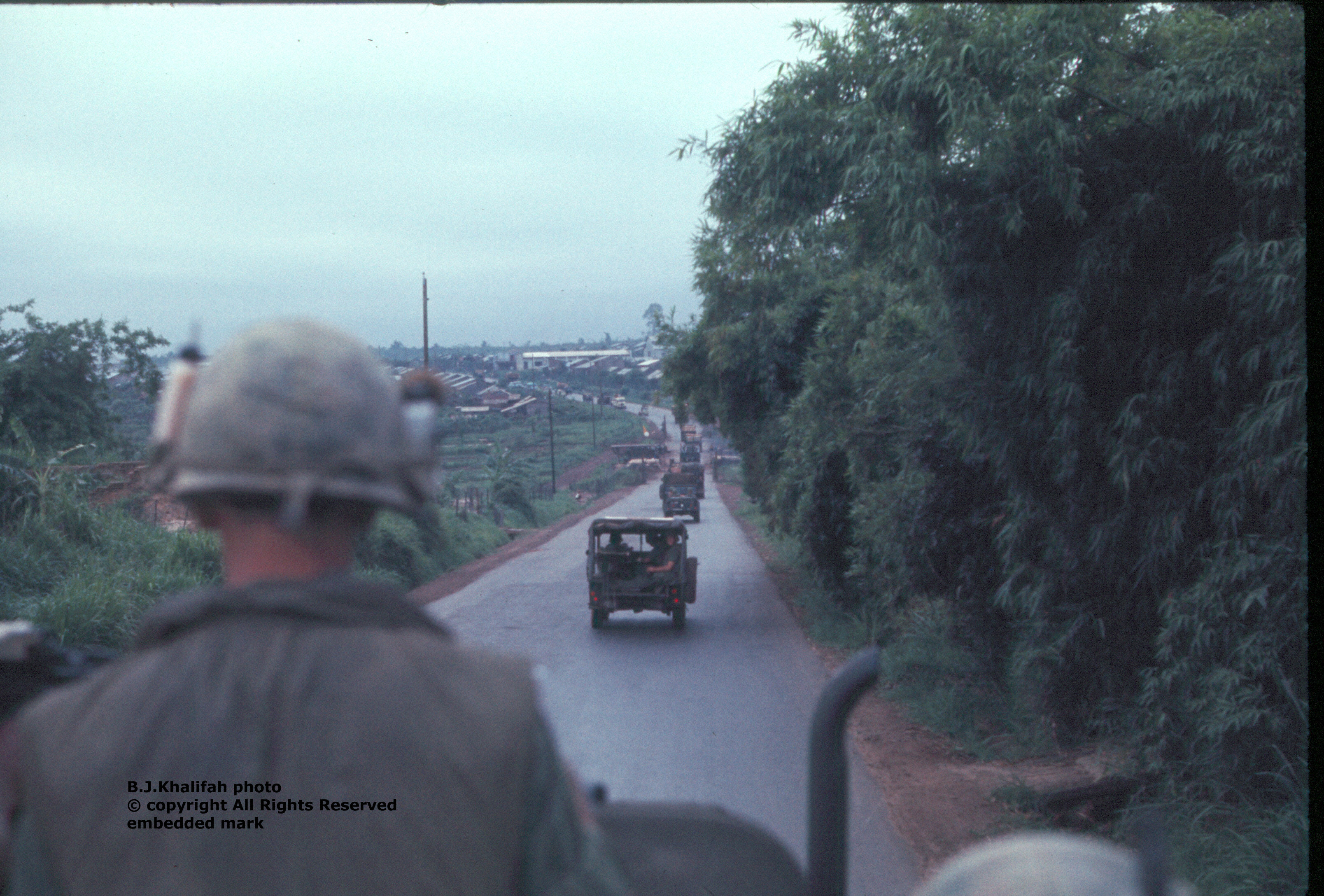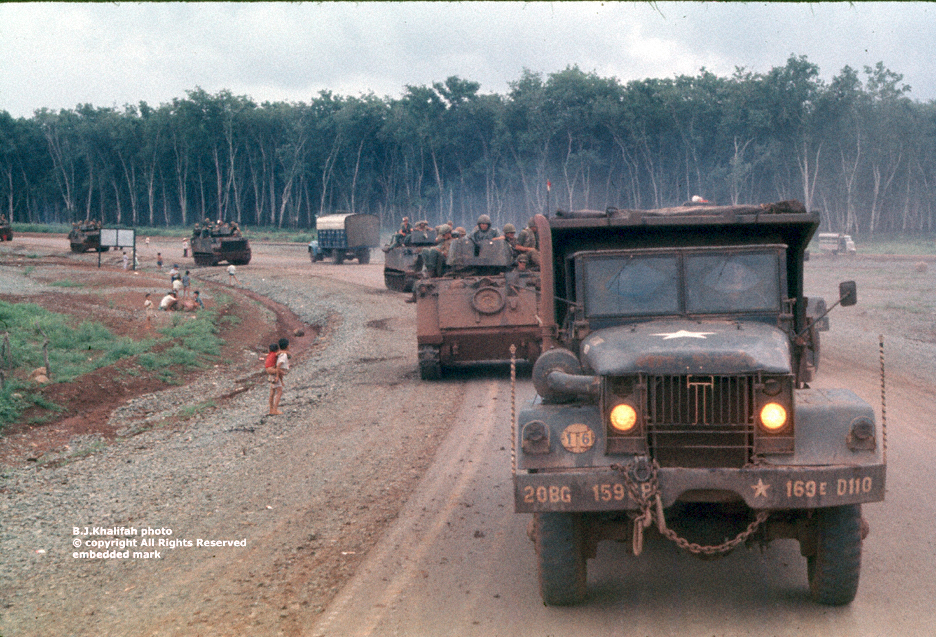 Here we are arriving at Fire Base Libby, we had just turned off QL 20 near a prominent hill N.E, of Xuan Loc. (I went back to VN in 2005. Fire Base Libby is totally gone. There are no markings what so ever. It is now a rubber tree plantation. One of the caretakers came out to inspect what we were doing there. He was from a near by village and he did remember the fire base (Mot chin chin -199).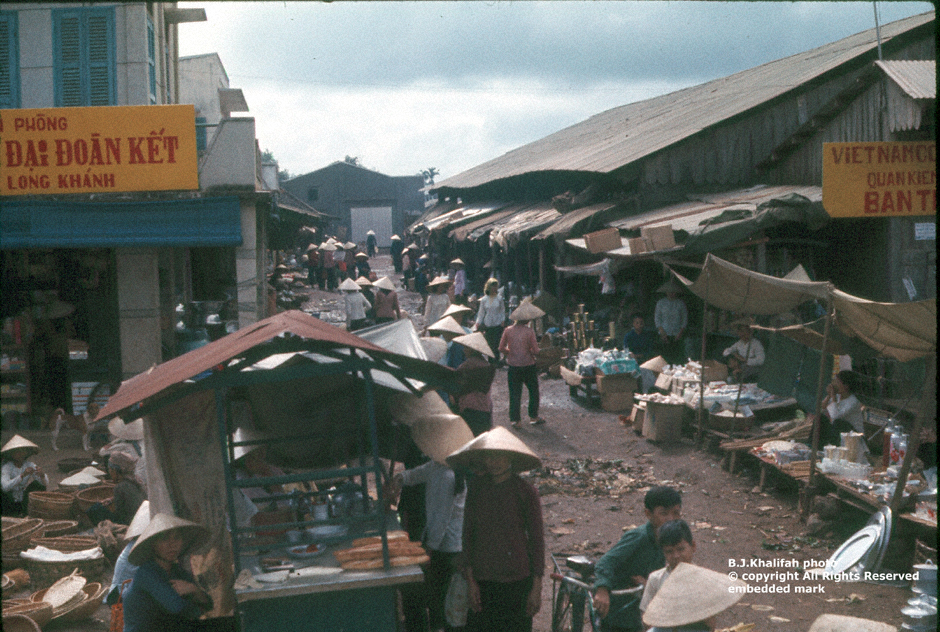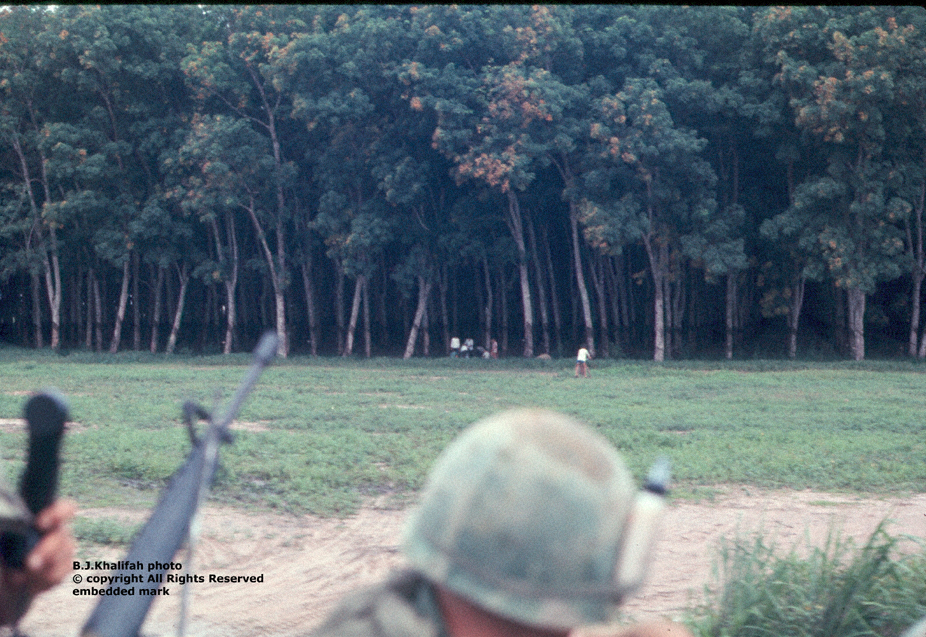 I made this photo because it was the first time we had ever seen rubber trees. Looking down the rows it was very dark. We found out later how nasty it was under the trees. The VC used the rows as highways. If we damaged any tree in a fire fight the US army had to pay cash to the plantation owners as compensation. We damaged several trees.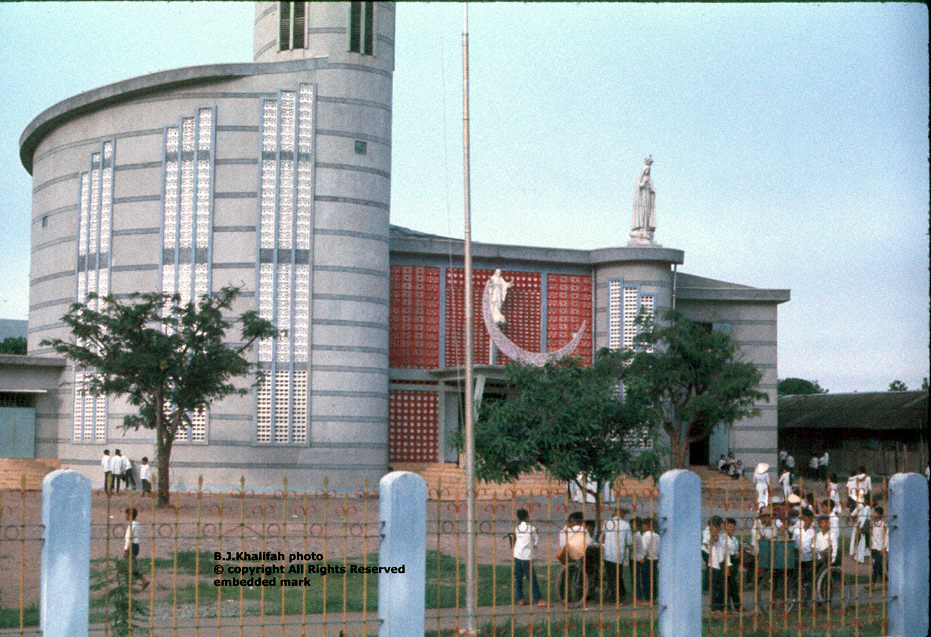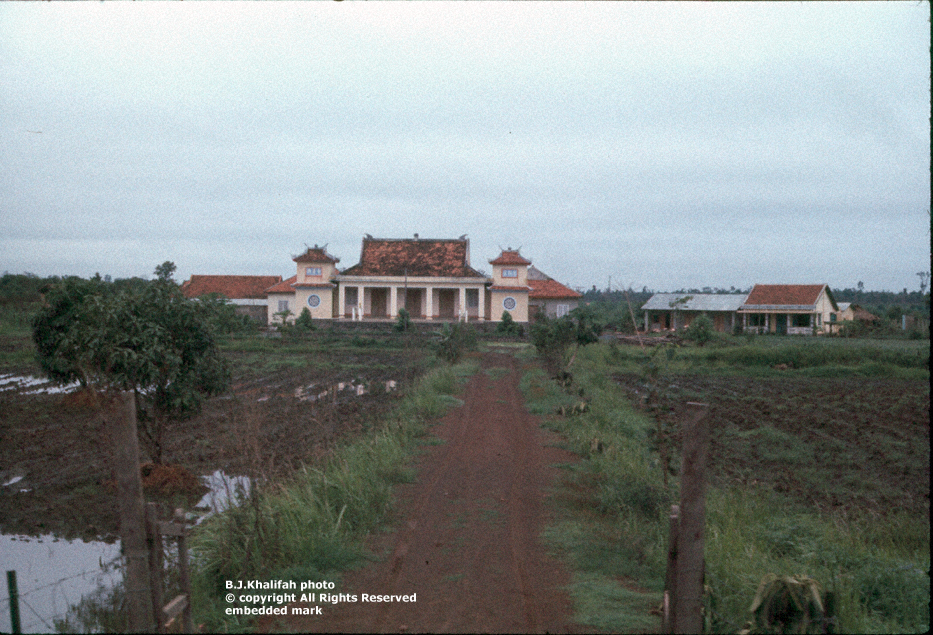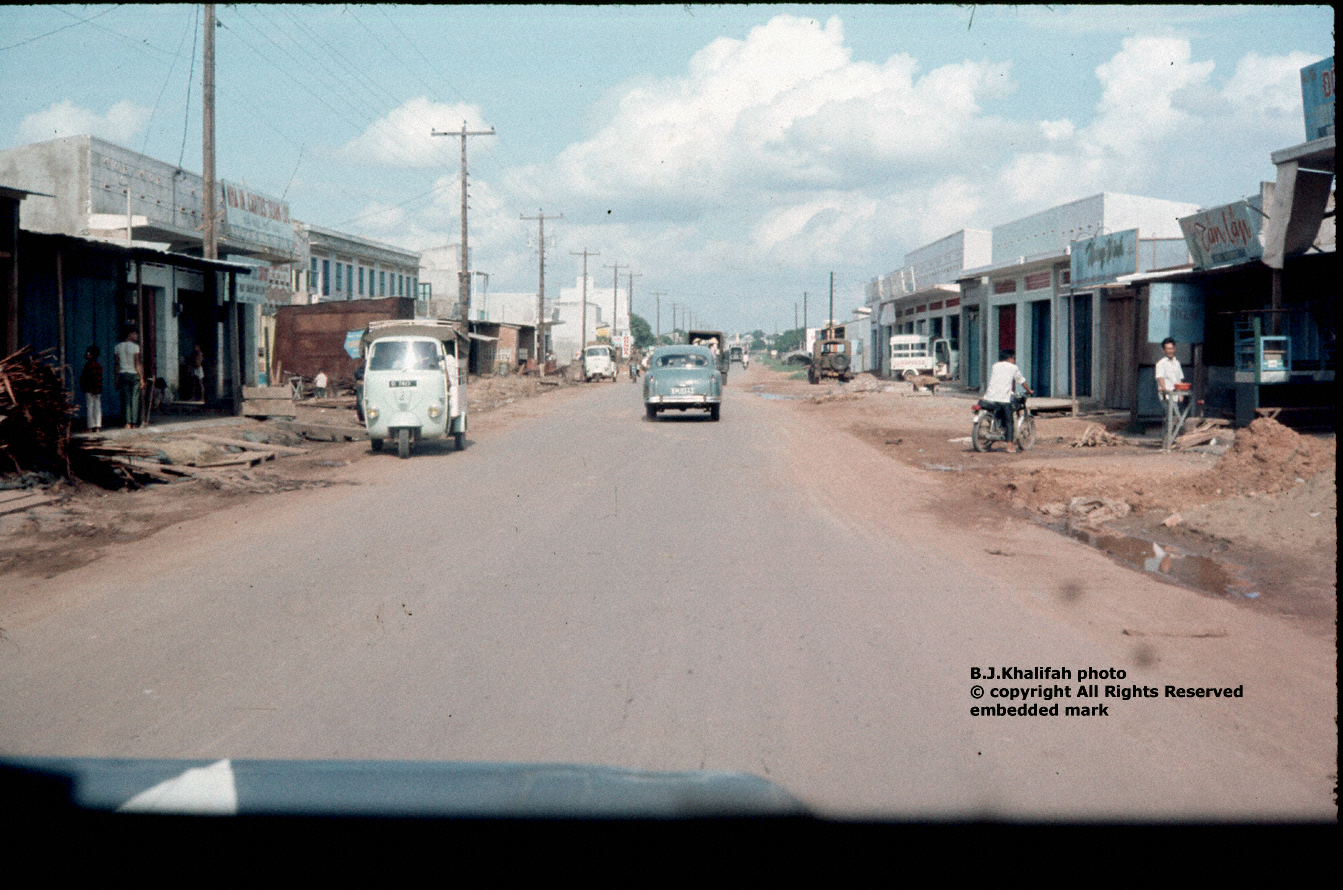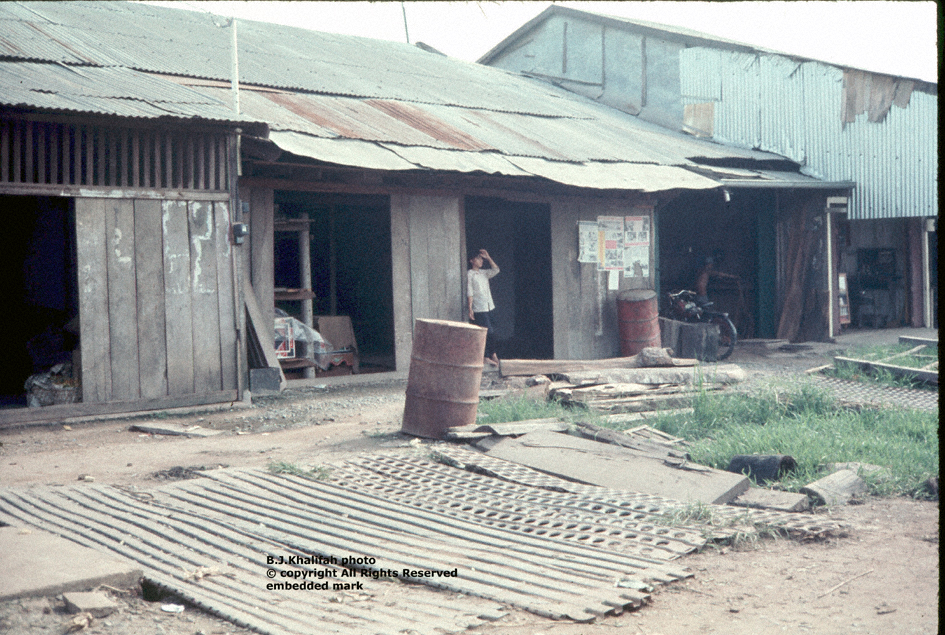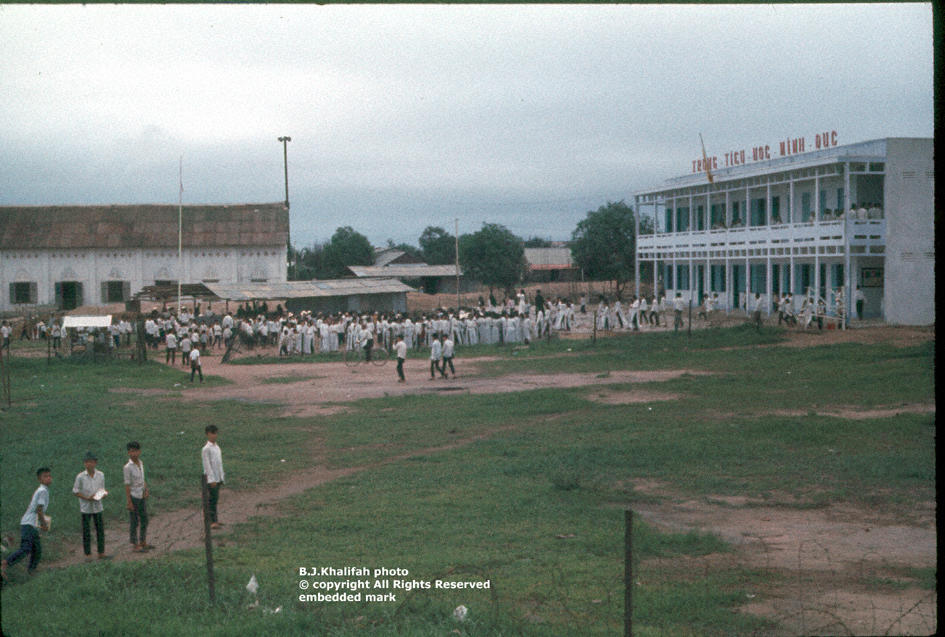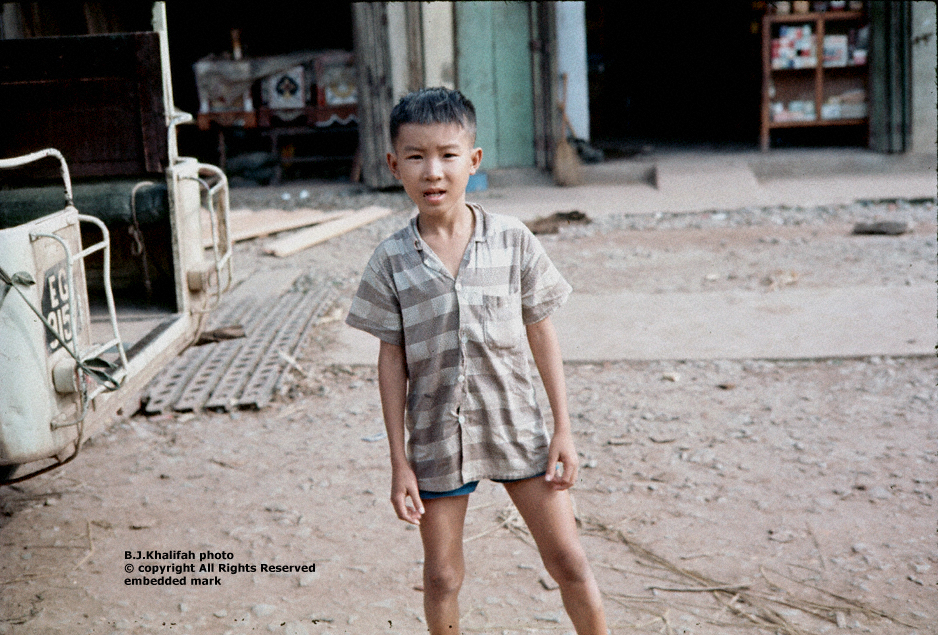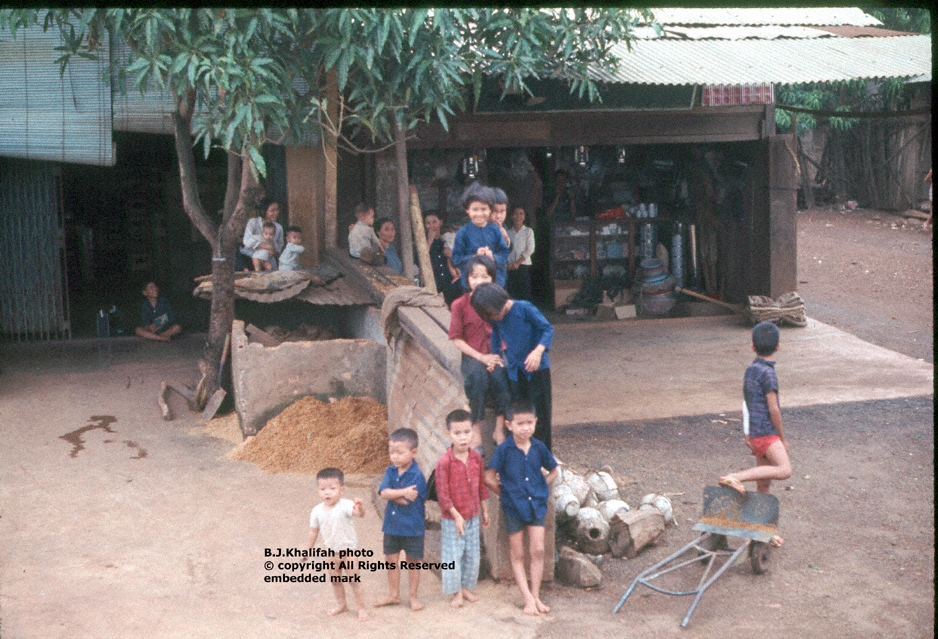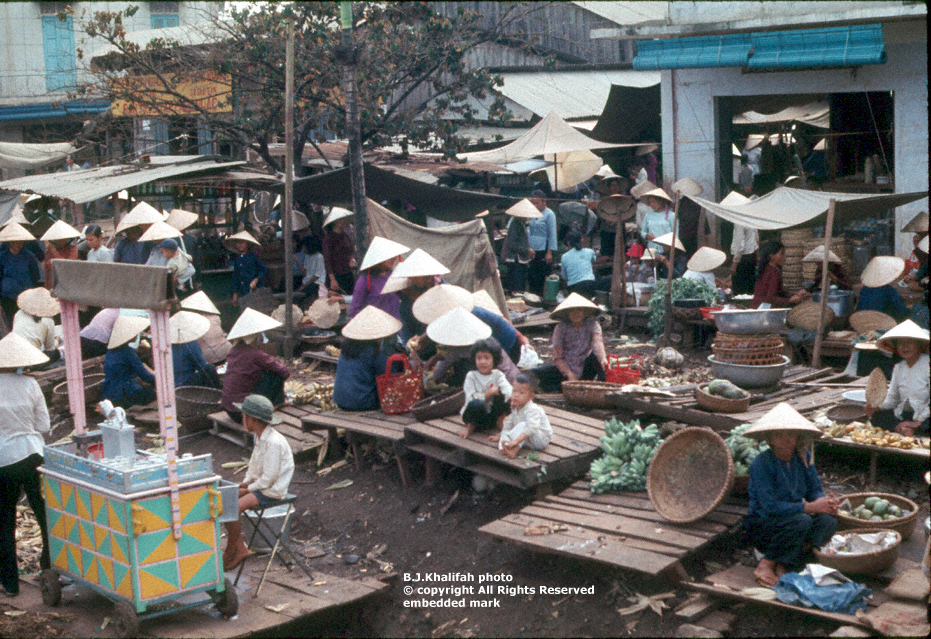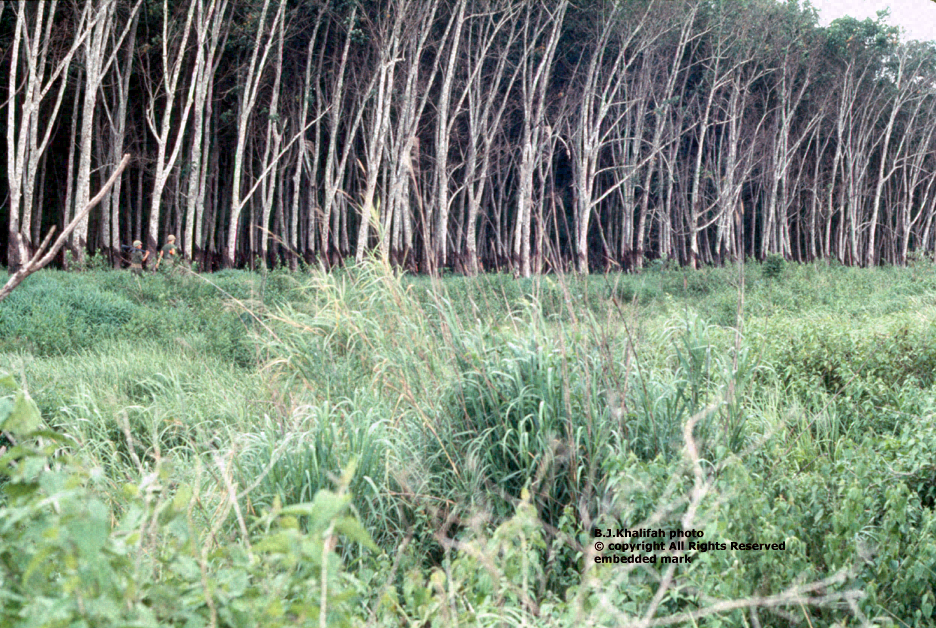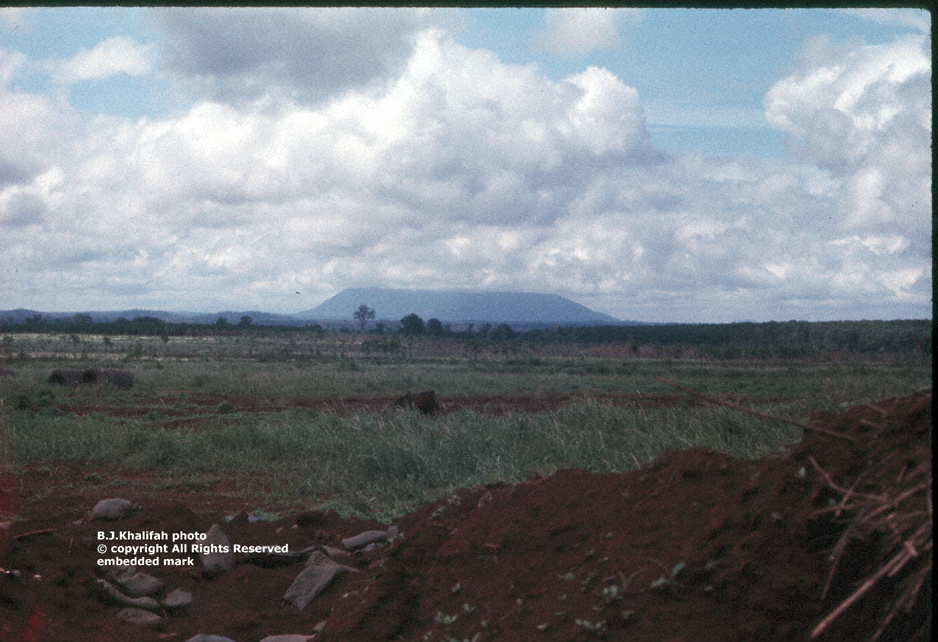 Signal Mountain north of Long Binh.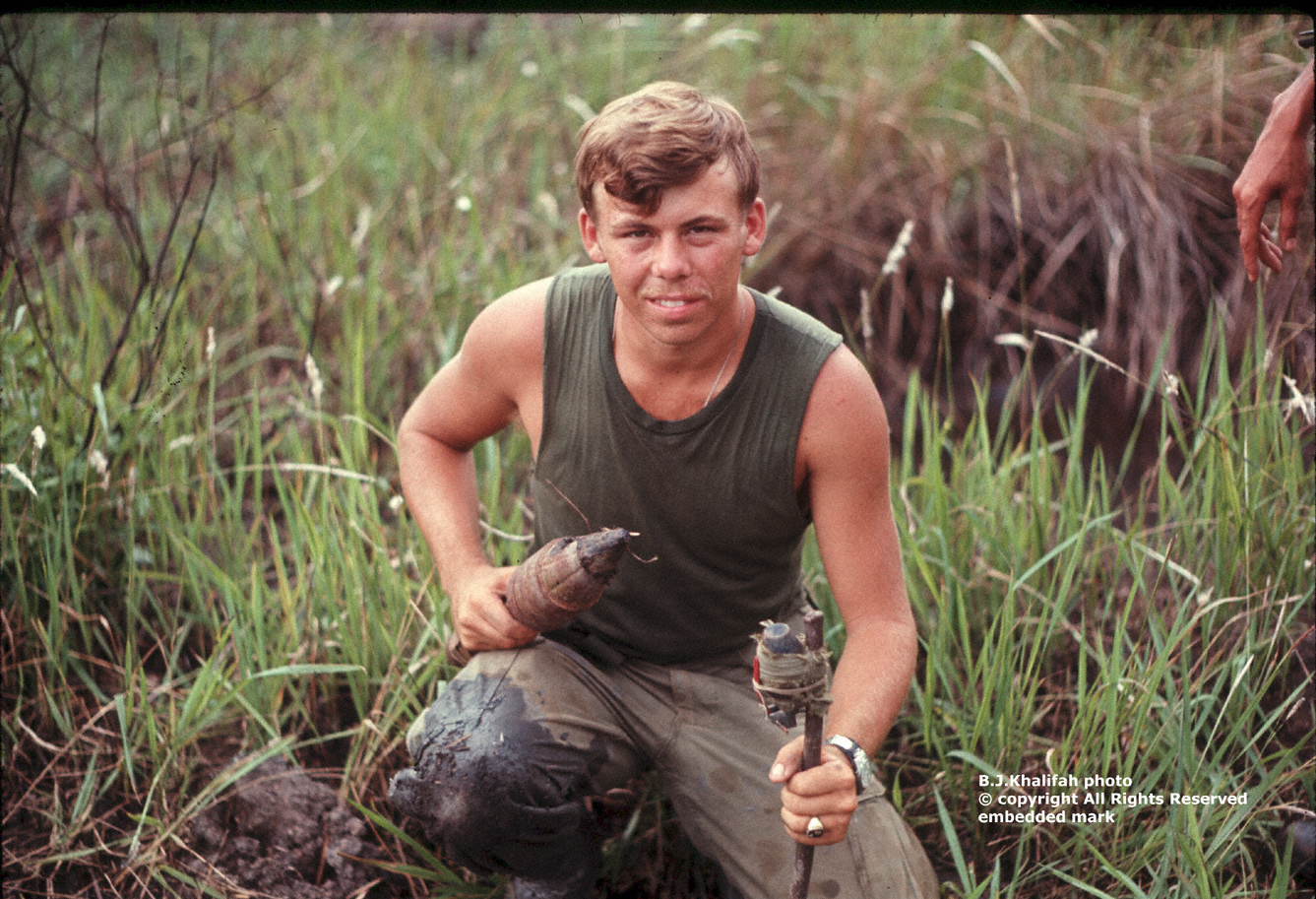 Sp4 Ken A. Richey, Marion, IN (Killed in Action, December 1969) with a booby trap he found and an PRG rigged as a land mine. It took a sharp eye and cool nerves to defuse them
. Taken north and east of fire base Libby,
Long Khanh Province.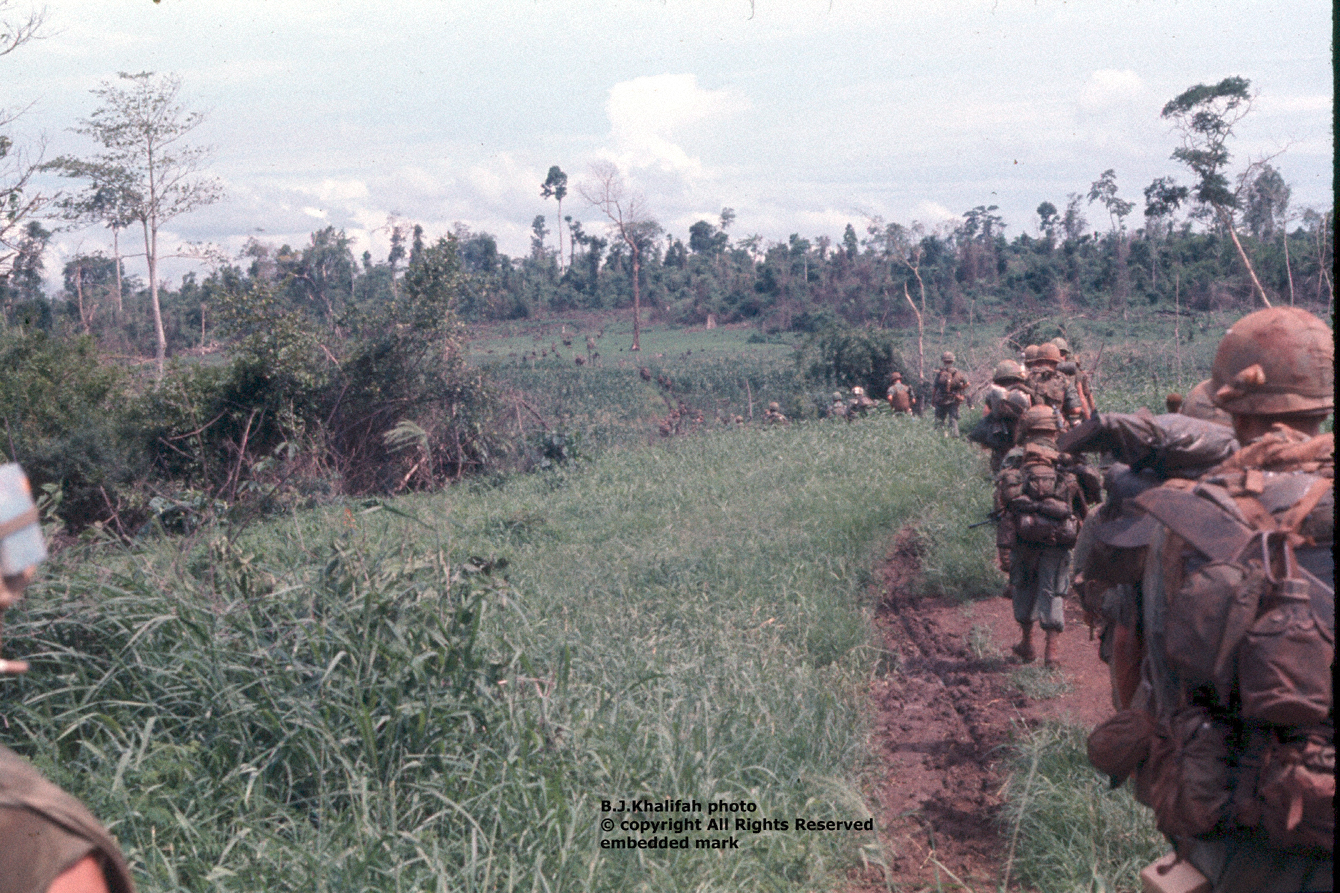 This is us leaving Fire Base Libby, early morning, going south west out on patrol. We would be gone for 7-14 days at a time. The men are carrying rucksack, each weing 35 to 50 pounds or more, with food, water and ammo. My RTO Mike Horst also had a 25 pound PRC 25 (prick 25) radio. He never complained.
When we were on patrol sometimes we would get resupplied; sometimes not. It always depended on the weather, our location, or if there were supplies. HQ always tried to resupply us but everything was conditional. Running out of water was always a serious problem.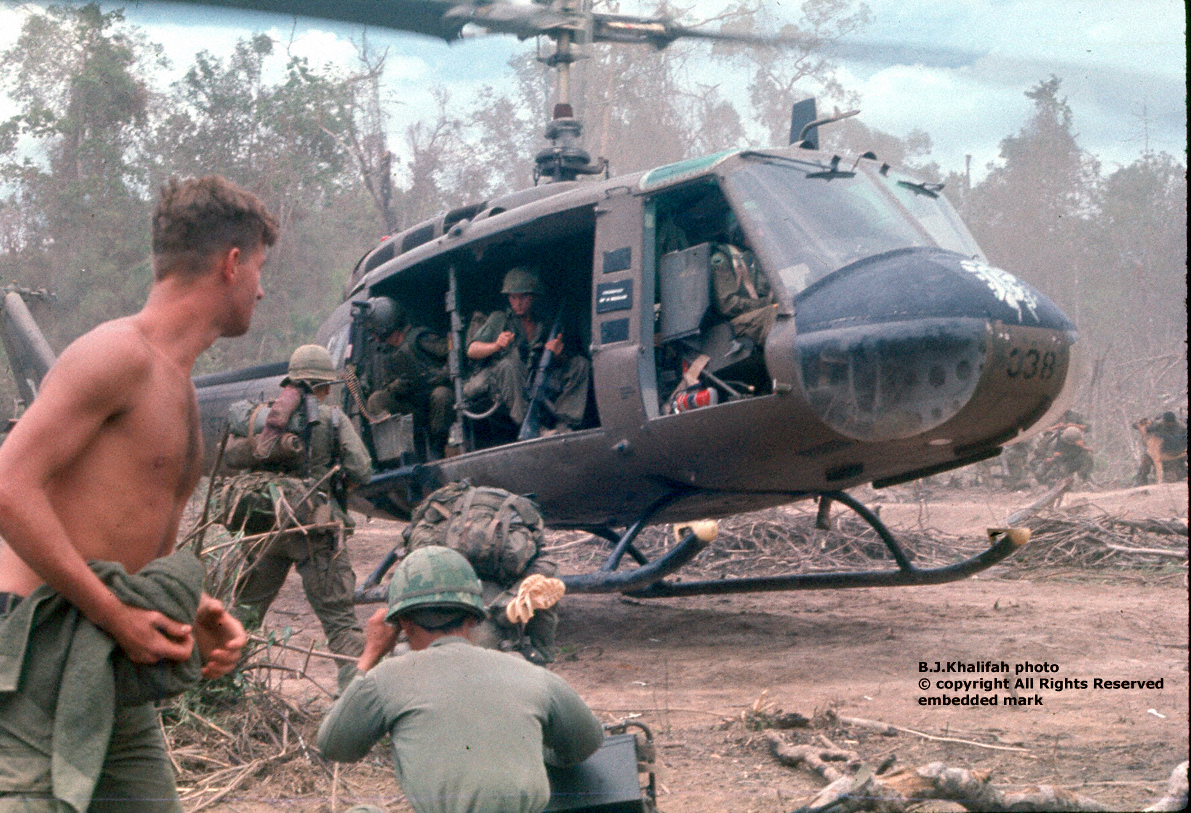 Richard Phillips at far left. Huey bringing in more troops.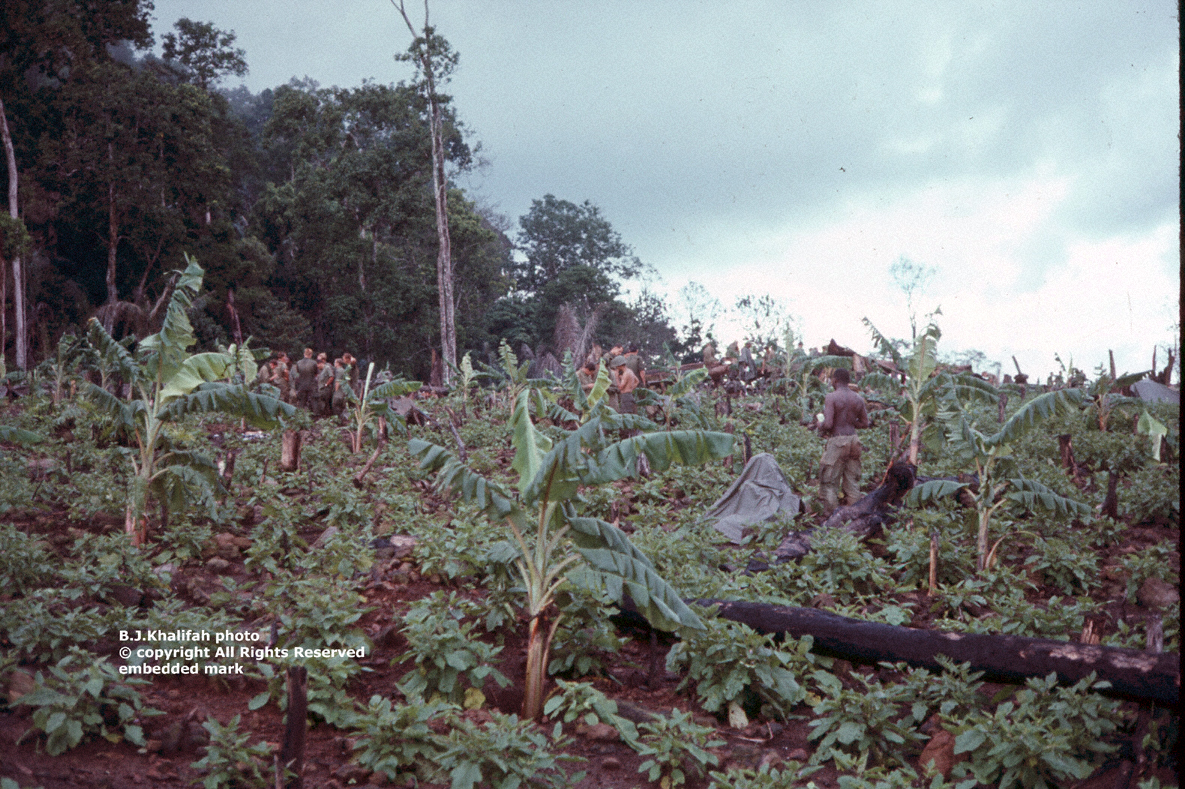 This was a morning base camp near large hill called Nui Soc Liu. This was a particularly dangerous area, infiltrated with NVA because the location was just north of Long Binh US main bases.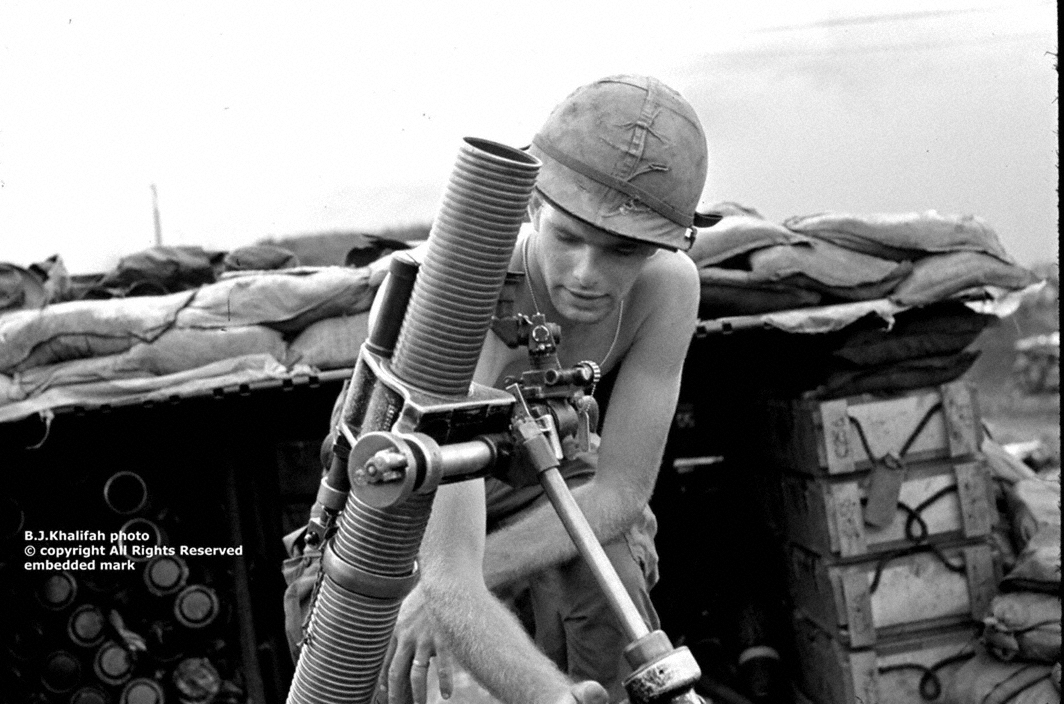 I do not know who this is. Mortar-man laying in his tube just before sending out air mail to VC. Taken at FSB Libby.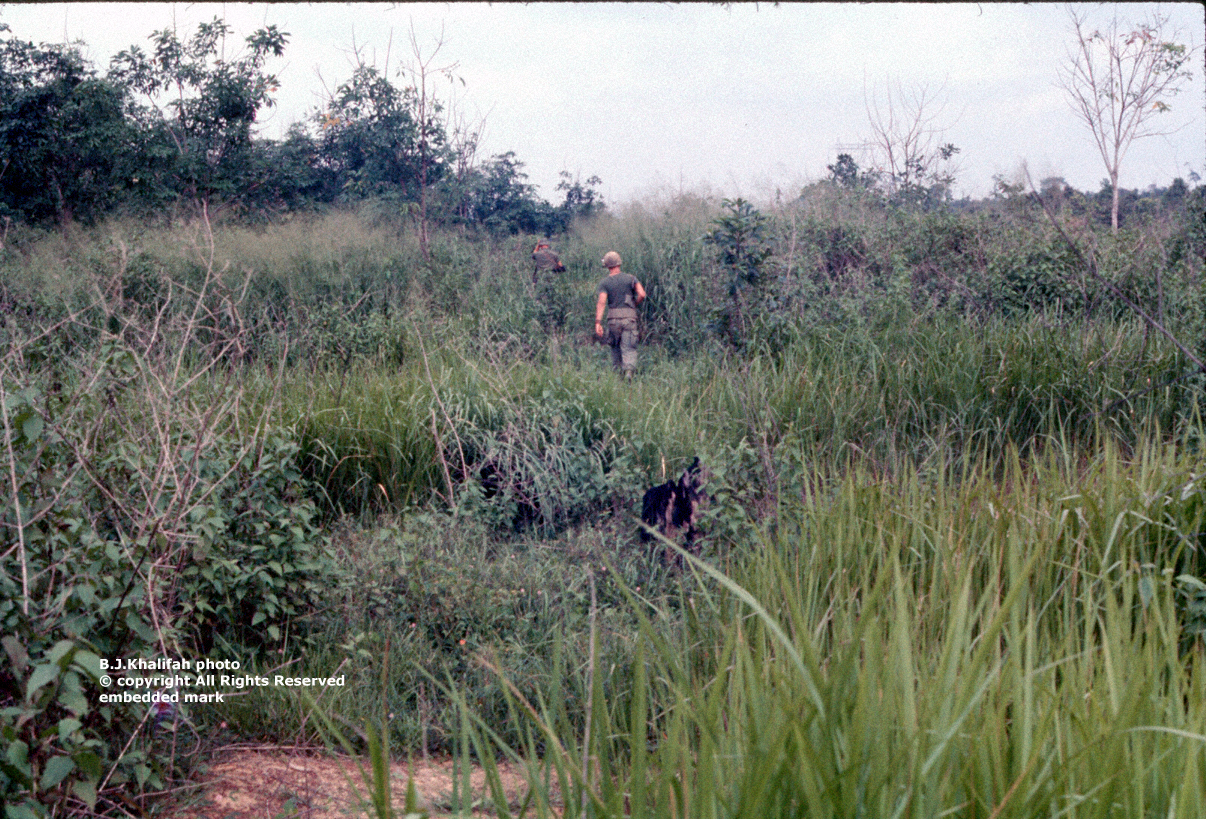 This was an early morning walk around. Each morning we would sweep the area we had over-nighted in just to make sure everything was safe.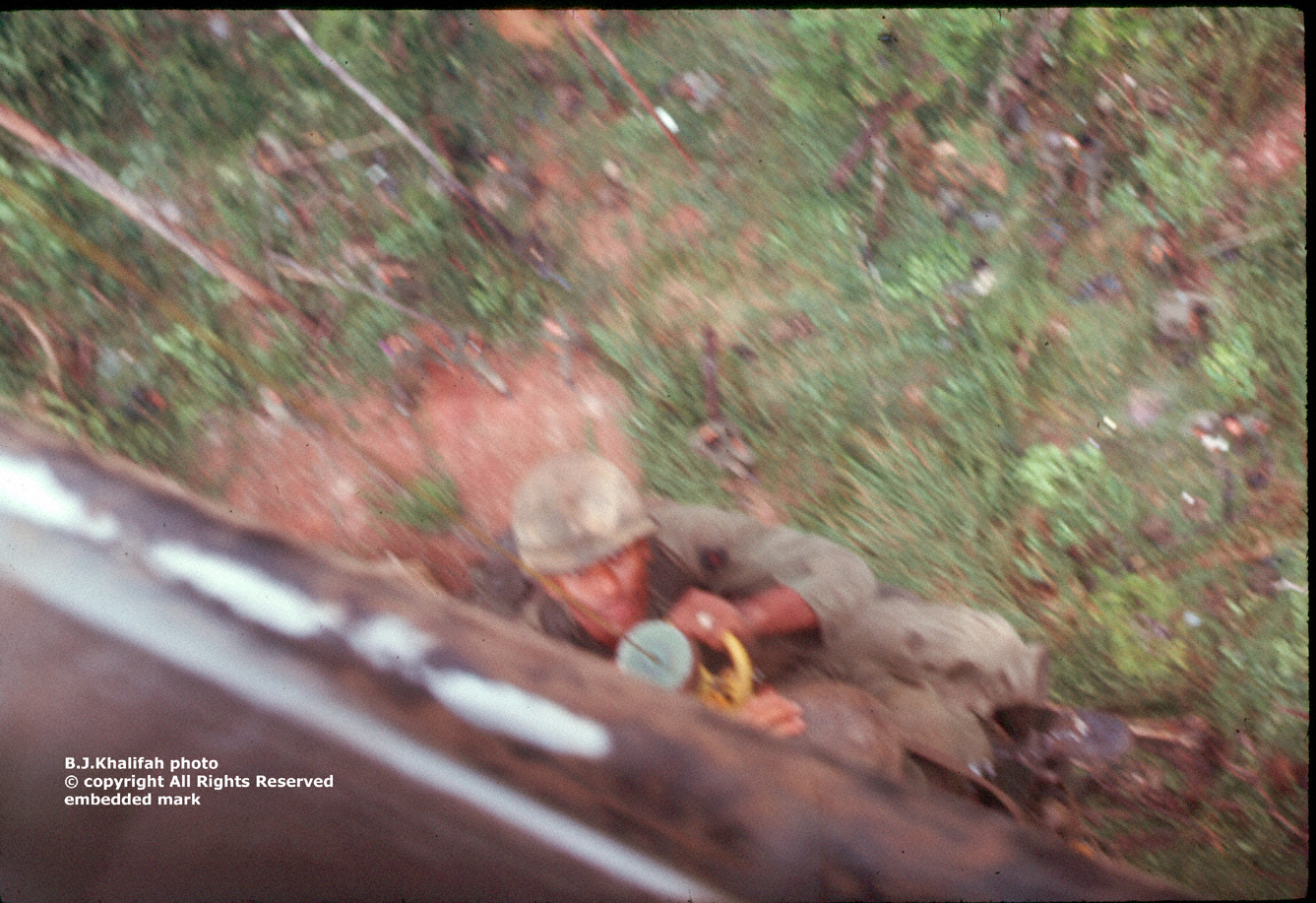 Man being extracted to chopper using the hook and cable. Picture is slightly out of focus because of severe vibrations, hard to hold camera still and not fall out of chopper. I had to be extremely careful so as to not shift my weight and change the balance of the chopper for the pilot.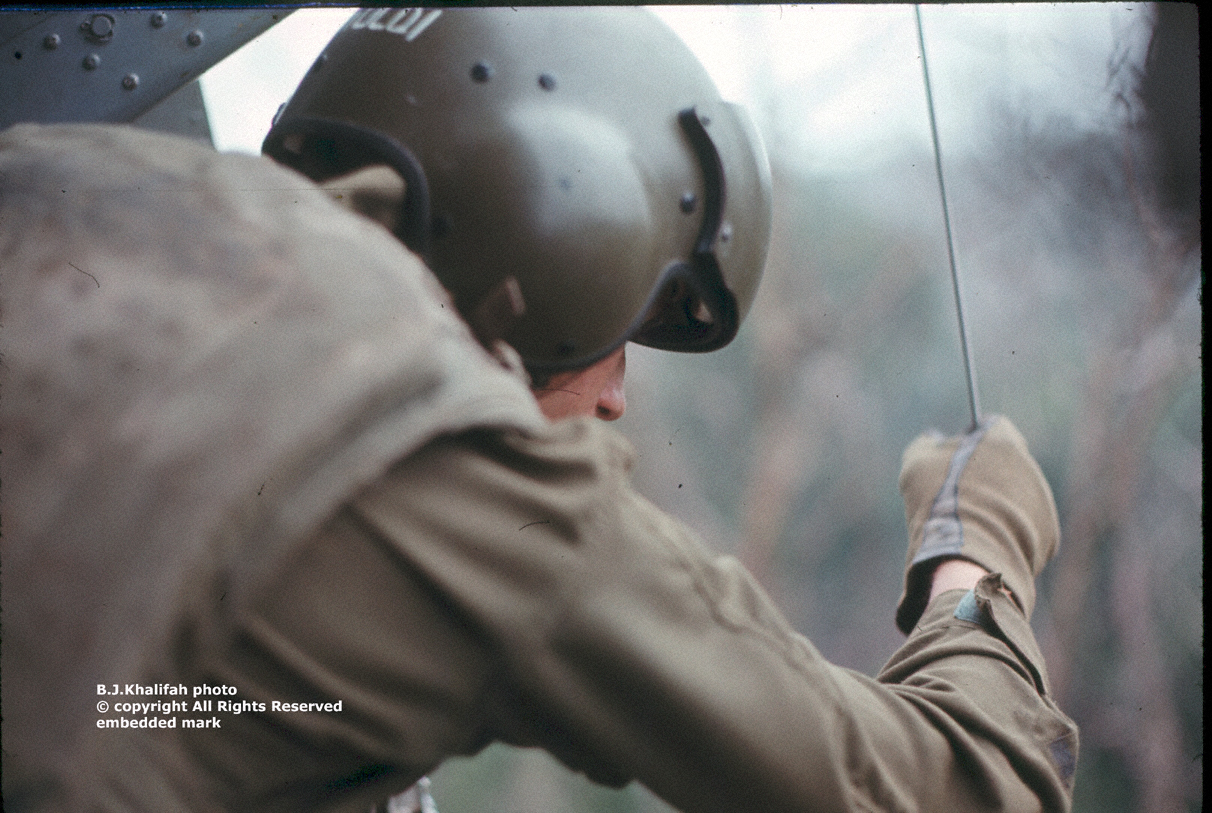 Huey extraction in triple canopy vegetation. Medic lowering a hook and cable. When we had to send sick men back to the rear, a Huey dust off would hover over us and drop a cable and hook to lift men into the helicopter. It was a very dangerous procedure because; 1) the chopper was a sitting duck to VC target practice 2) very difficult to hold the chopper steady 3) dangerous to man being extracted because if you hit a tree 4) it could snag the hook on a tree limb.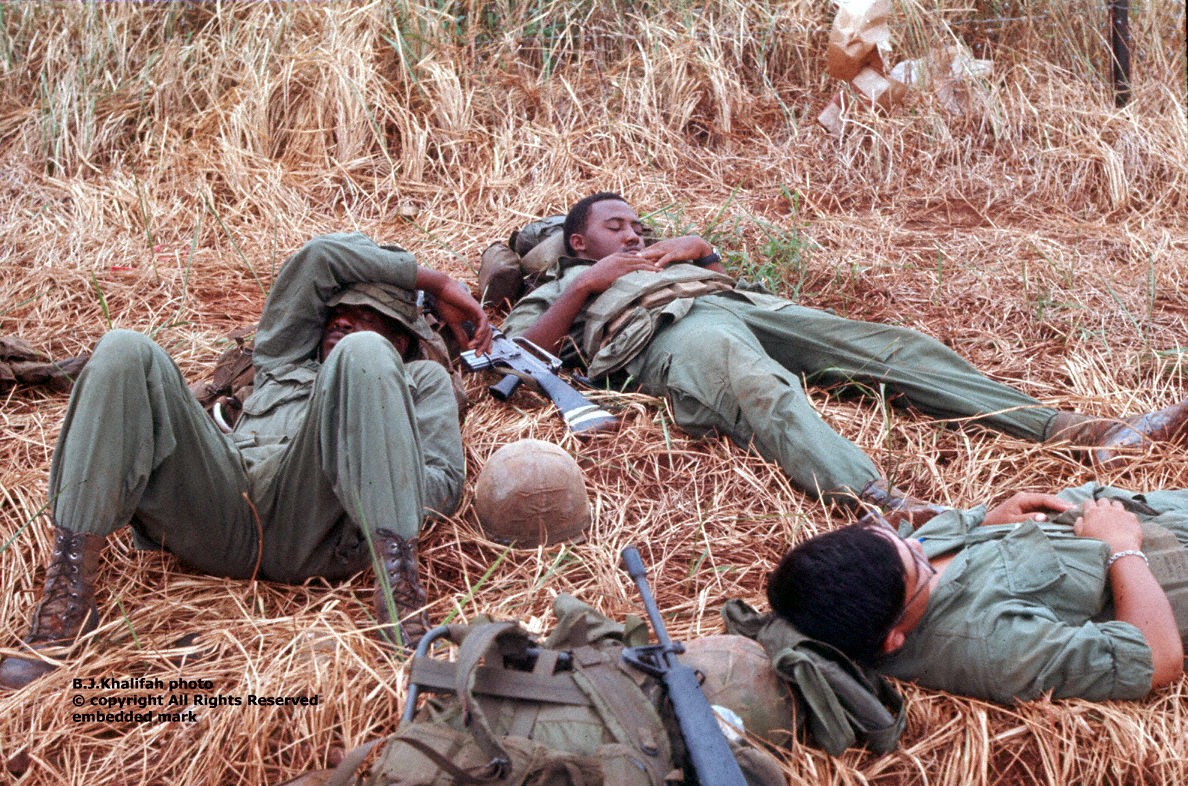 We could sleep most anywhere and anytime since we were at night, rotating guard watch. Waiting for choppers to pick us up and go to another firefight. Just another day at work.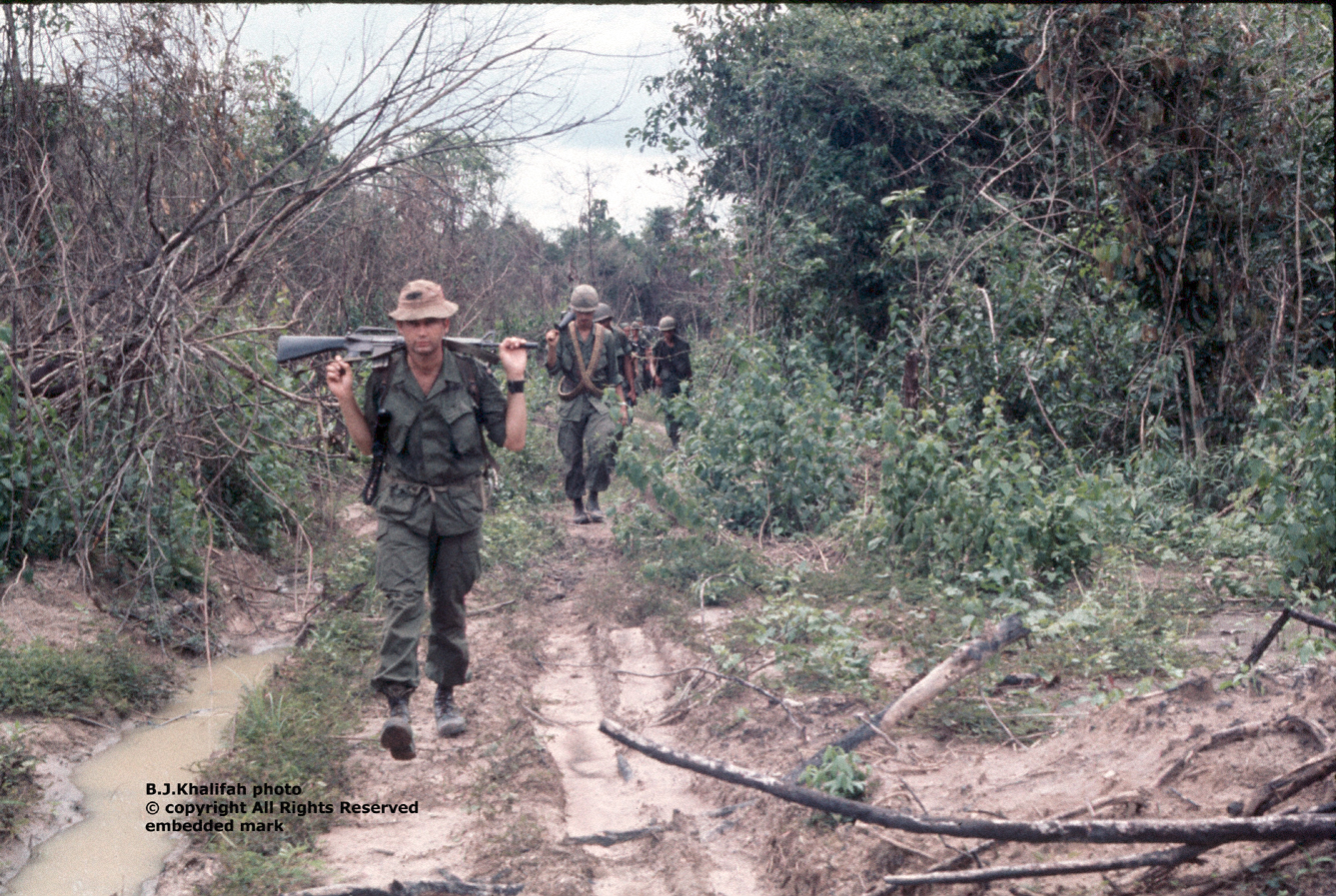 On patrol, Sp4 Robert Lewis.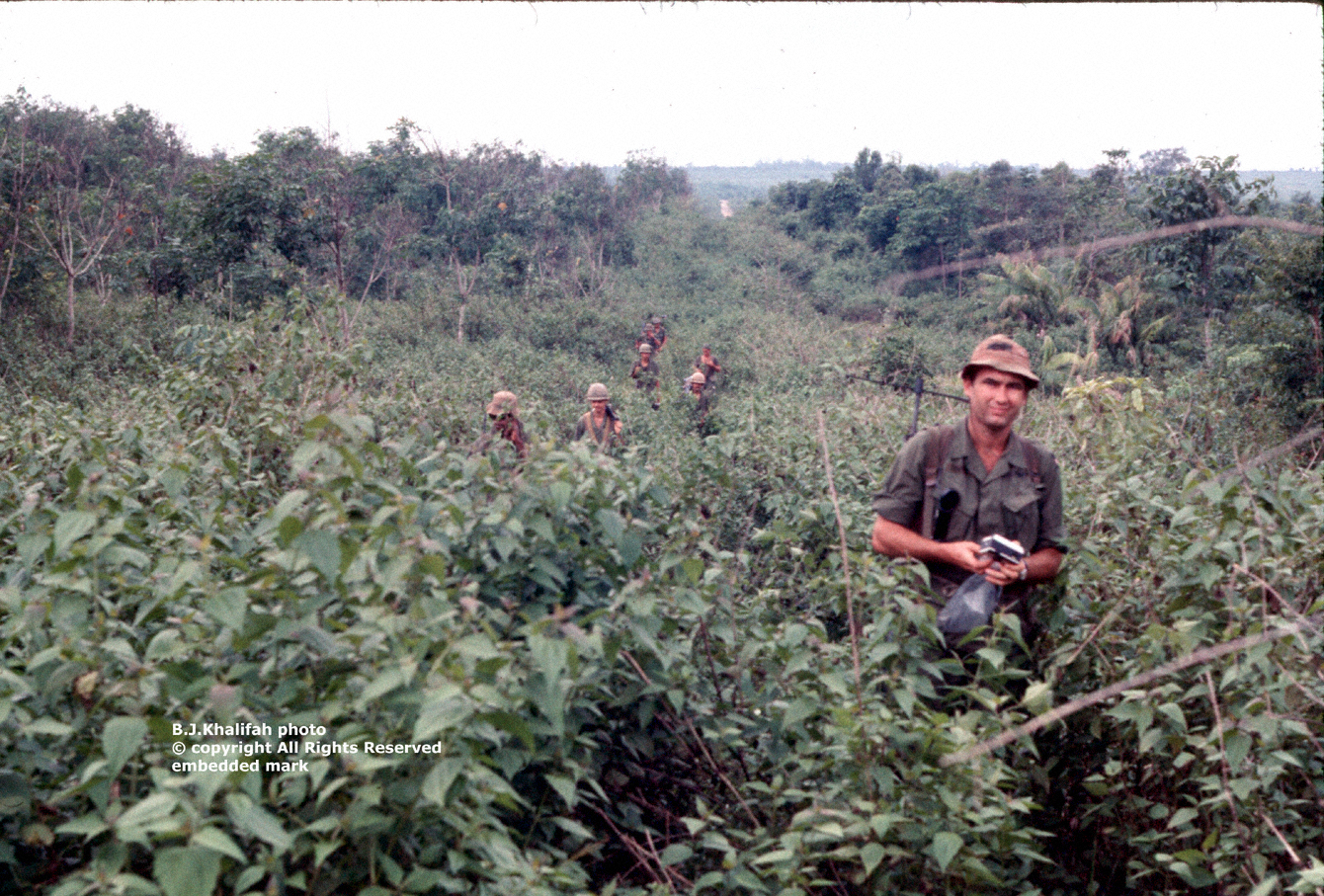 Robert Lewis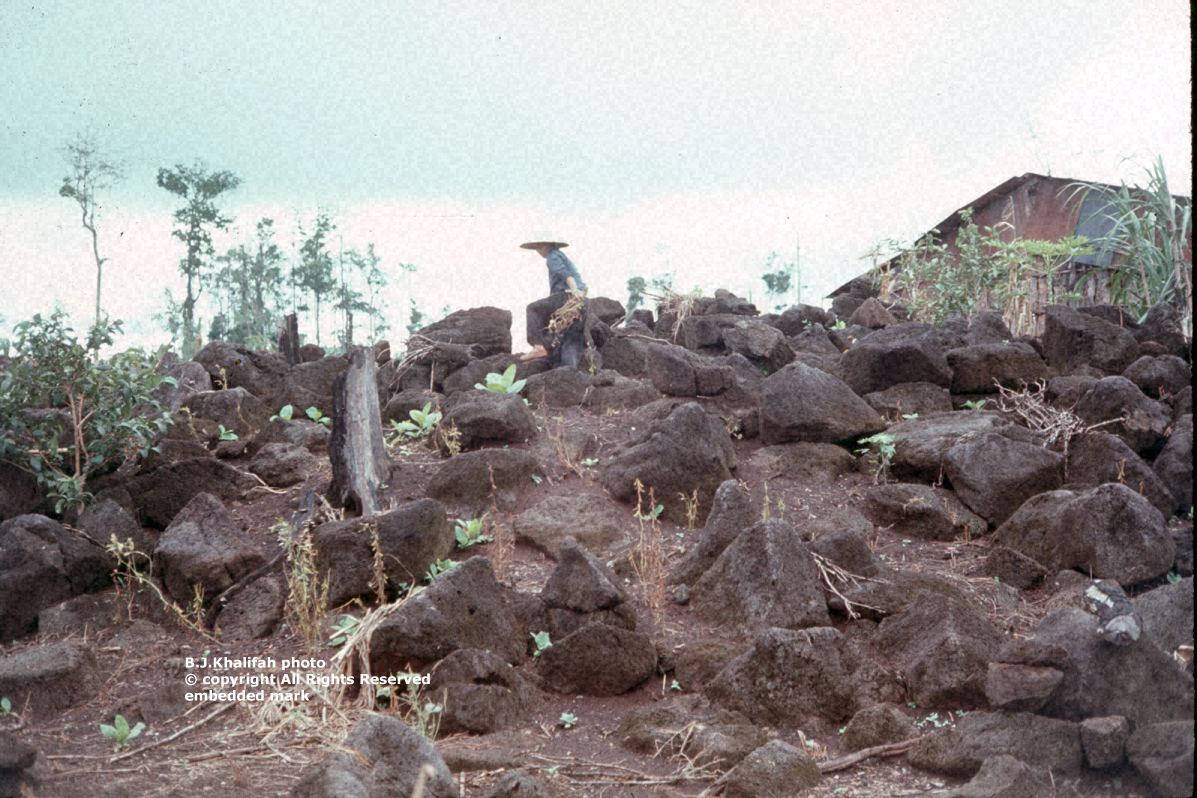 Lava rocks, on hill Nui Soc Liu, rough terrain, moving up hill to the top. This area was heavily infiltrated with VC and NVA, lots of trouble. The rocks did provide good cover when the shooting started.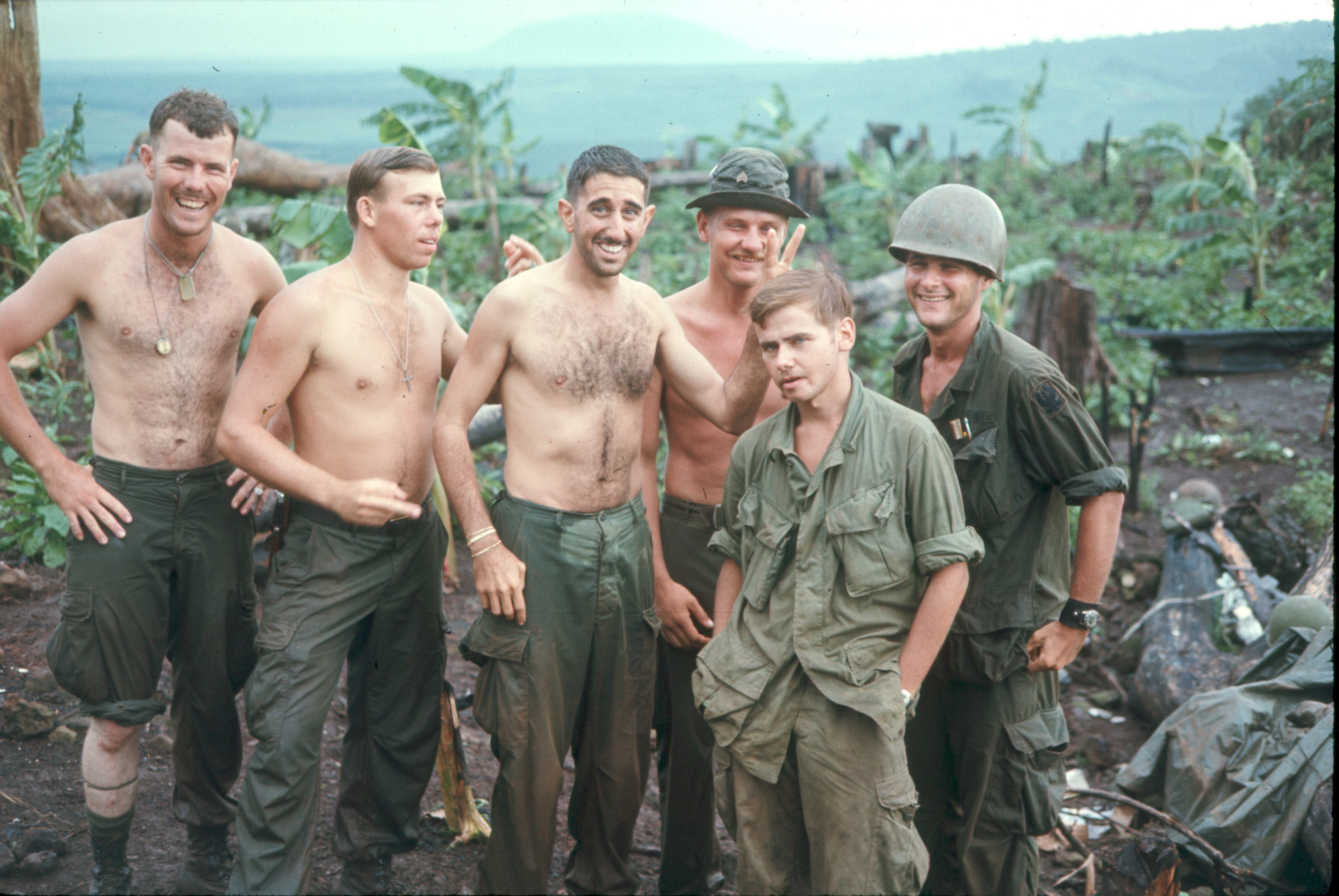 Early morning, near fire base Libby, area of Nui Soc Liu, left to right ; (gentleman at far left David Tex Welch, TX, Sp4 Ken Richey, Lt. Khalifah, Sgt Dan Kelly, Sgt. Chet Szymczyk, Windsor Locks, CT, now Feeding Hills, MA, and Sgt. Steve McDonald.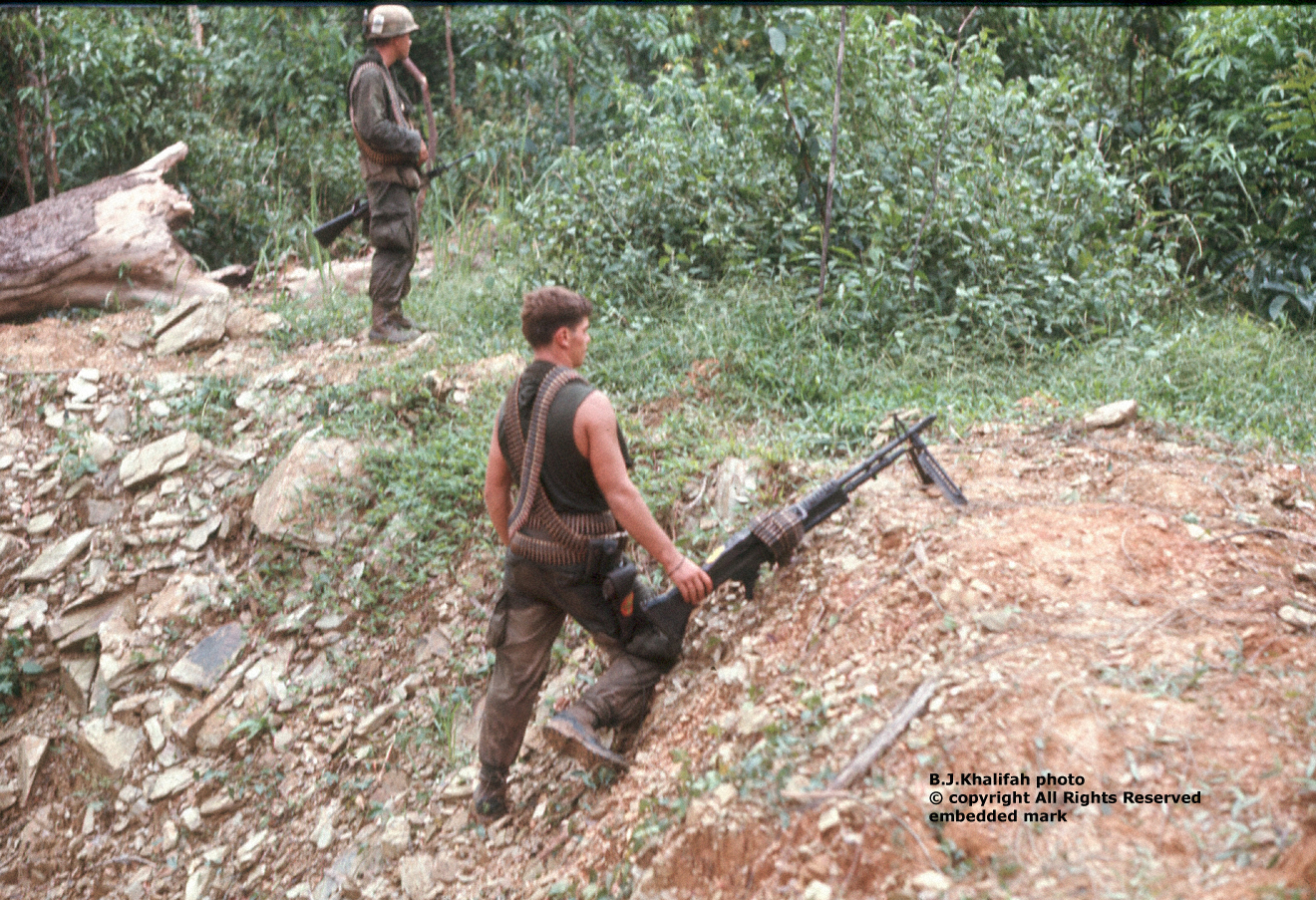 We sometimes used B-52 bomb craters to our advantage. We did not have to dig a trench if we needed to hide or get low.
South and east of FSB Libby, Long Khanh Province.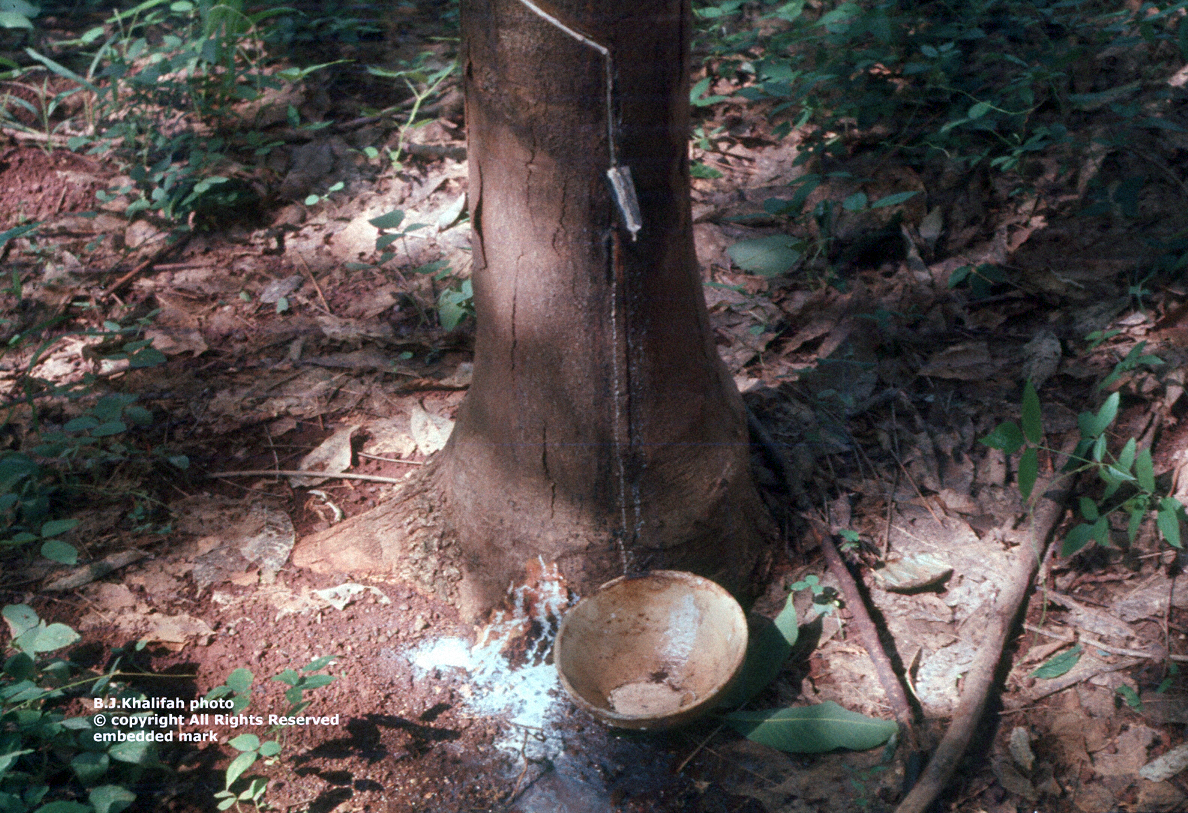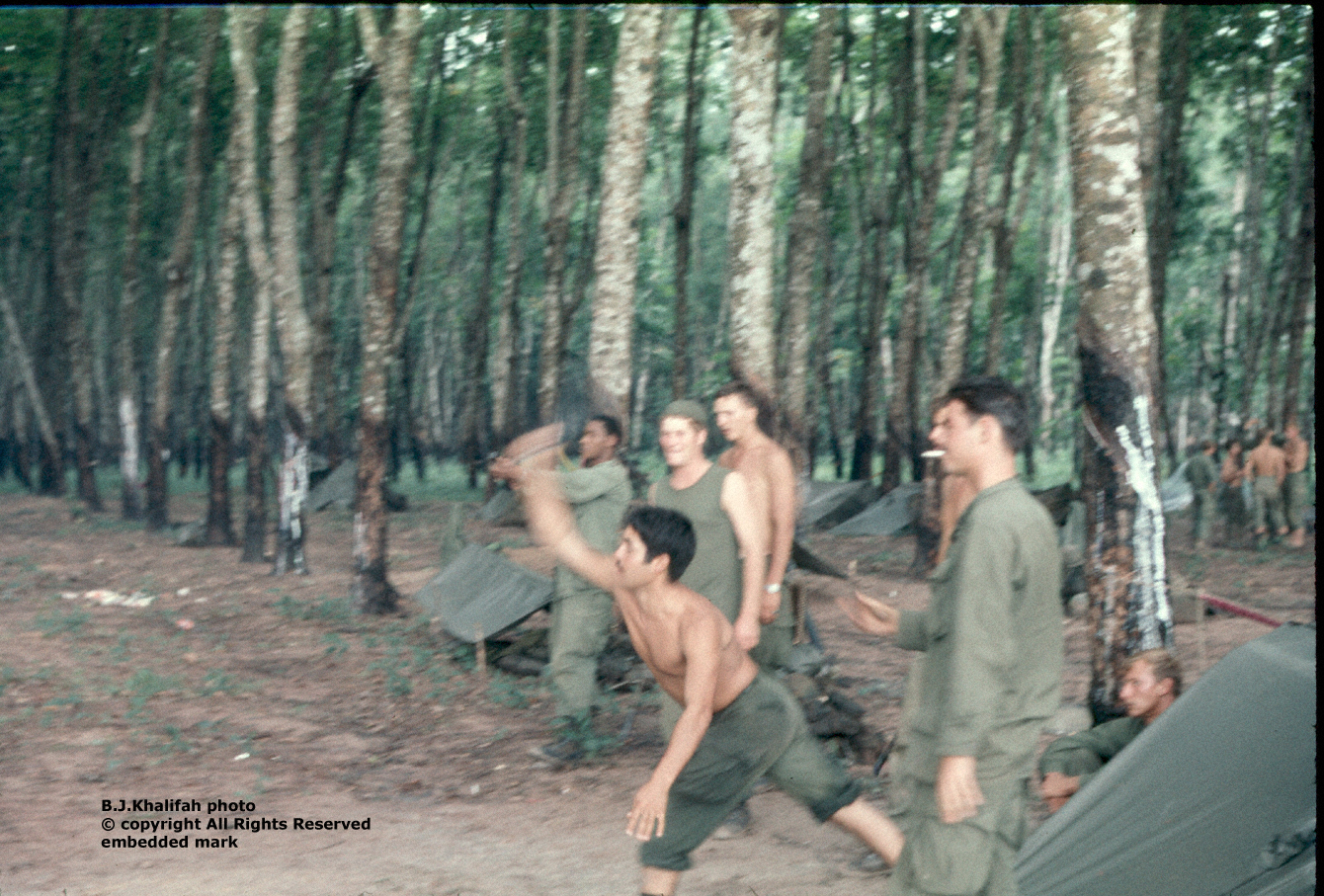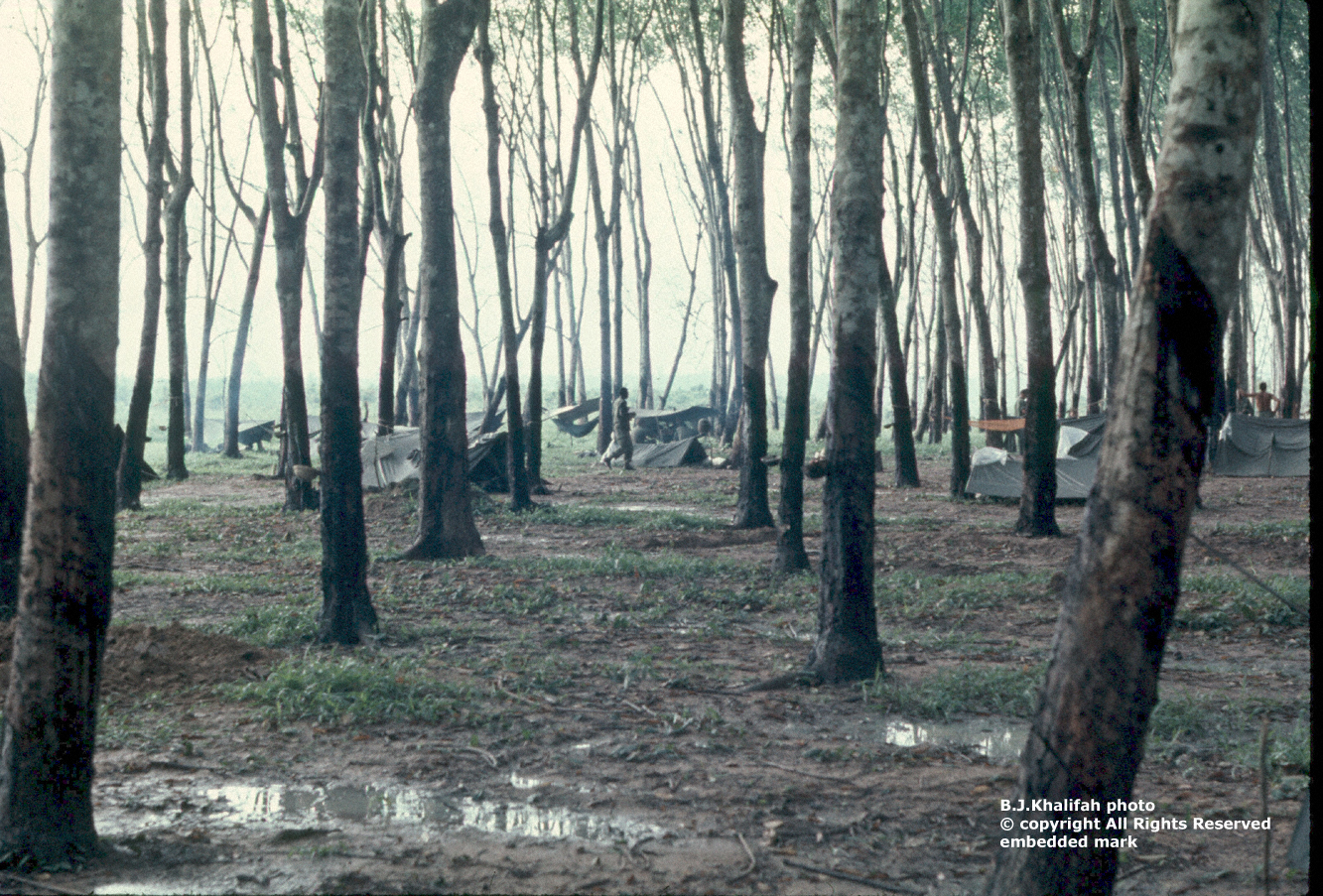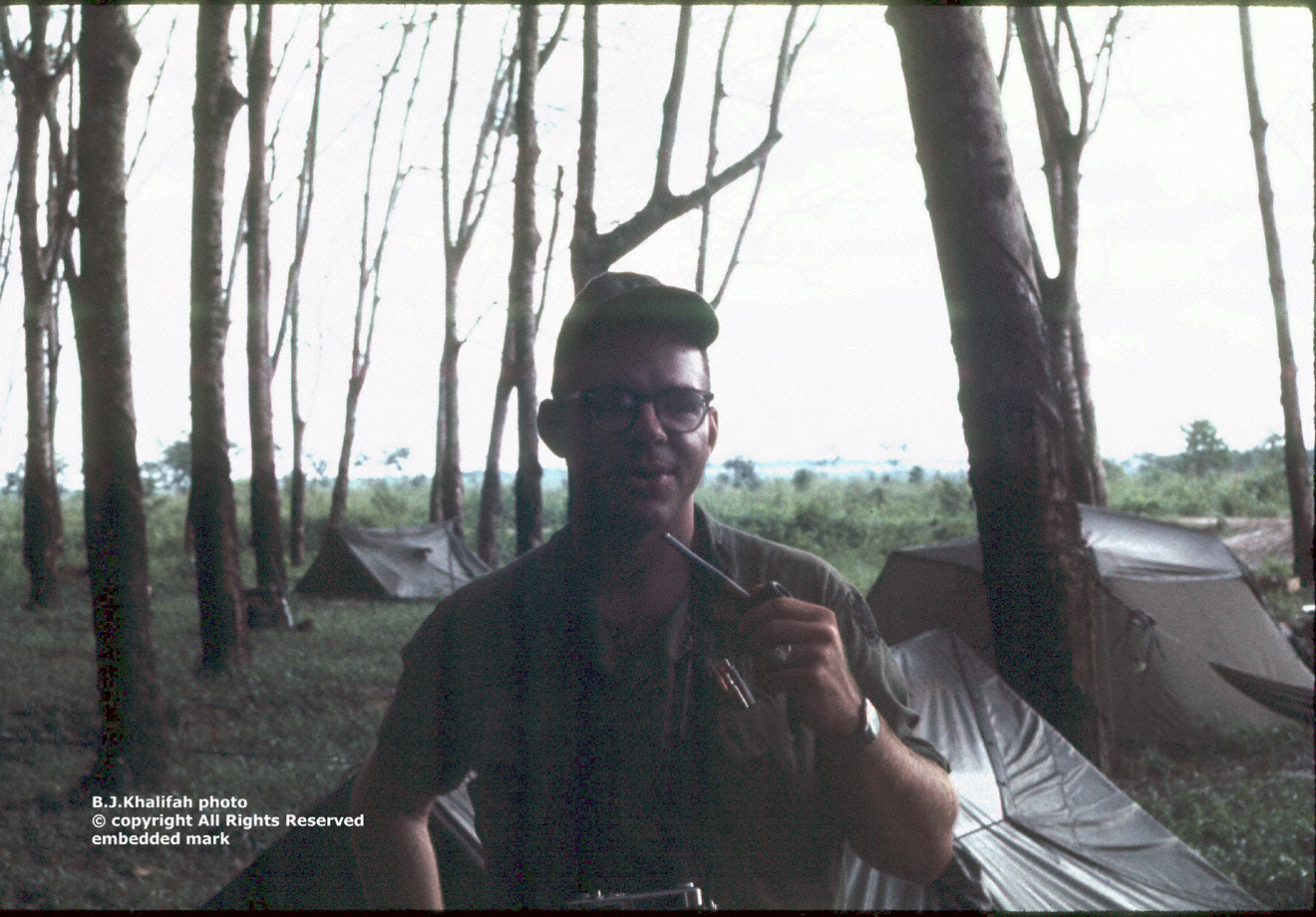 My boss, CPT Peter Kozak. Photo was taken several weeks before he was shot. WIA, severe injuries from gun shot wounds. He survived, luckily. CPT Kozak, now Lt.Col. retired, originally from Cleveland, OH now from Bel Air, MD.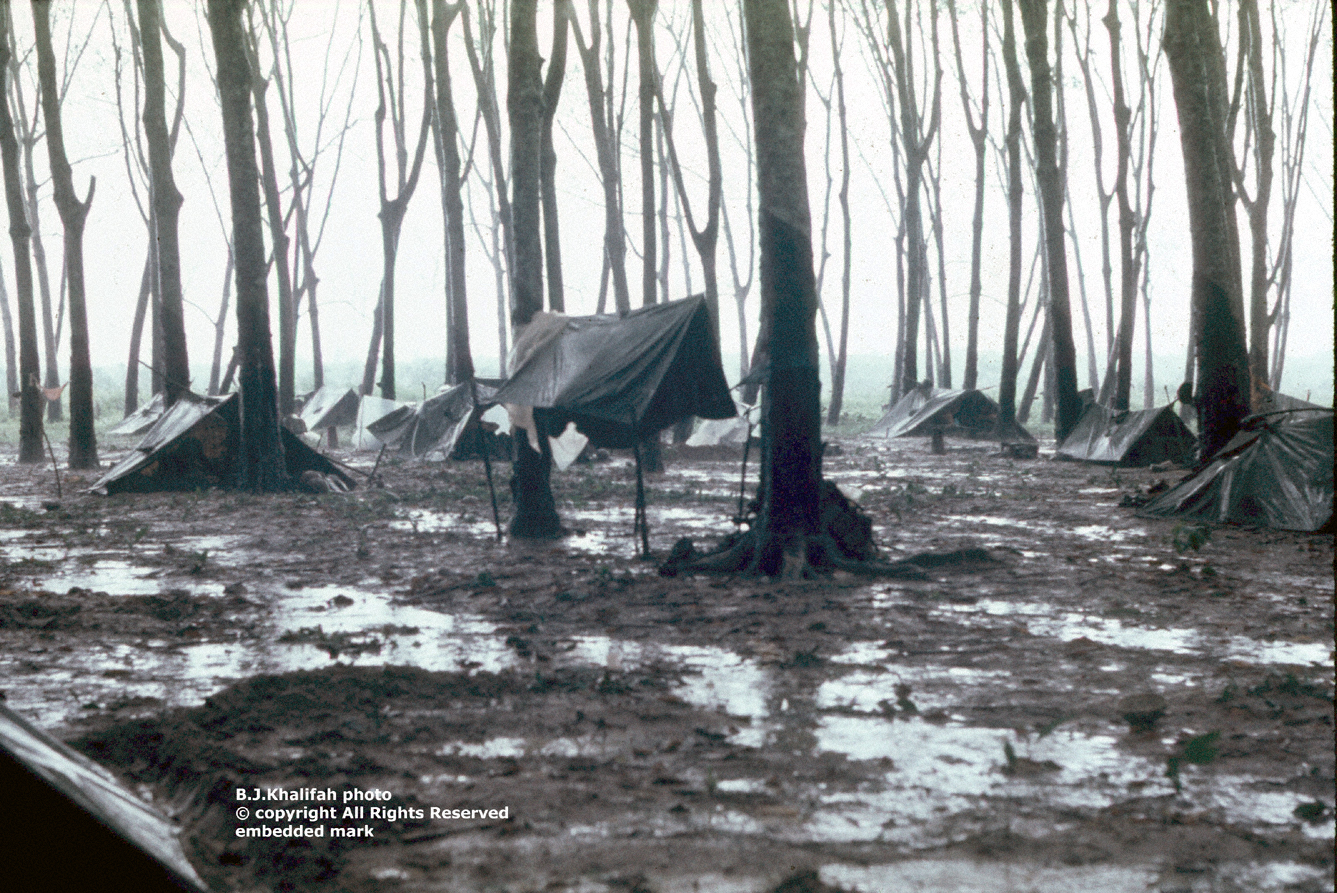 Typical wet conditions during the rainy season. My tent in the morning. We were cold that day, temp had dropped, because of the rain, from about 100'F to about 70. Everything is relative
...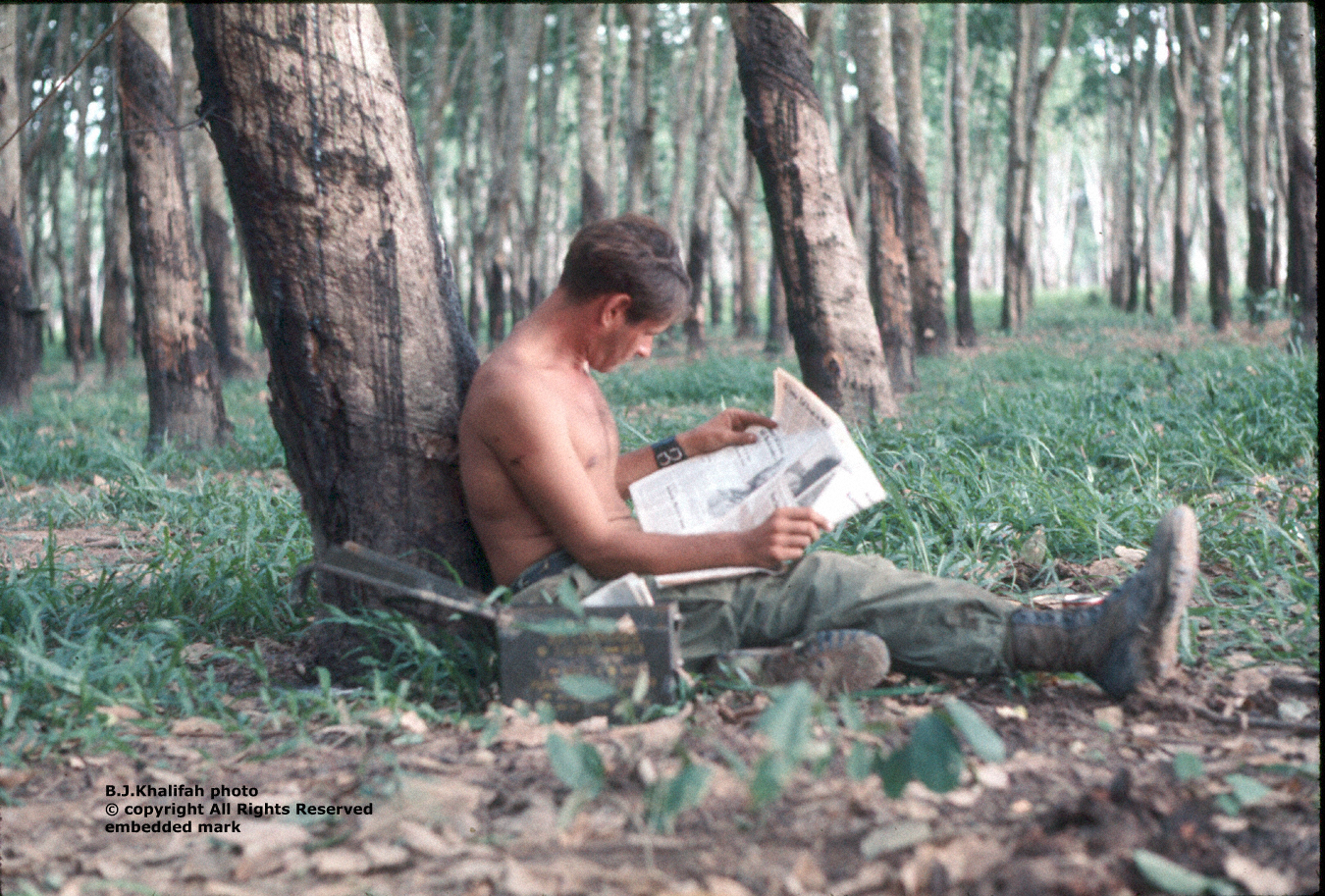 Down time. Steve McDonald catching up on home town paper.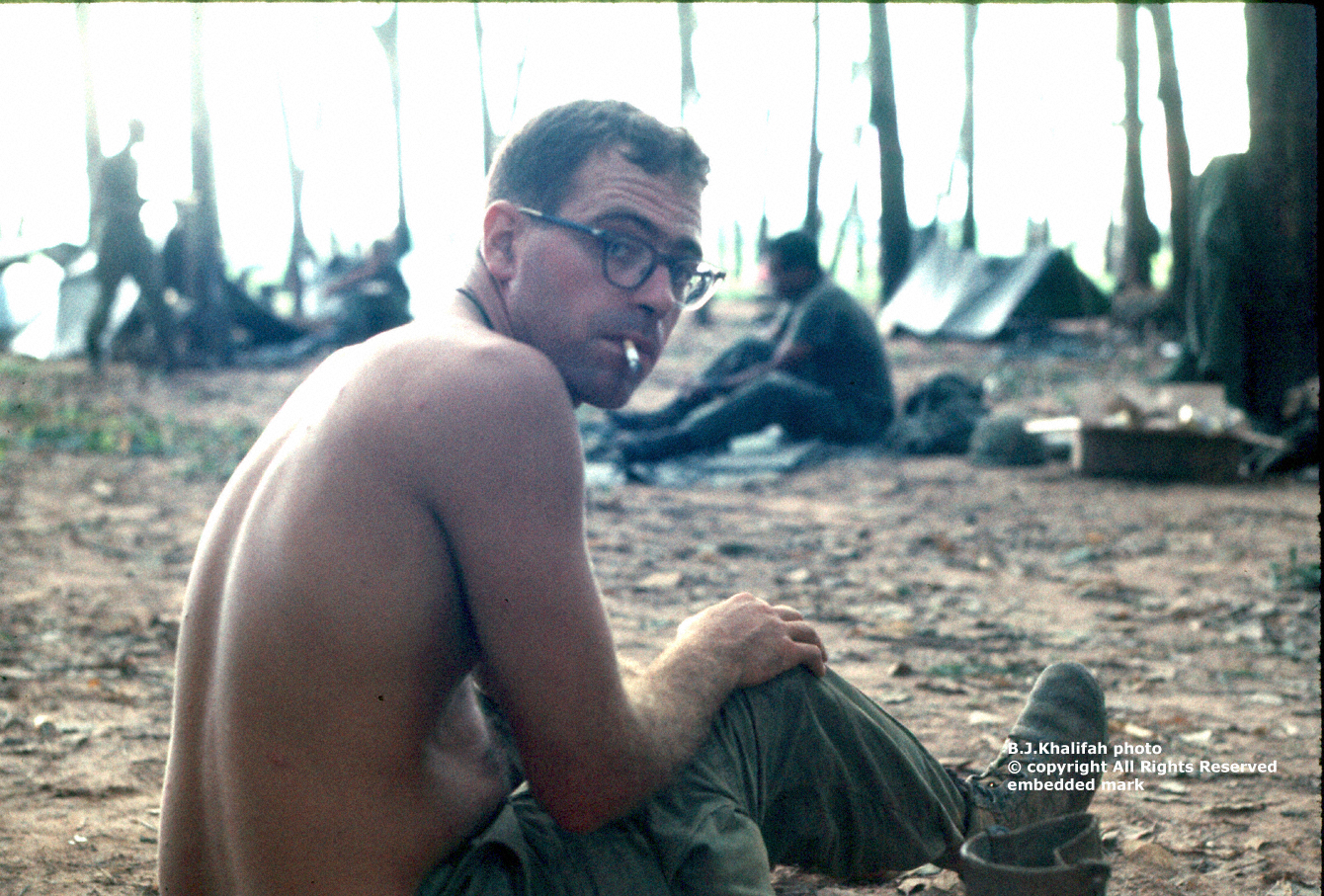 Lt. Freeman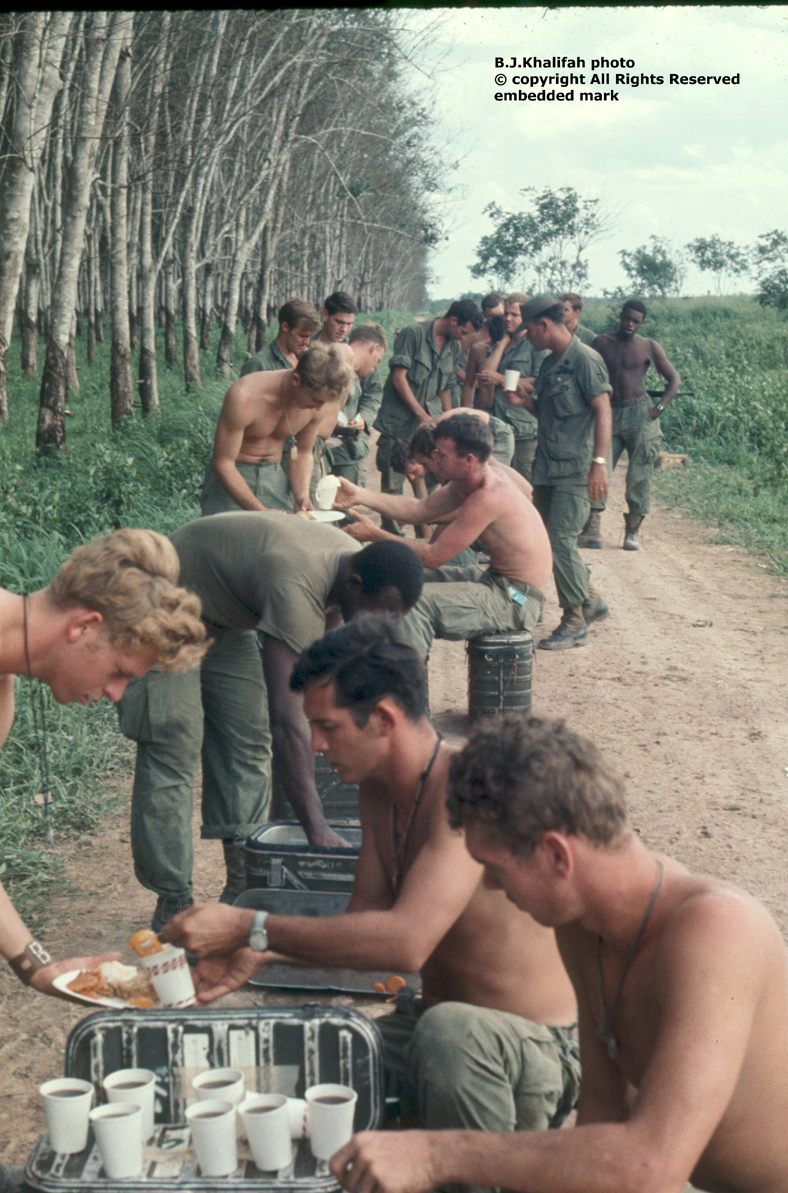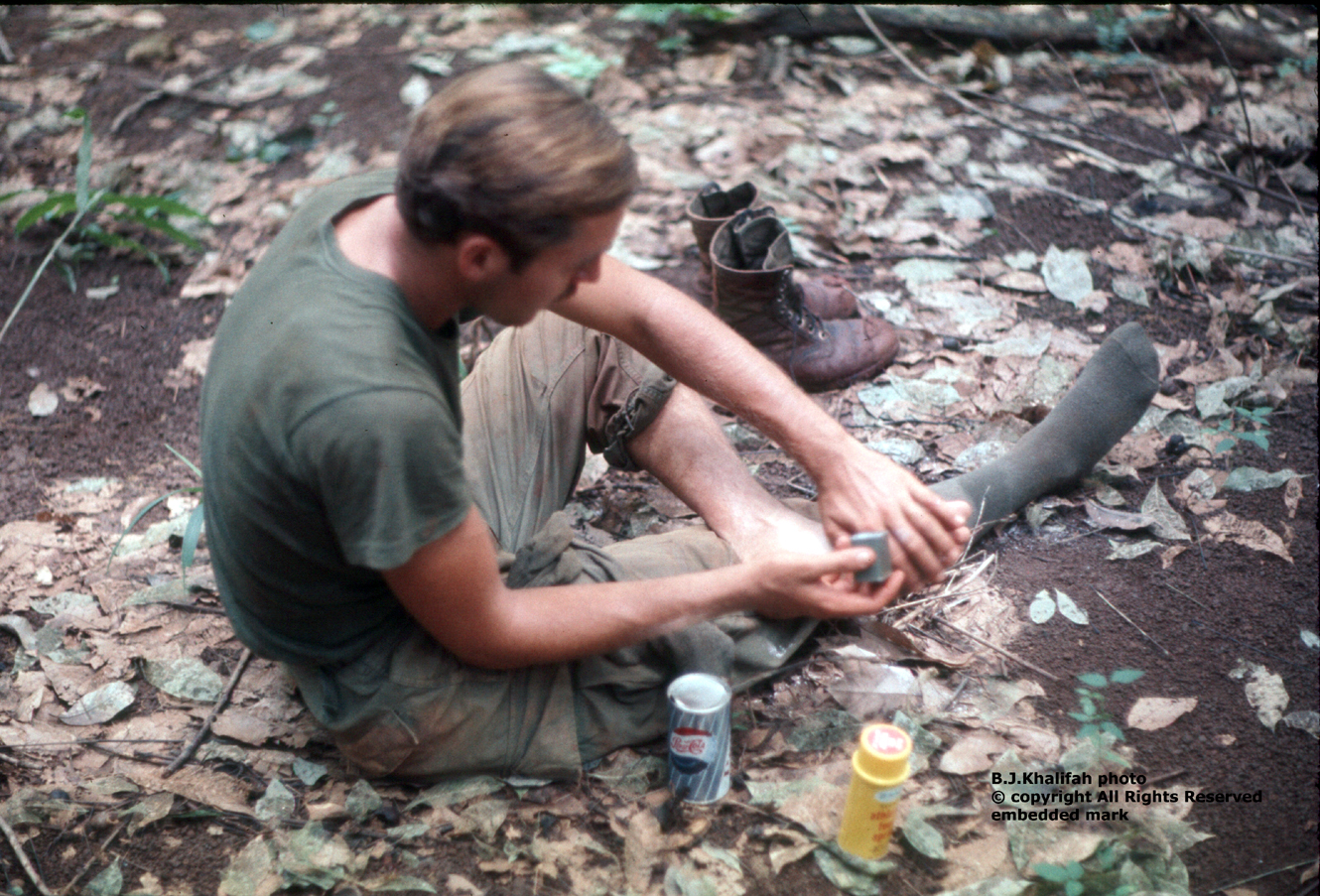 Sp4 Bruce Osborn, CA, trying to keep his feet dry. A lost cause; we were always wet.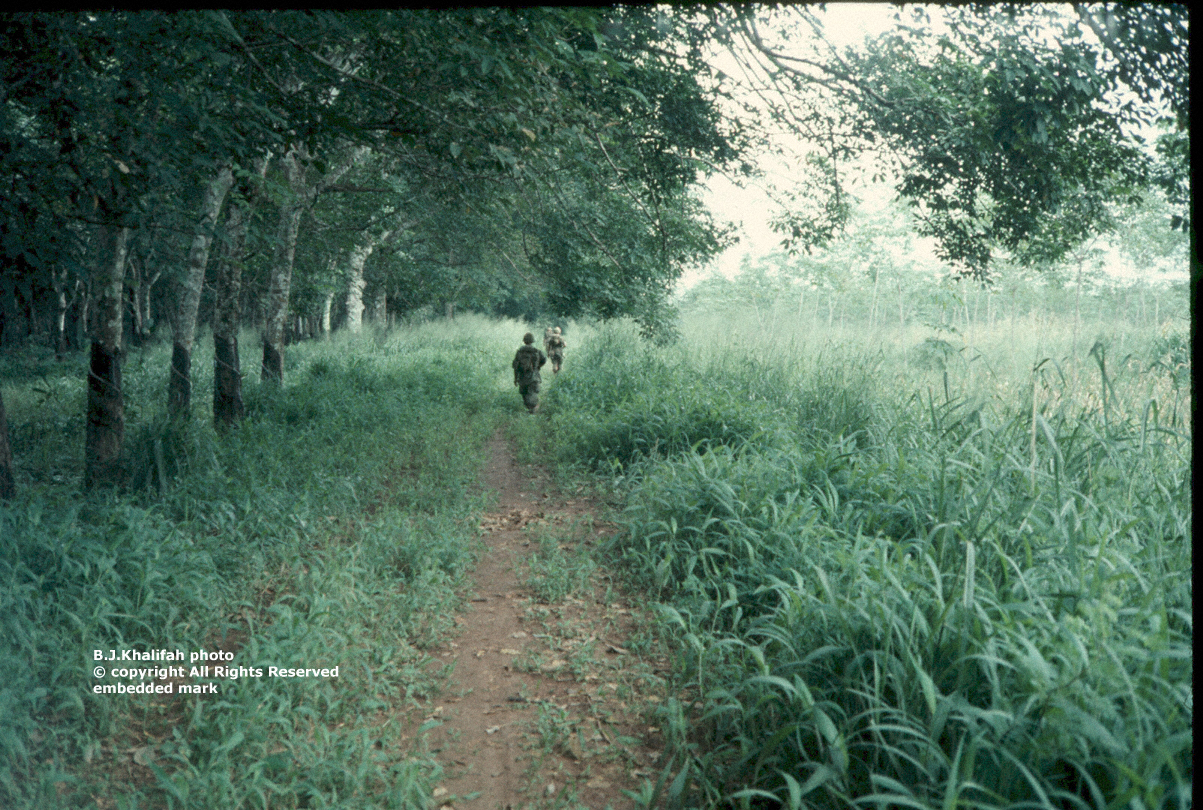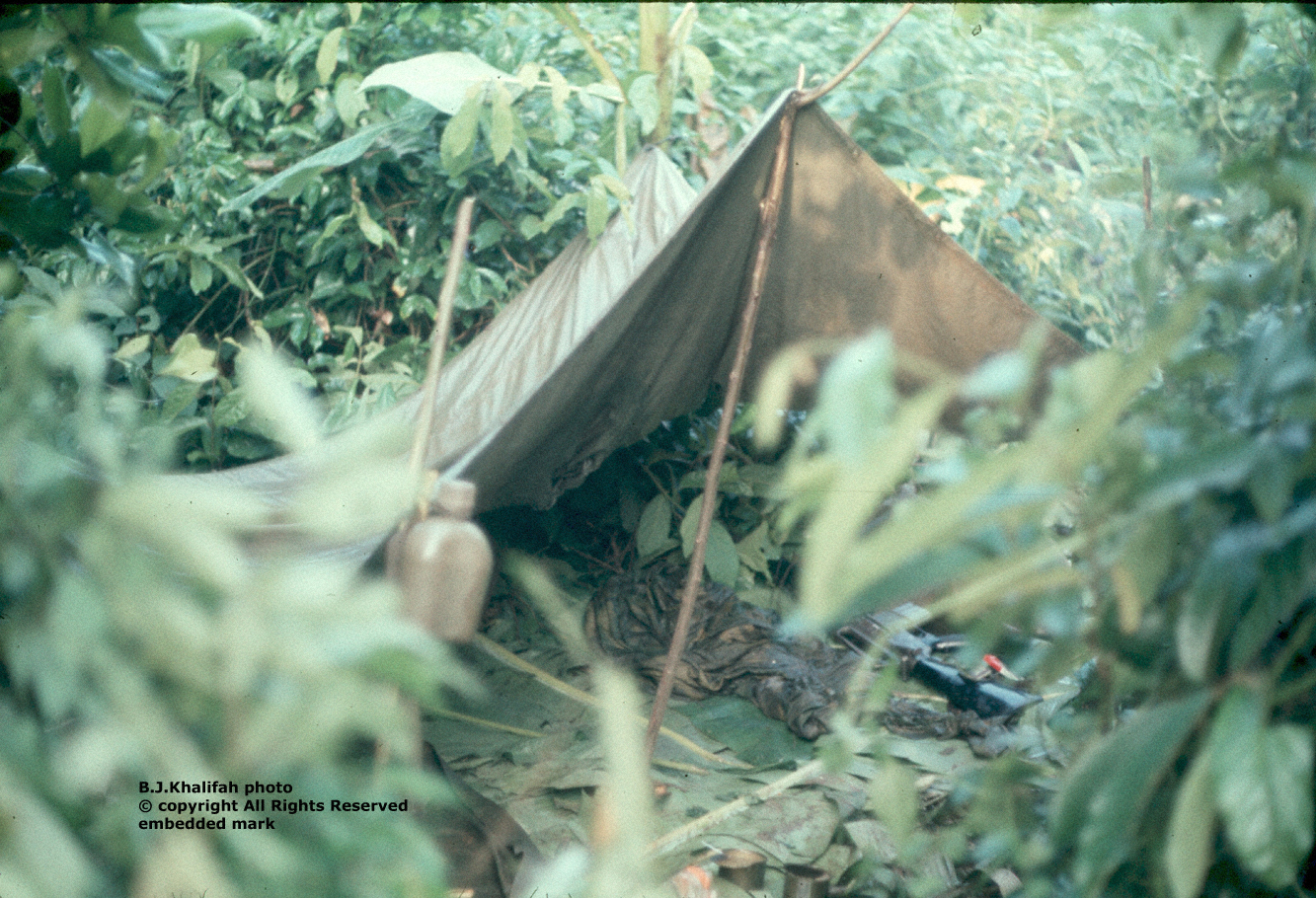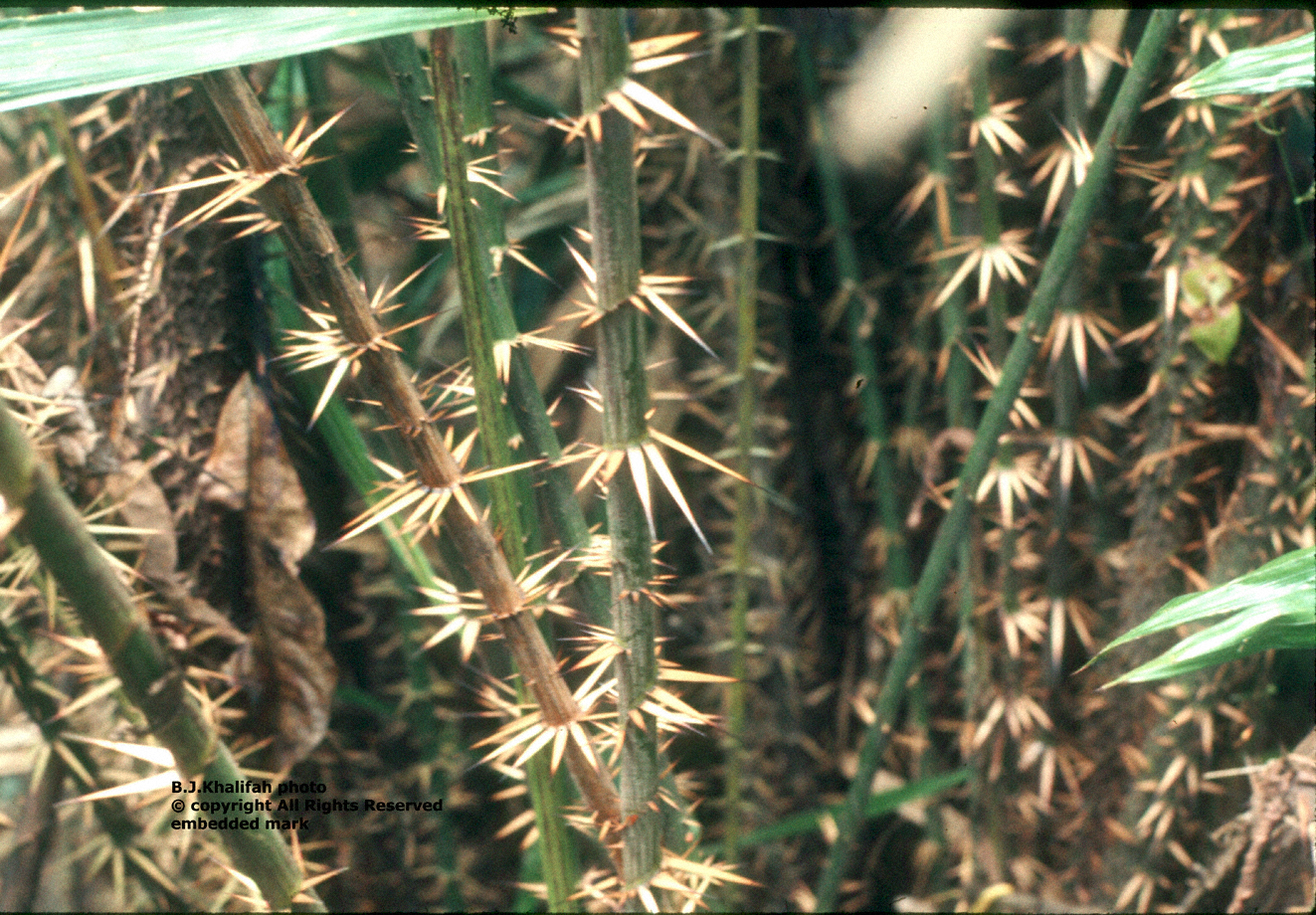 Wait-a-minute thorns, guaranteed to ruin your day.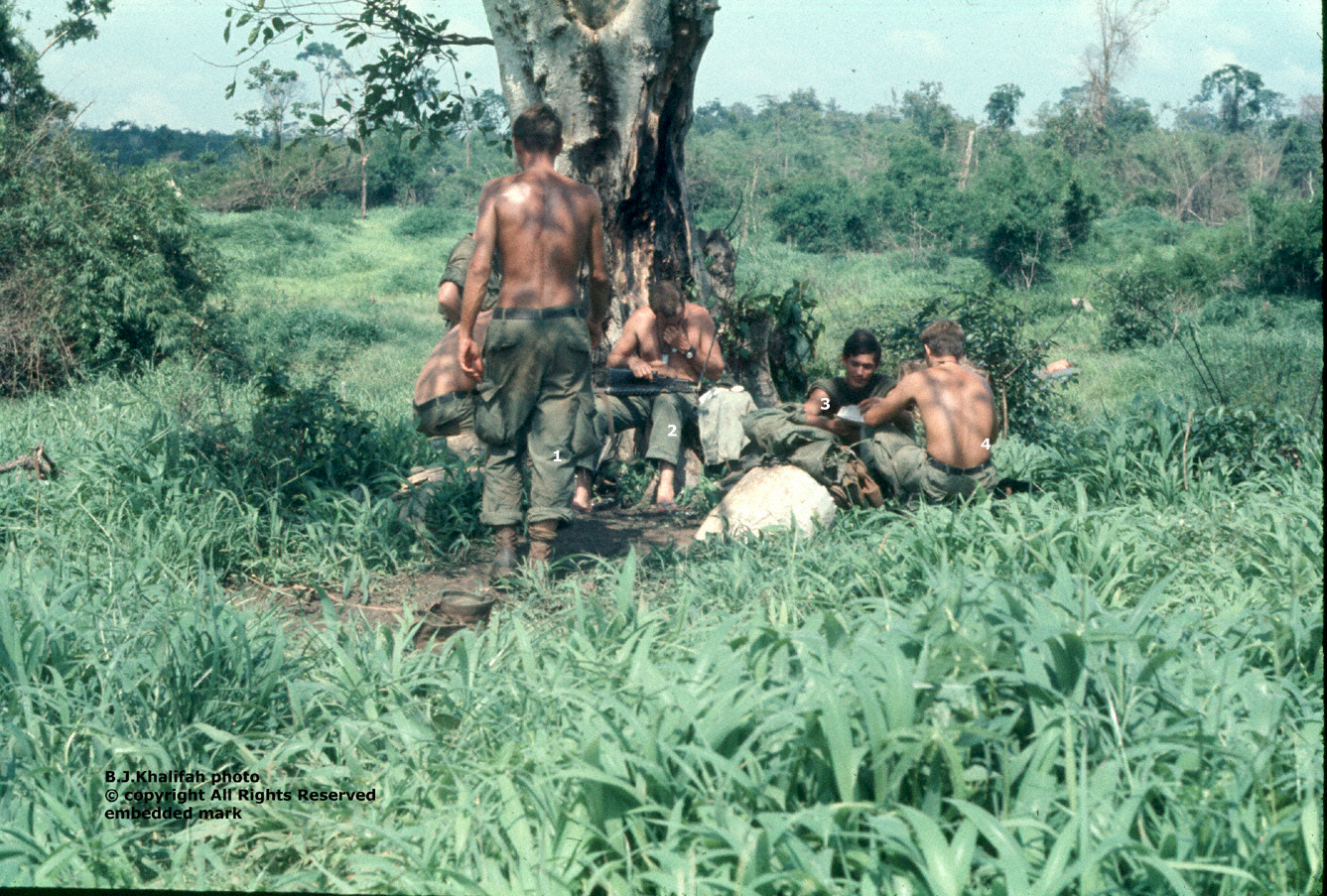 While the rest of the platoon was on guard, we took some time to clean our weapons and read the mail, if there was any.
1. McDodnald
2. Lewis
3. Rafferty
4. Stevens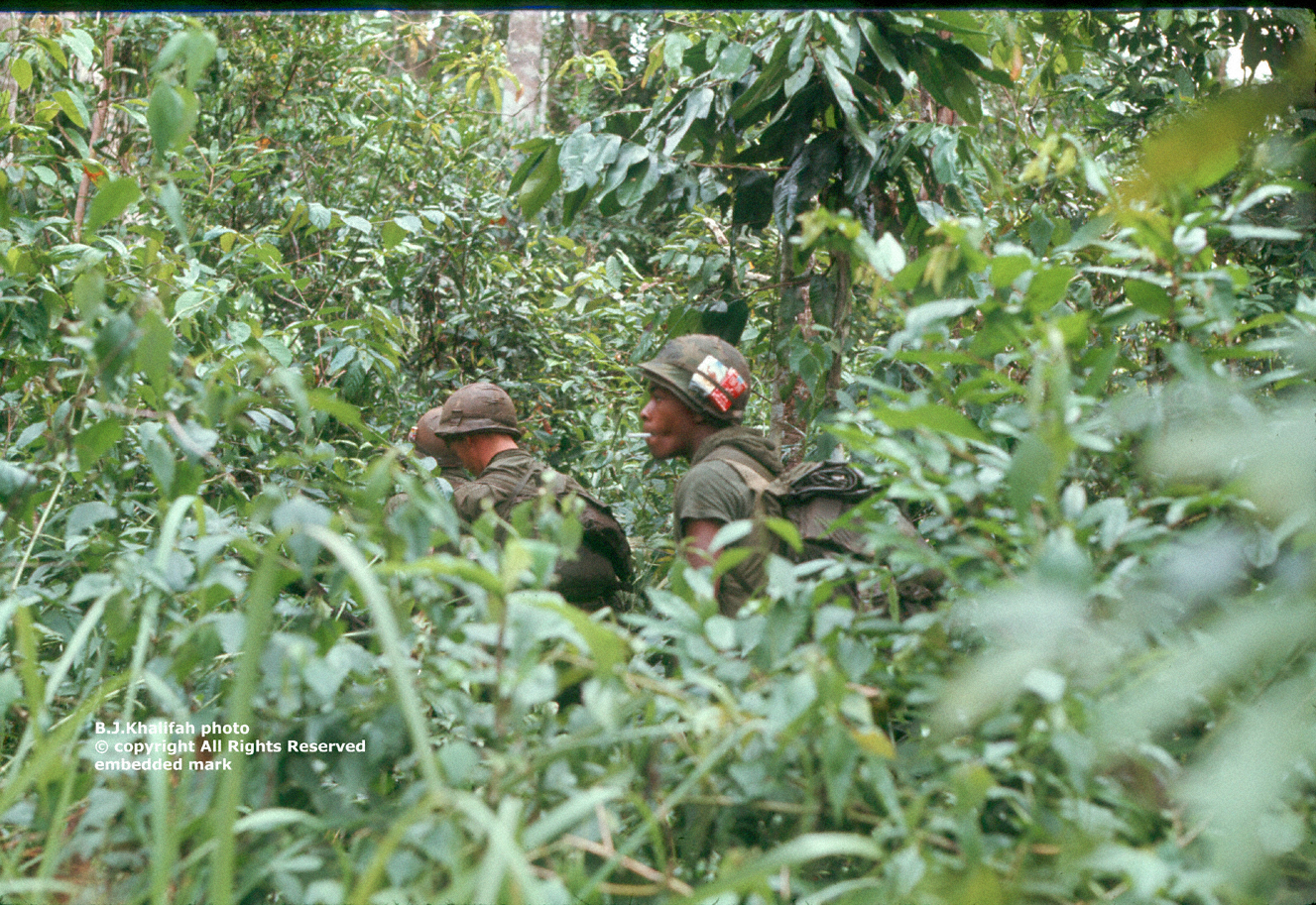 South and east of FSB Libby, Long Khanh Province.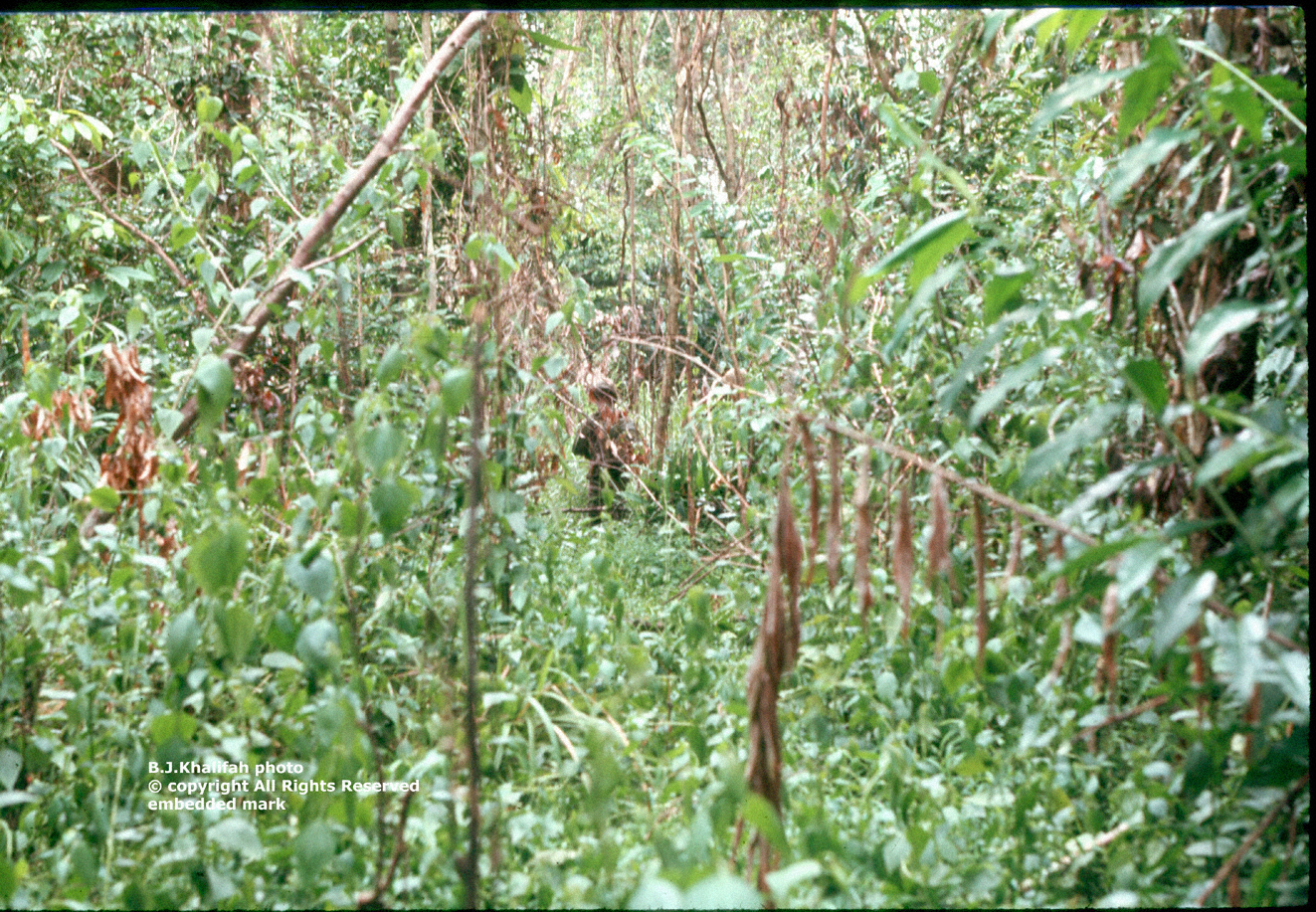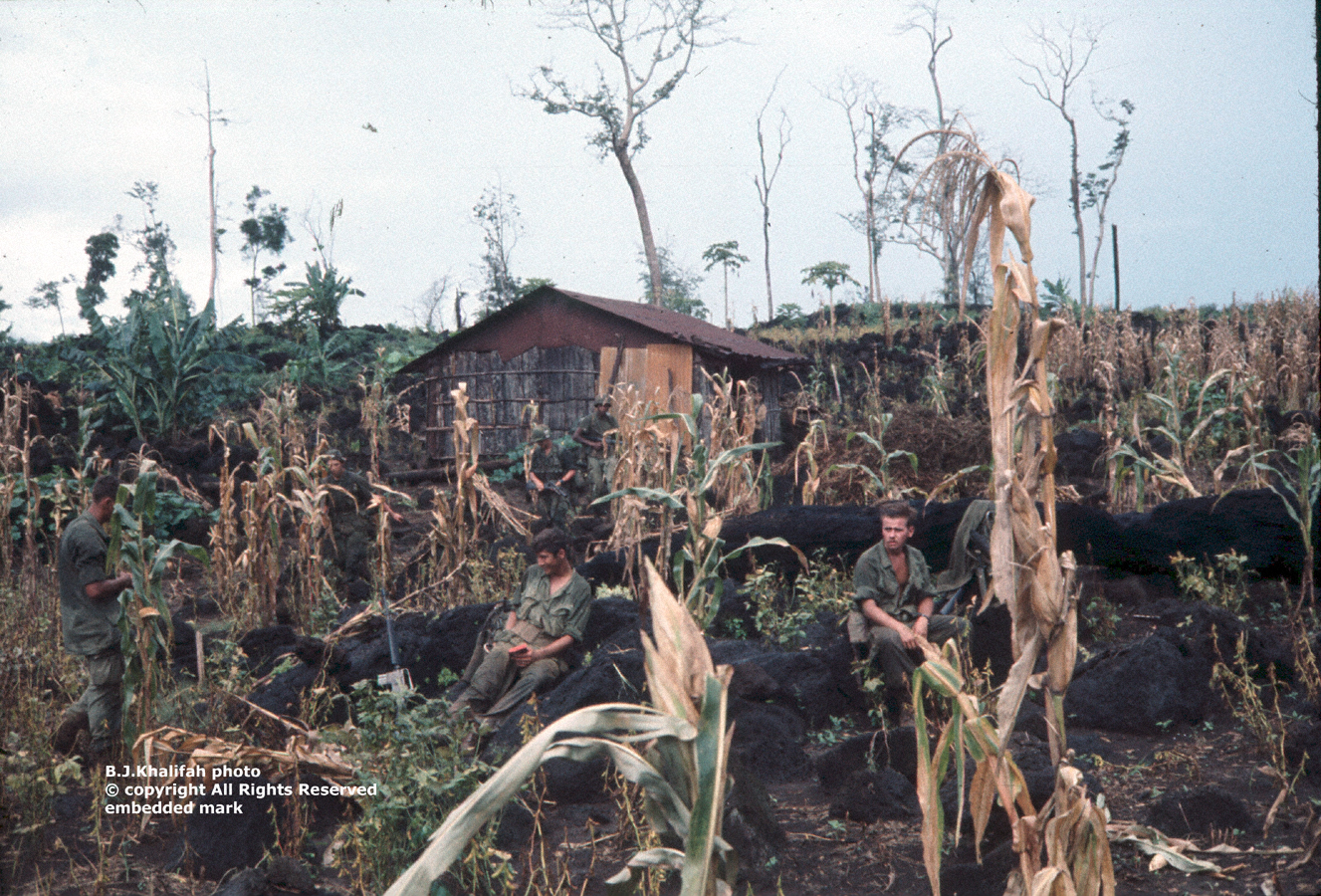 Area of Nui Soc Liu, a particularly violent area; full of lava rock, banana groves...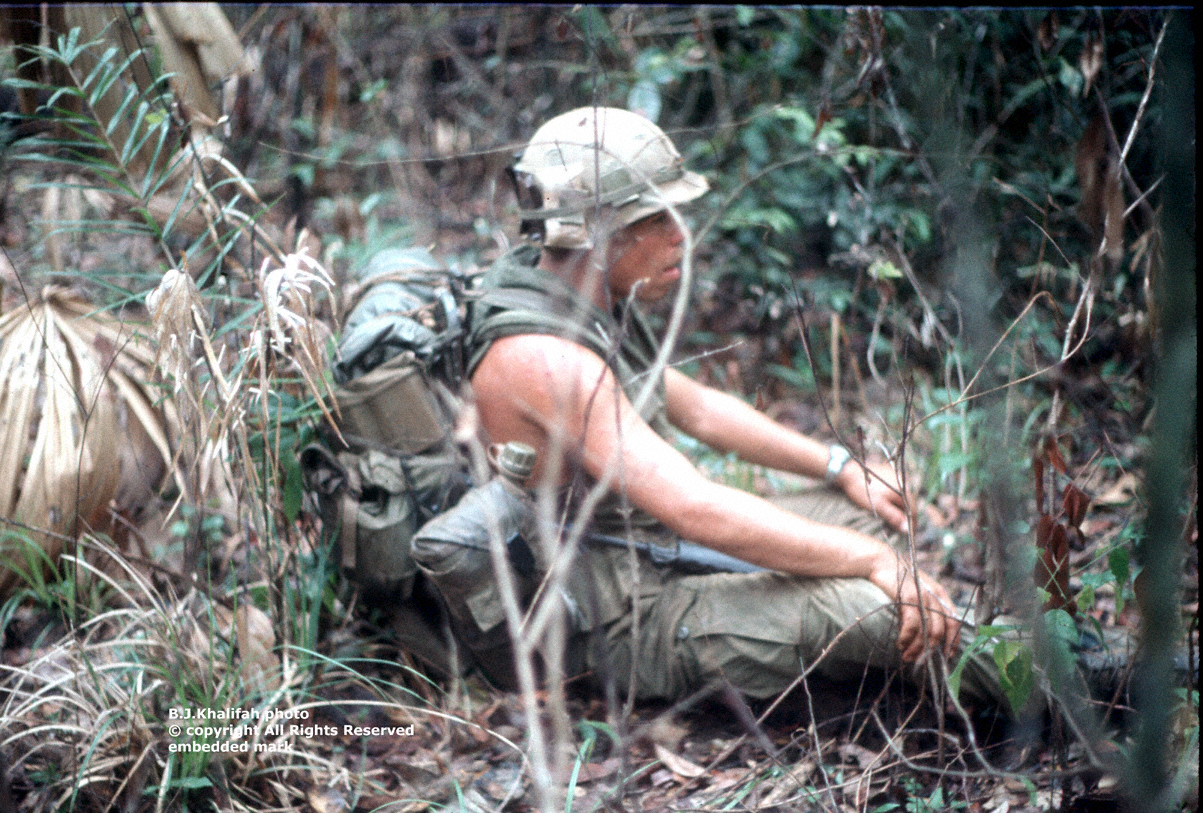 Ken Richey resting. It was very hot and sweaty in the jungle. Any break was a huge relief!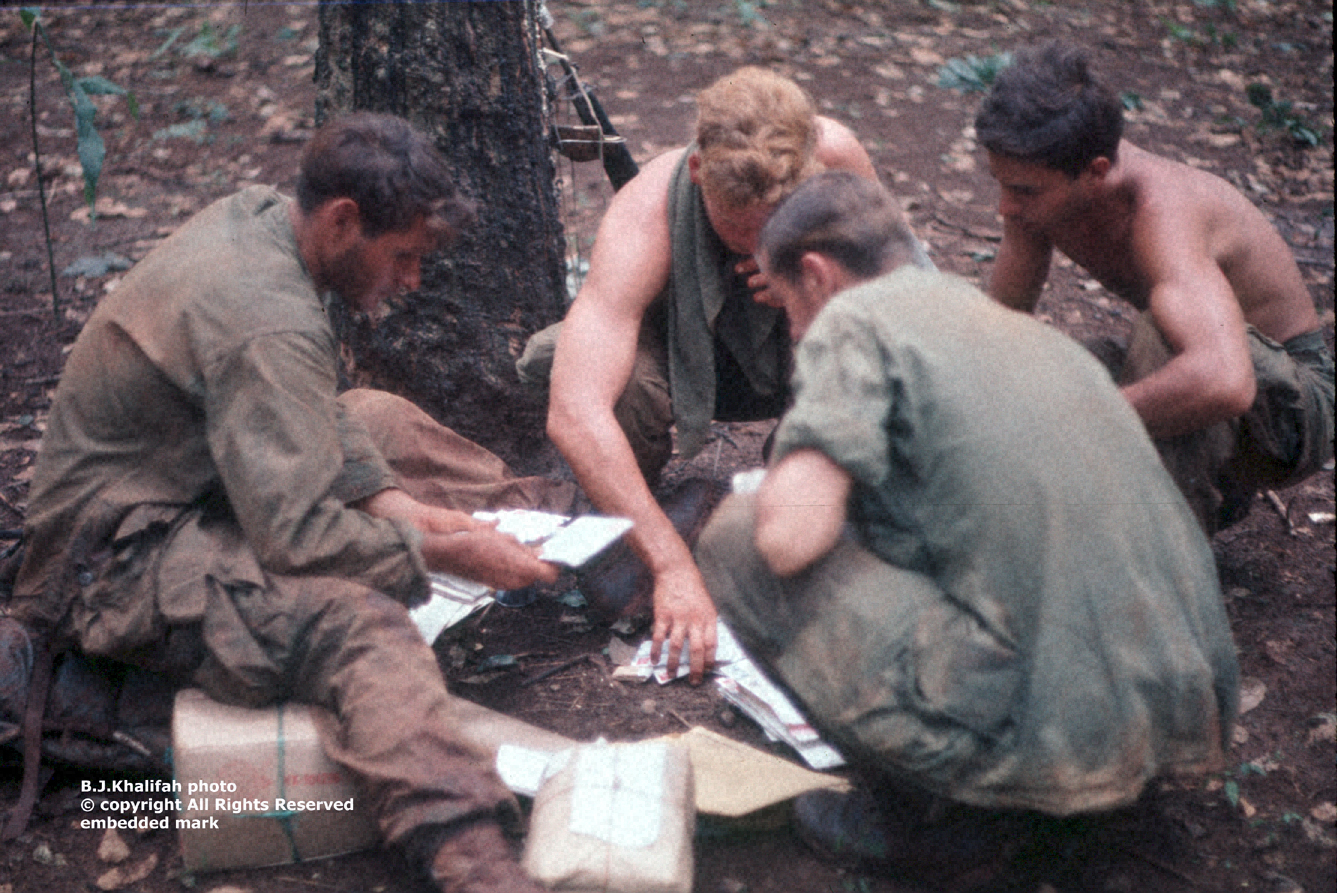 Sorting the mail after a fly by. Clockwise McDonald, Neally, Rafferty, Osborn
.

In the rubber plantations south and east of FSB Libby. Once we had cleared an area and set up a protective perimeter we would
relax a bit before setting up a night ambush.
The VC and NVA used the rubber as a highway south. The long rows provided good cover and high speed for a convoy heading south toward their objective of destroying the US base at Long Binh and city of Saigon.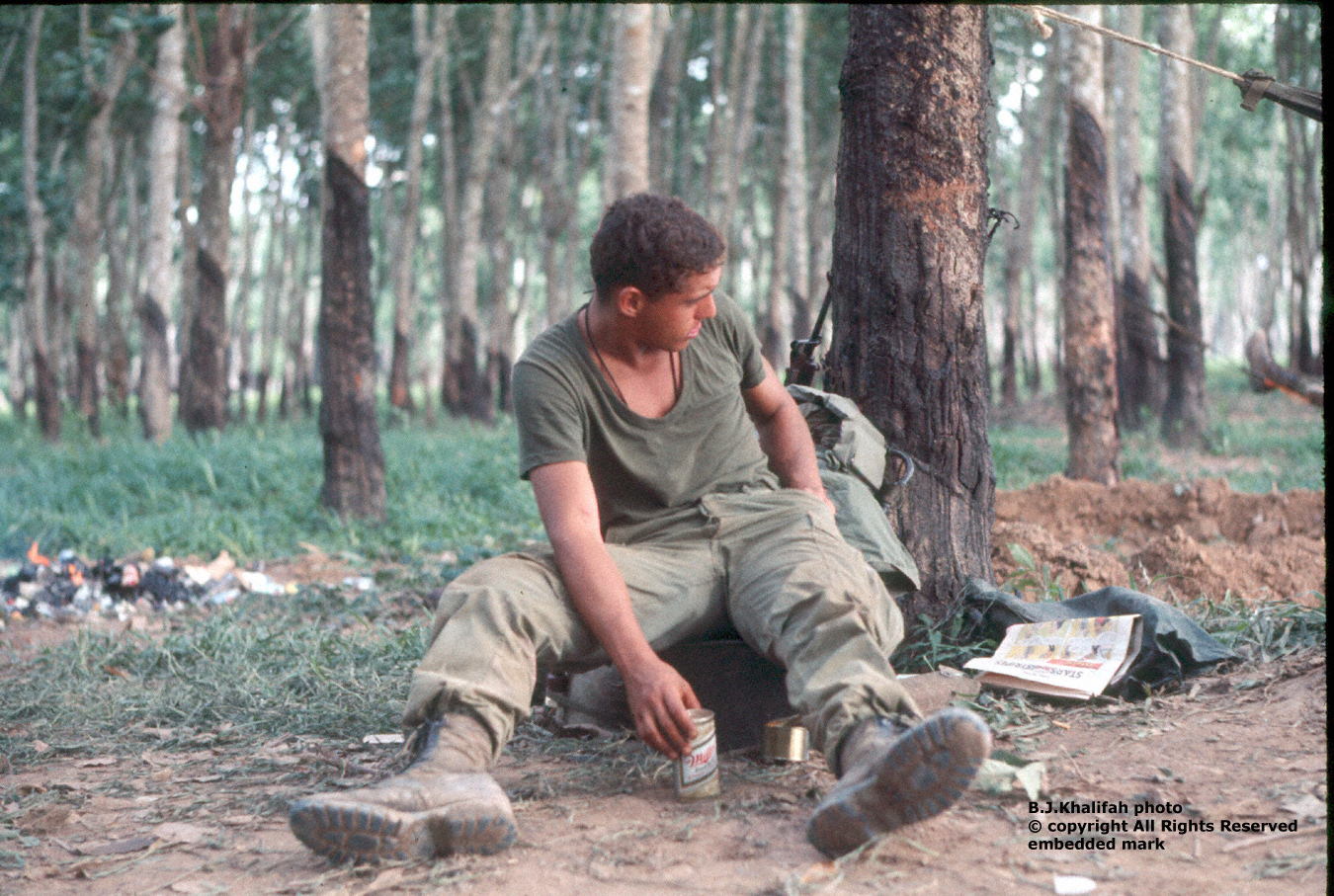 Mussman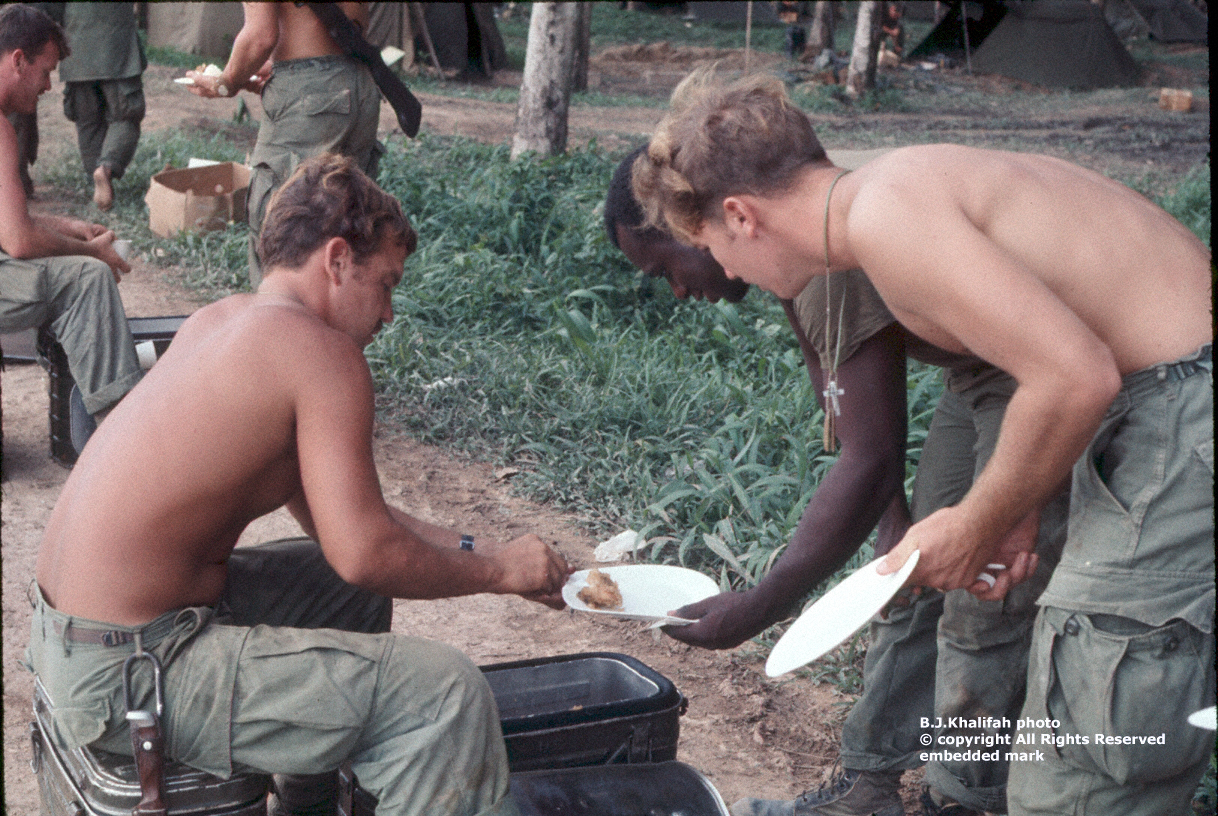 Hot chow (an absolutely rare luxury) had been delivered to us on only on a few occasions.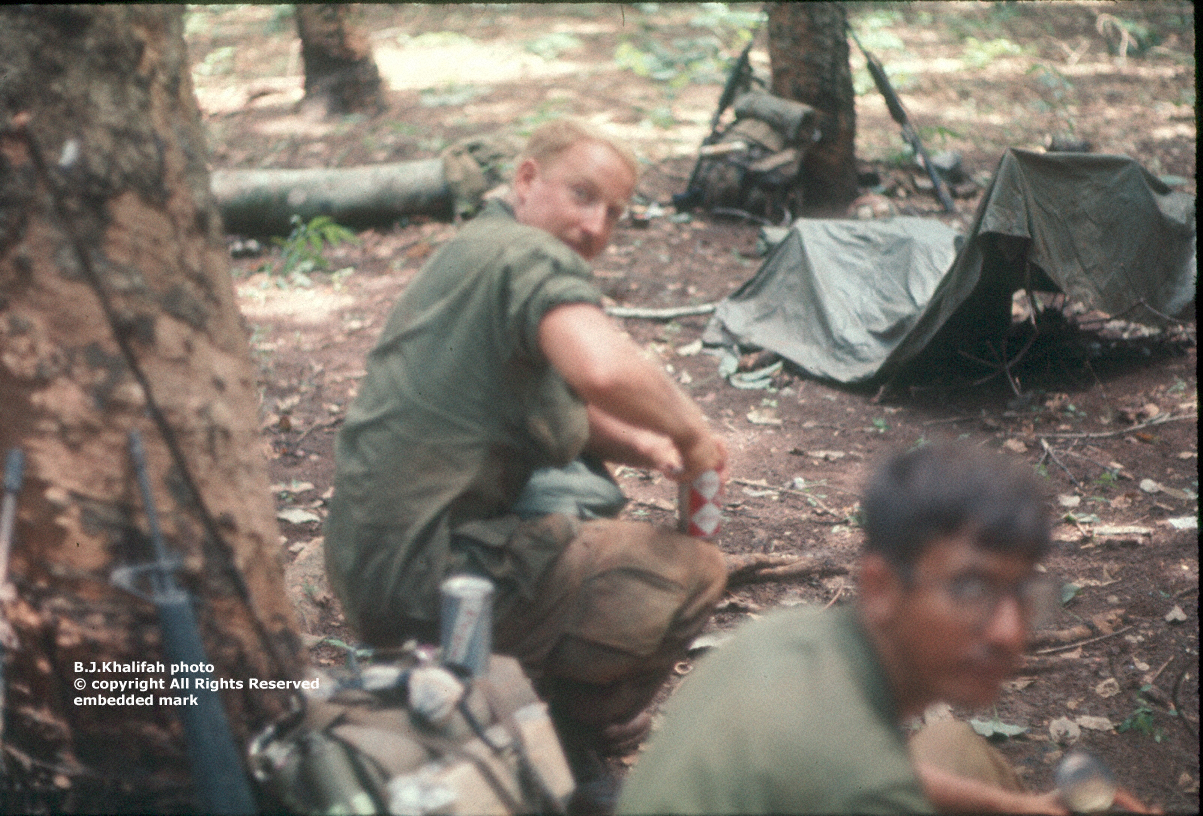 Decker and Ron LeMoine (medic).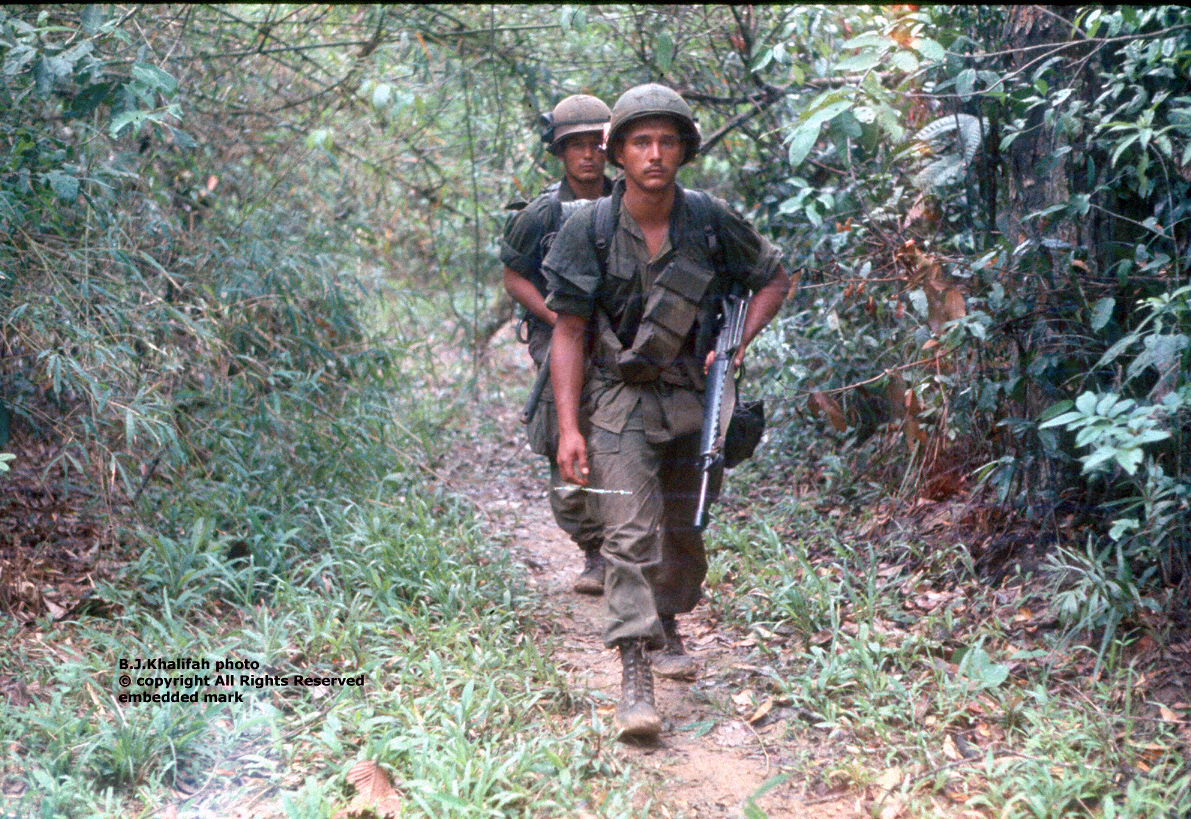 Mussman (front) Rafferty (rear)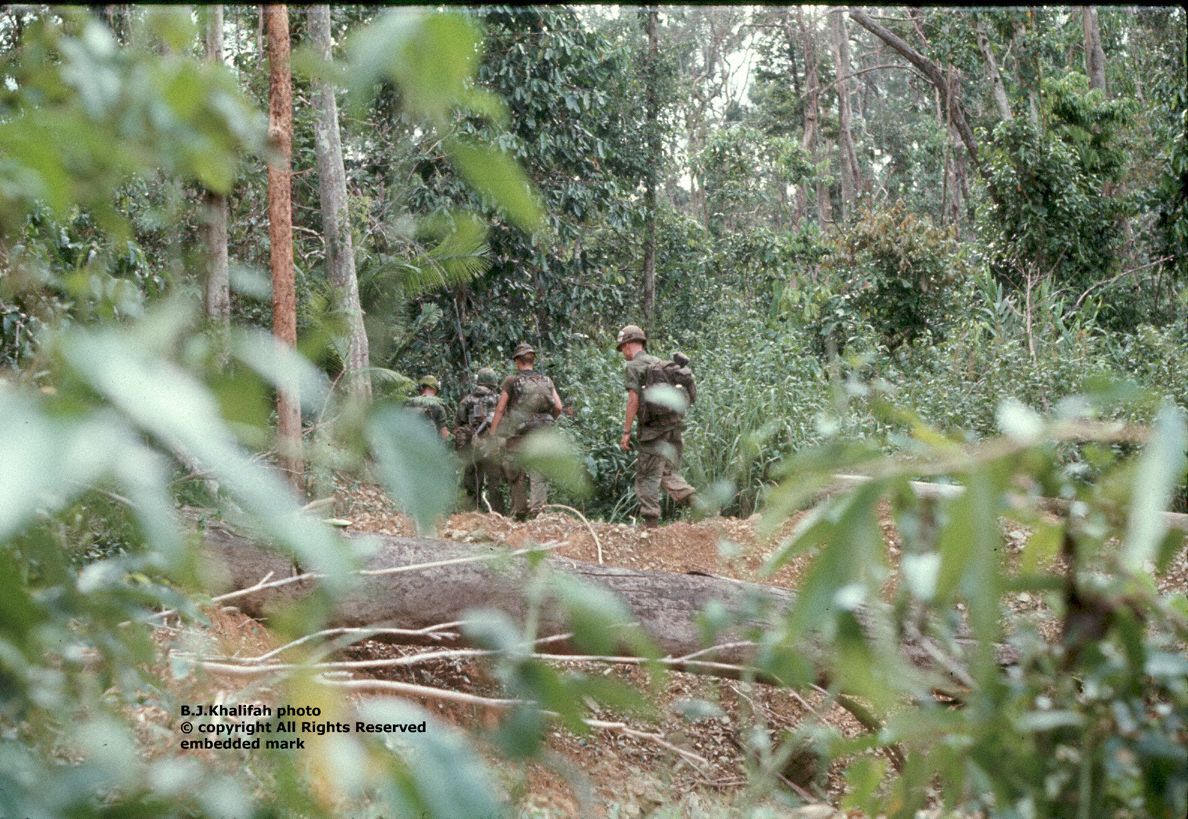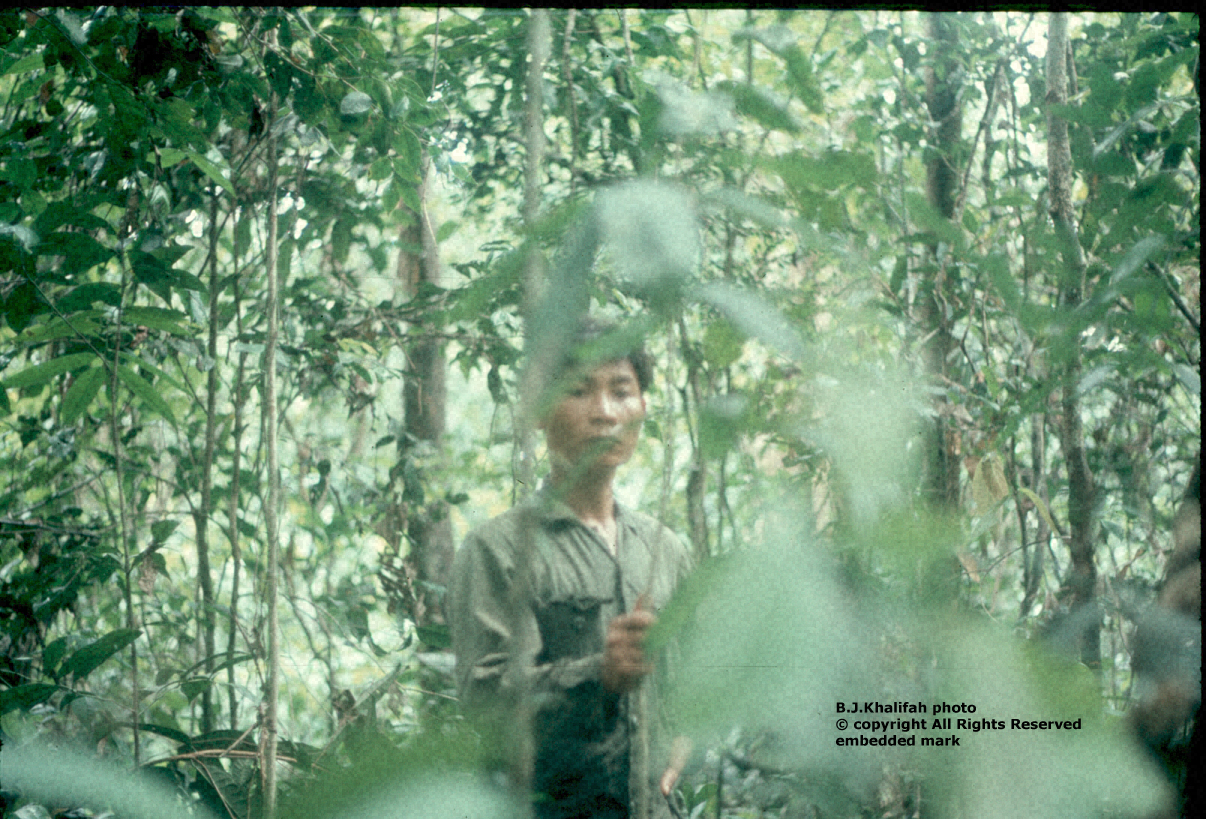 Boa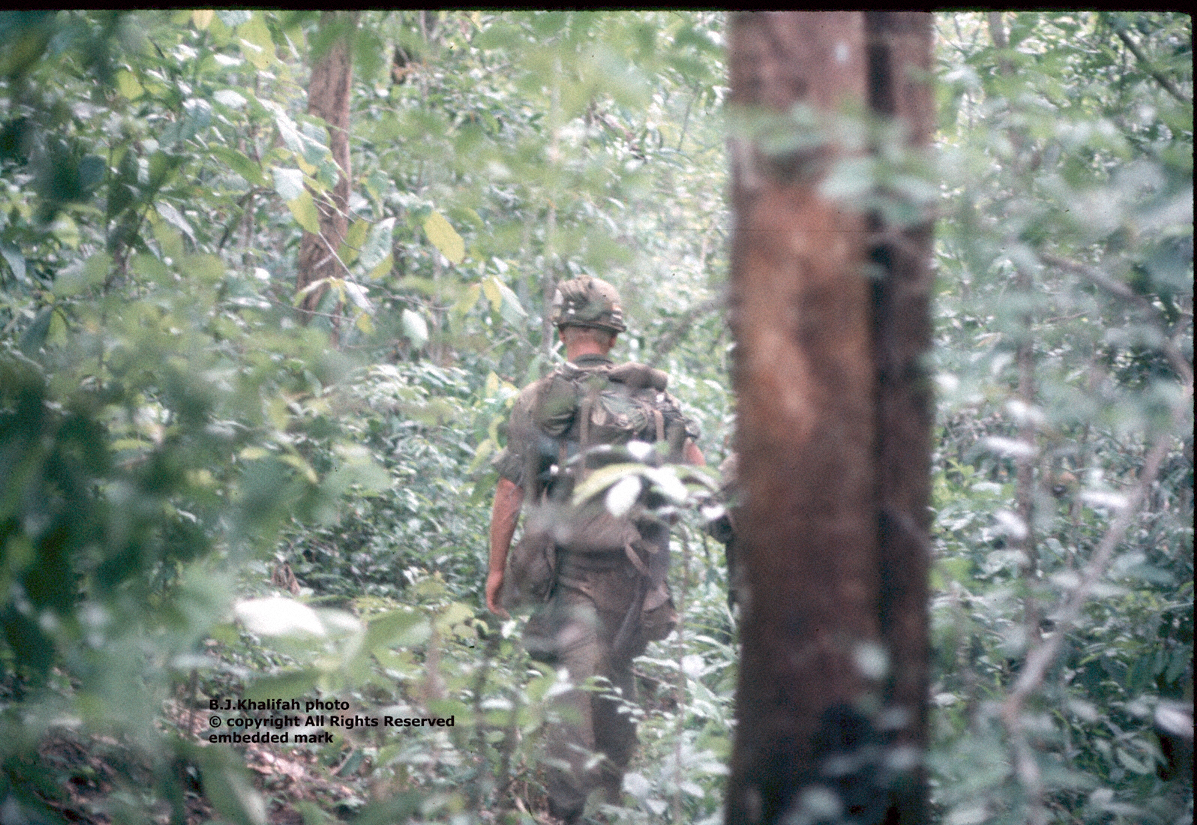 Dan Kelly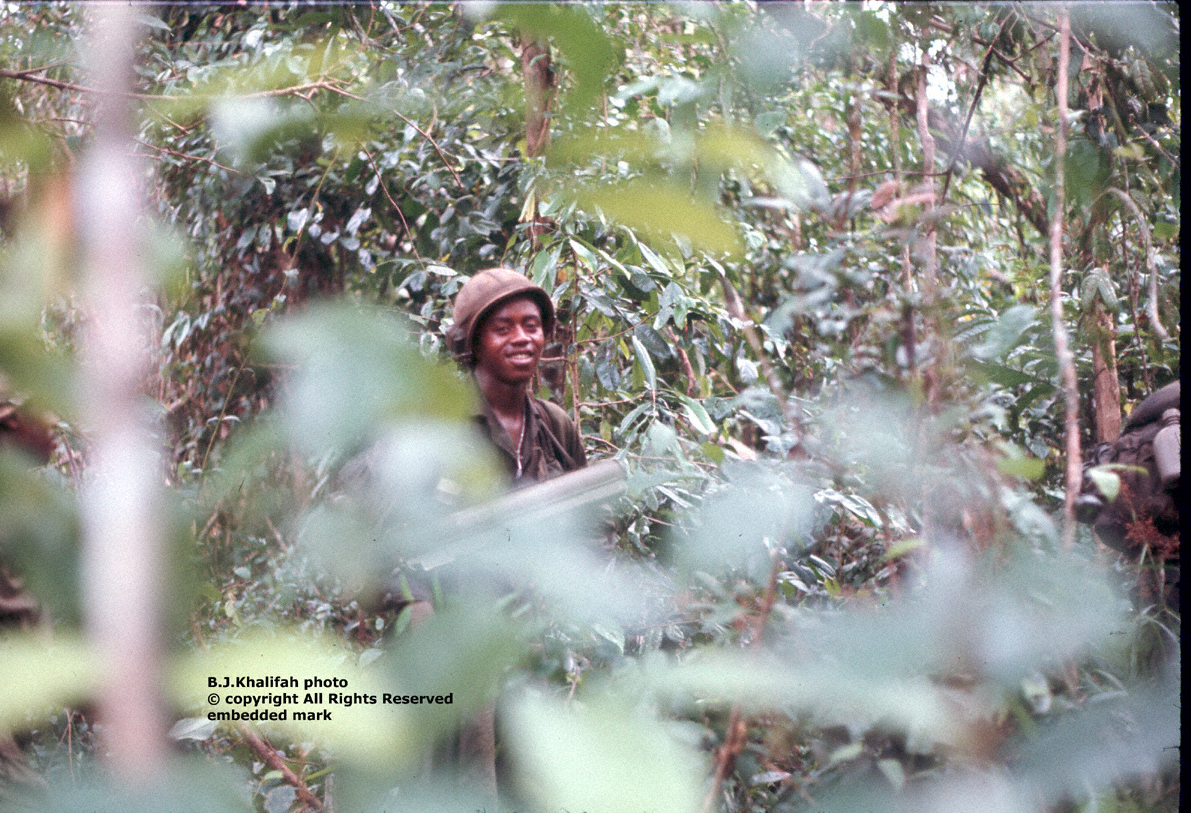 Reese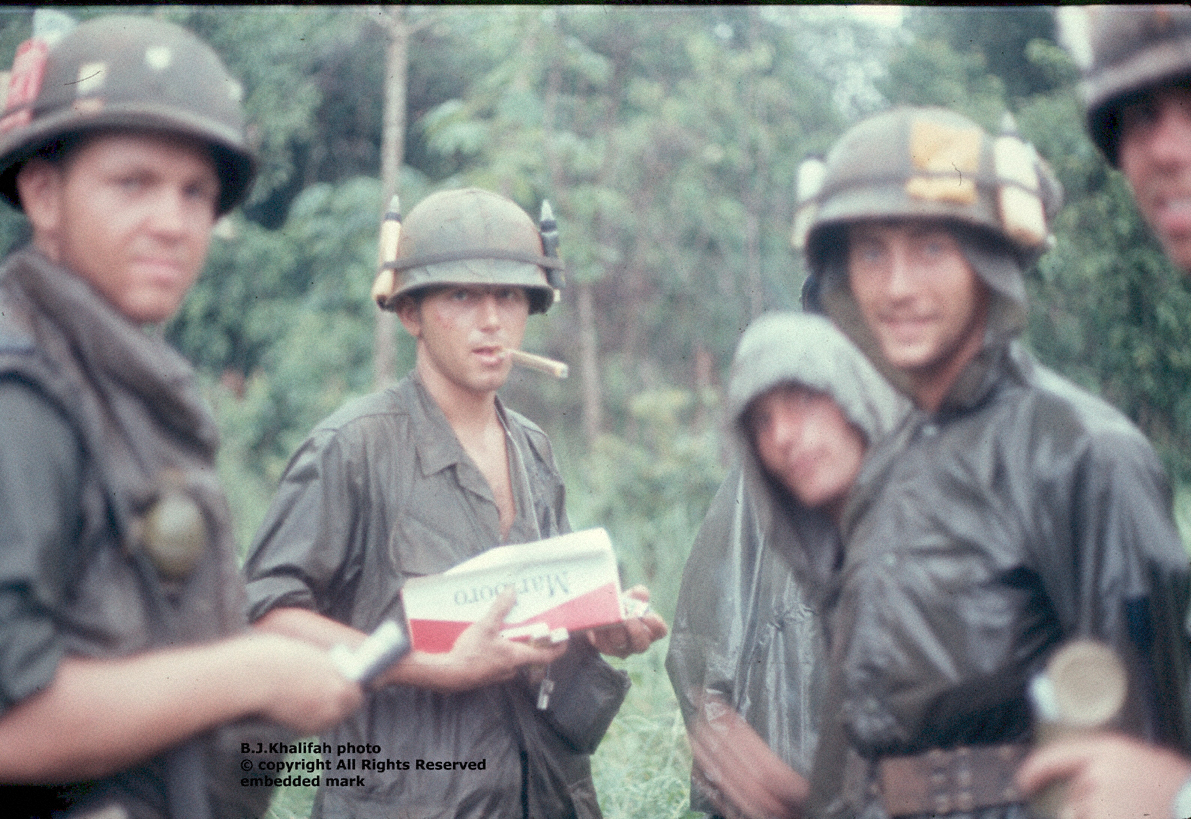 L to R: Carl Treece, Butch Stevens, Rafferty, Peltier, Richey.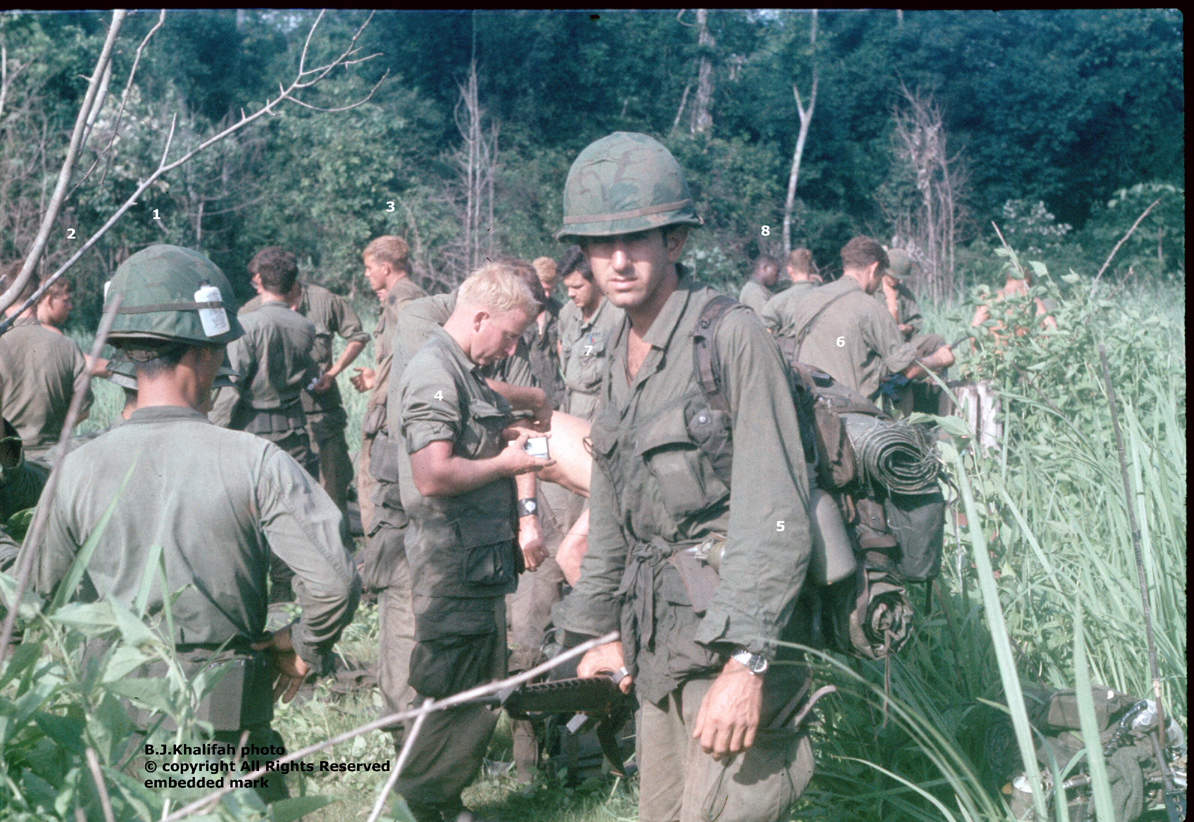 Breaking camp after night ambush set up.
People as numbered:
1- Nguyen Boa
2- Richey
3- Flynn
4- Decker
5- Khalifah
6- Stevens
7- Sealy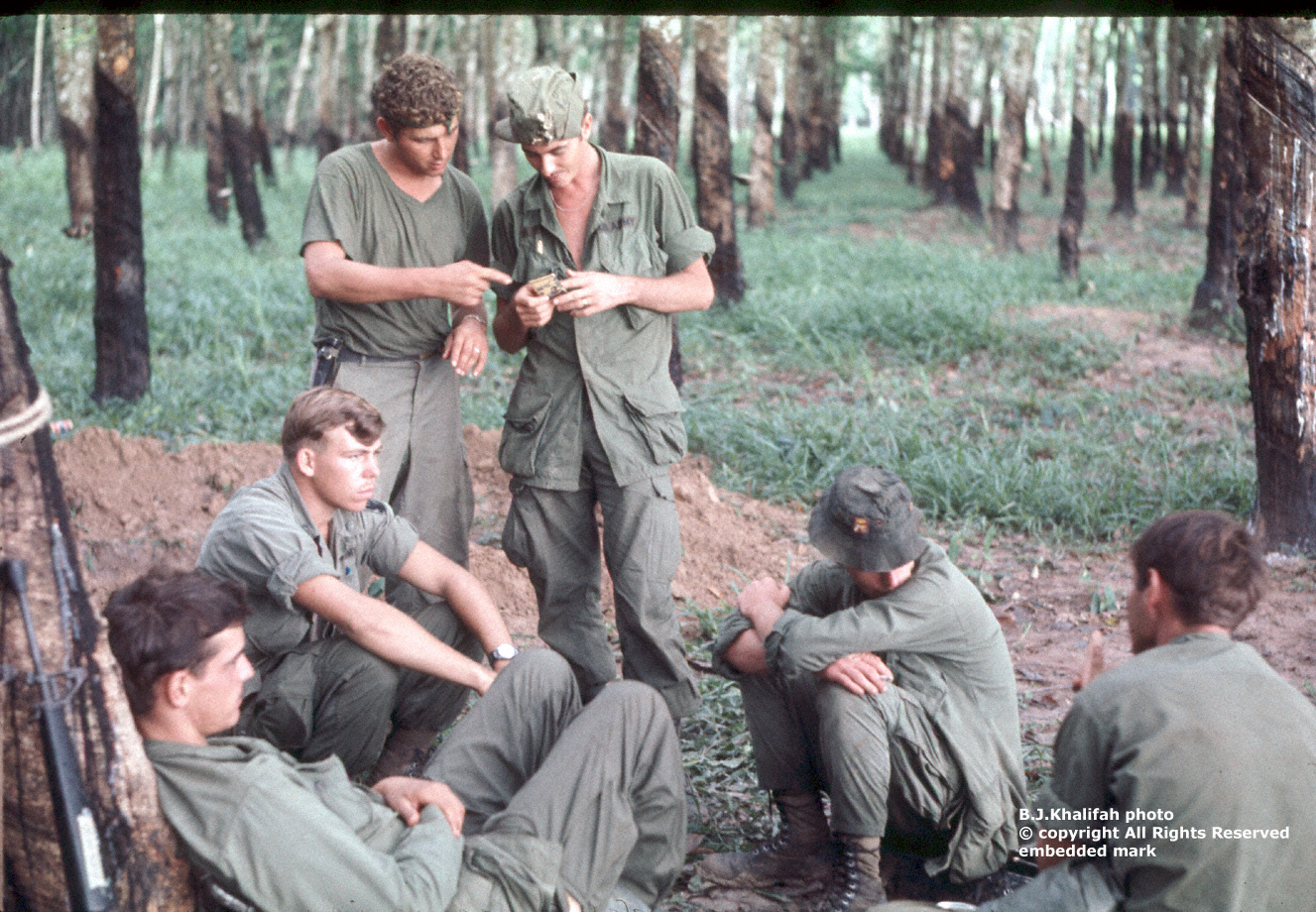 We occasionally provided security for Med-Caps that went to villages. This village was affluent judging by the buildings, the brick work, tile roofs, and church.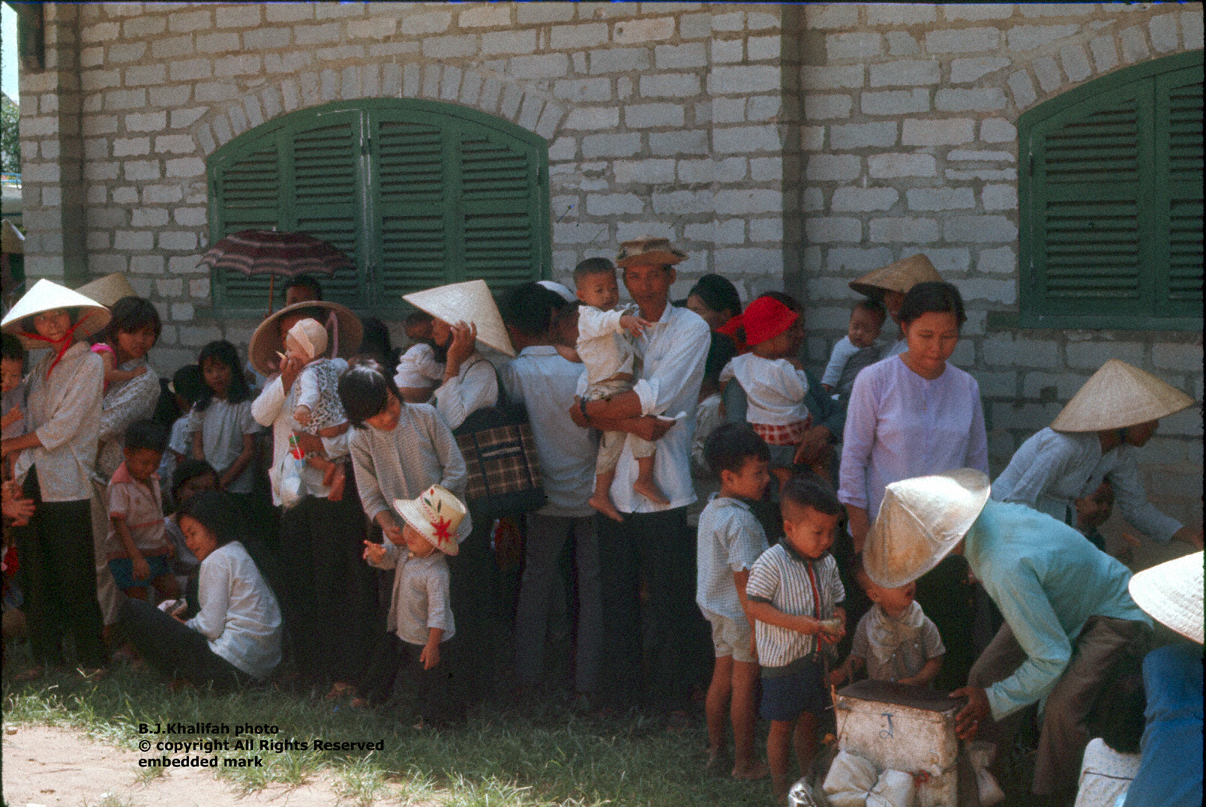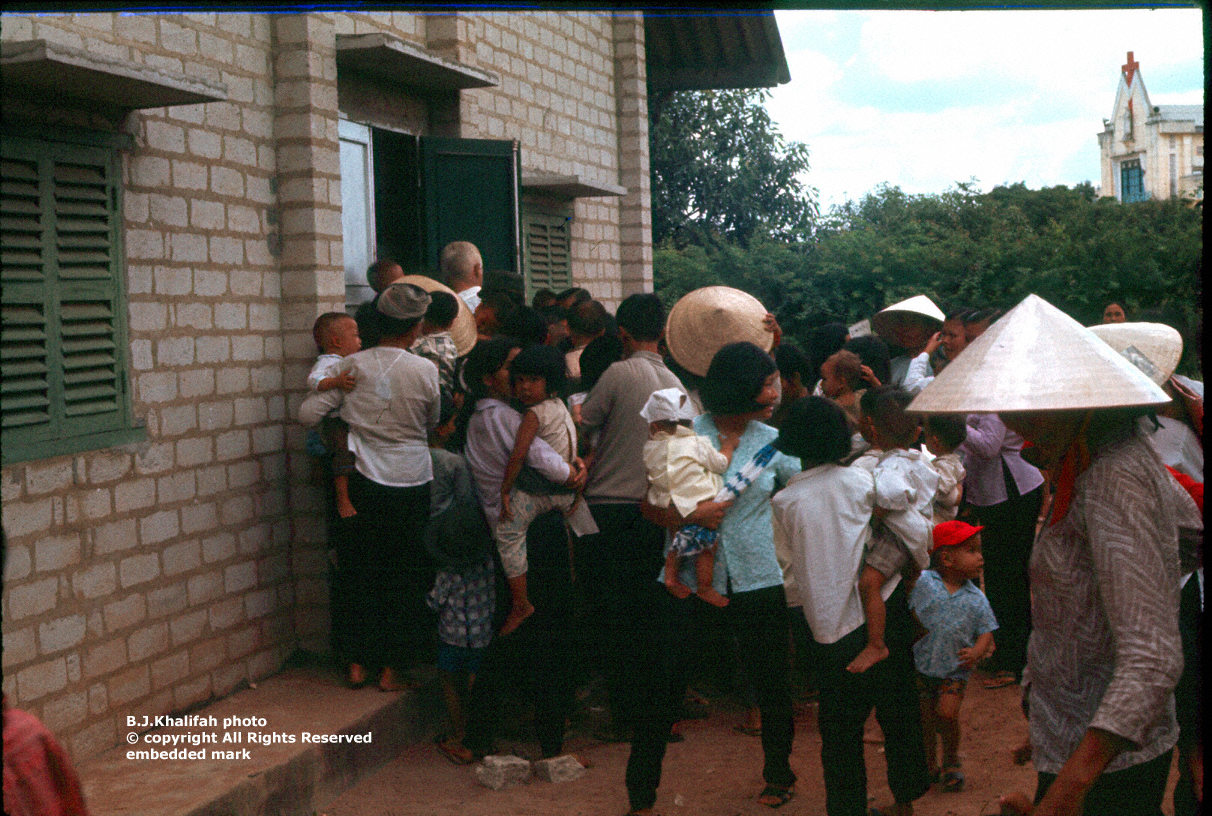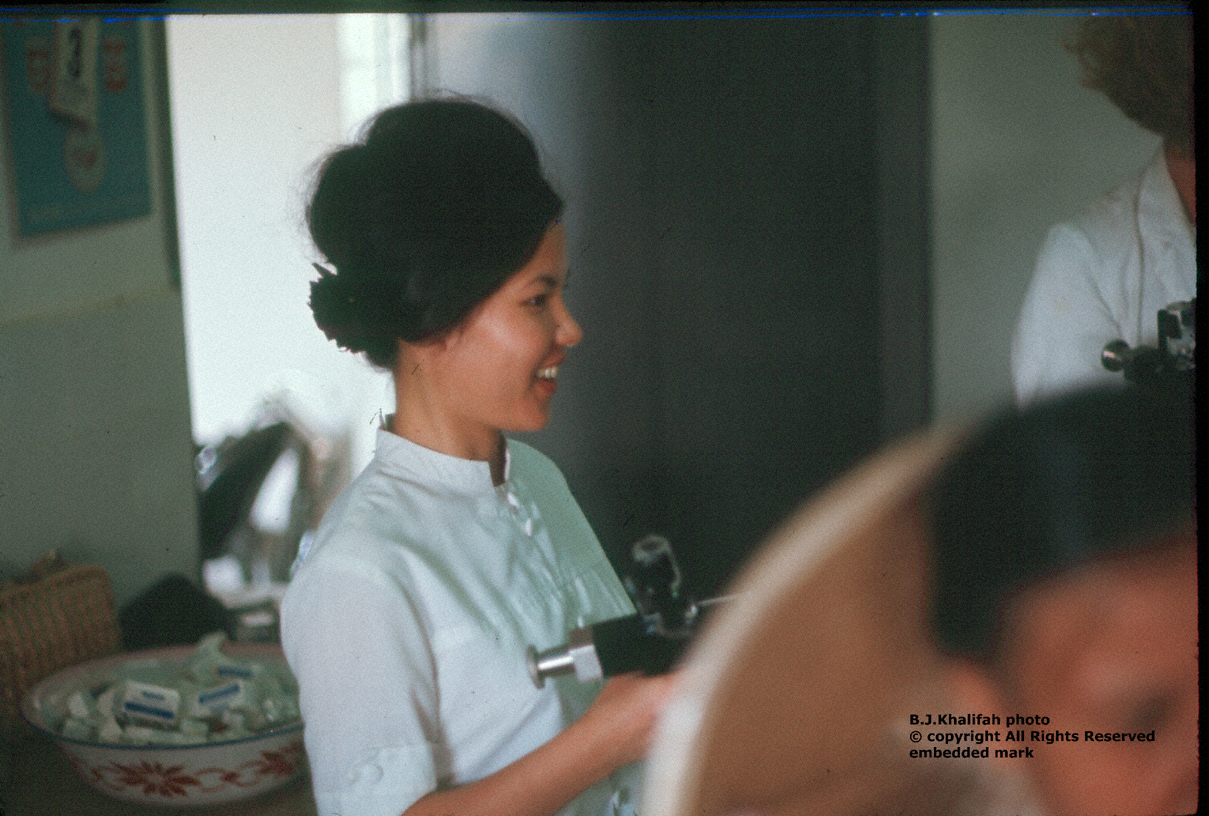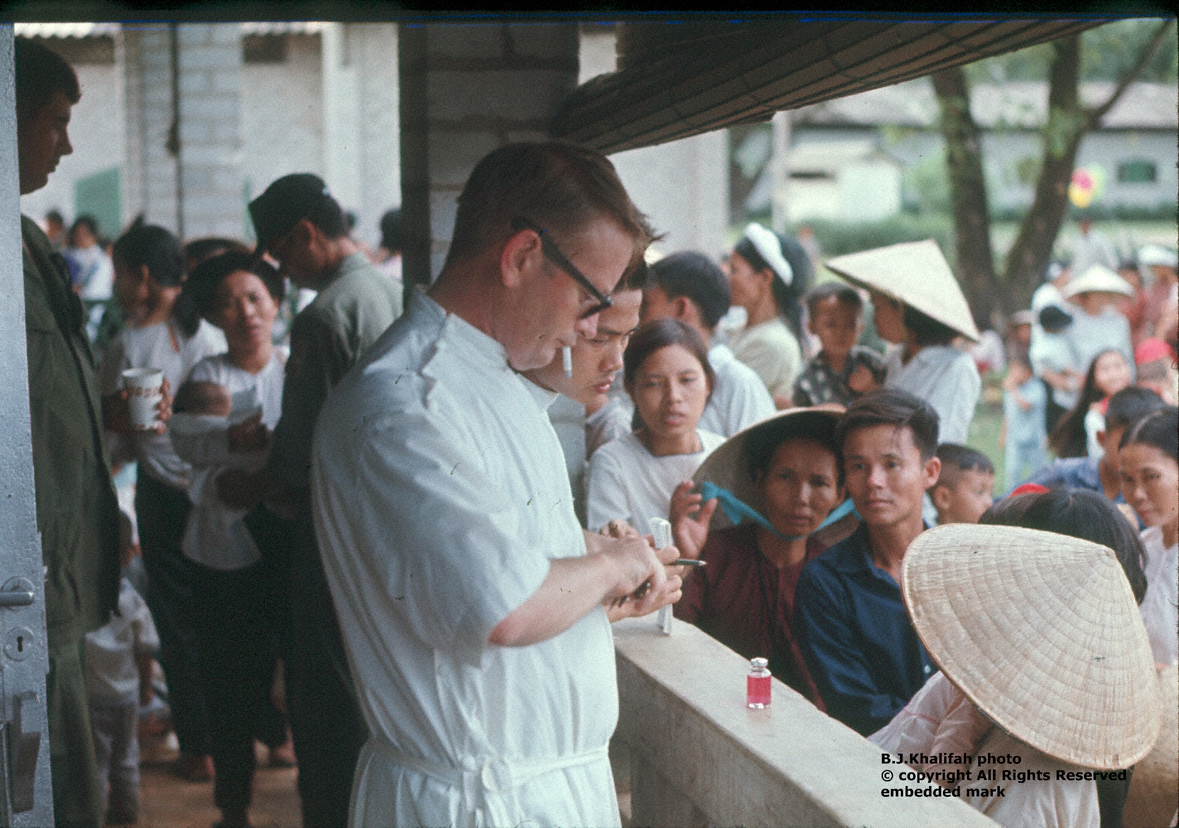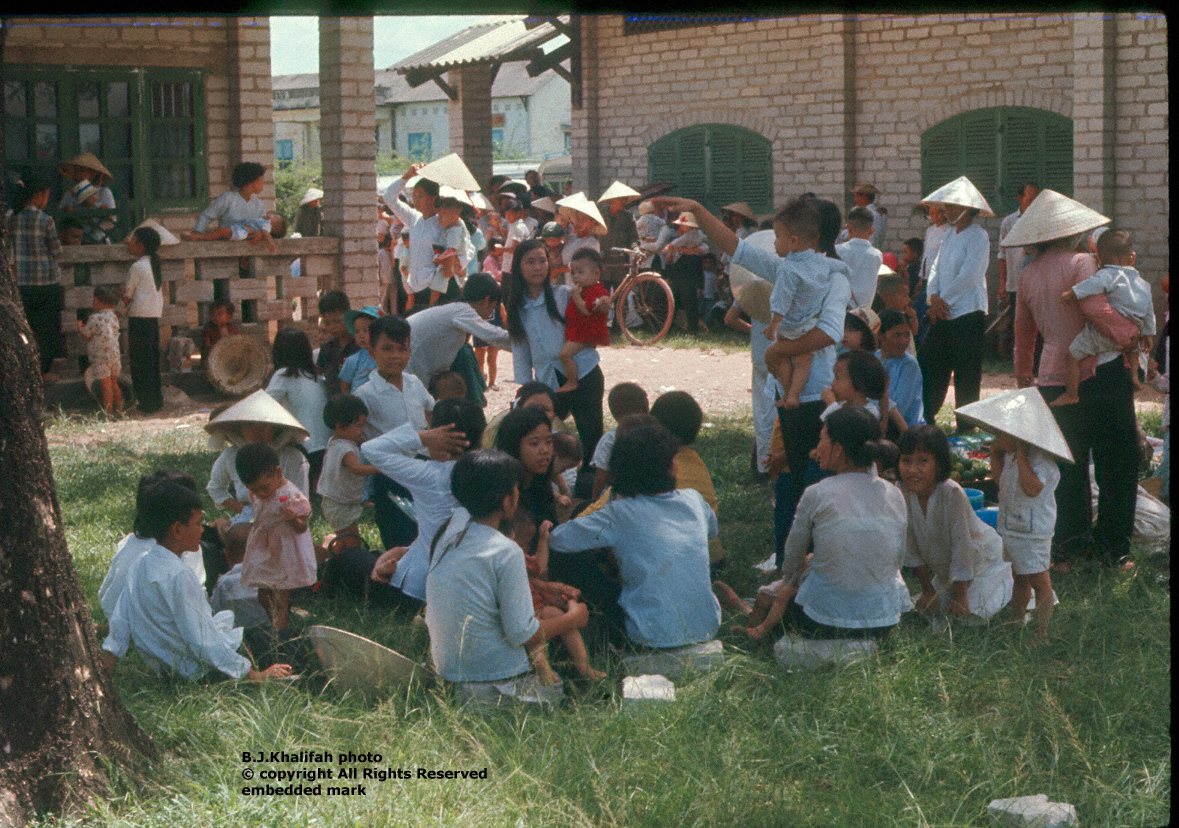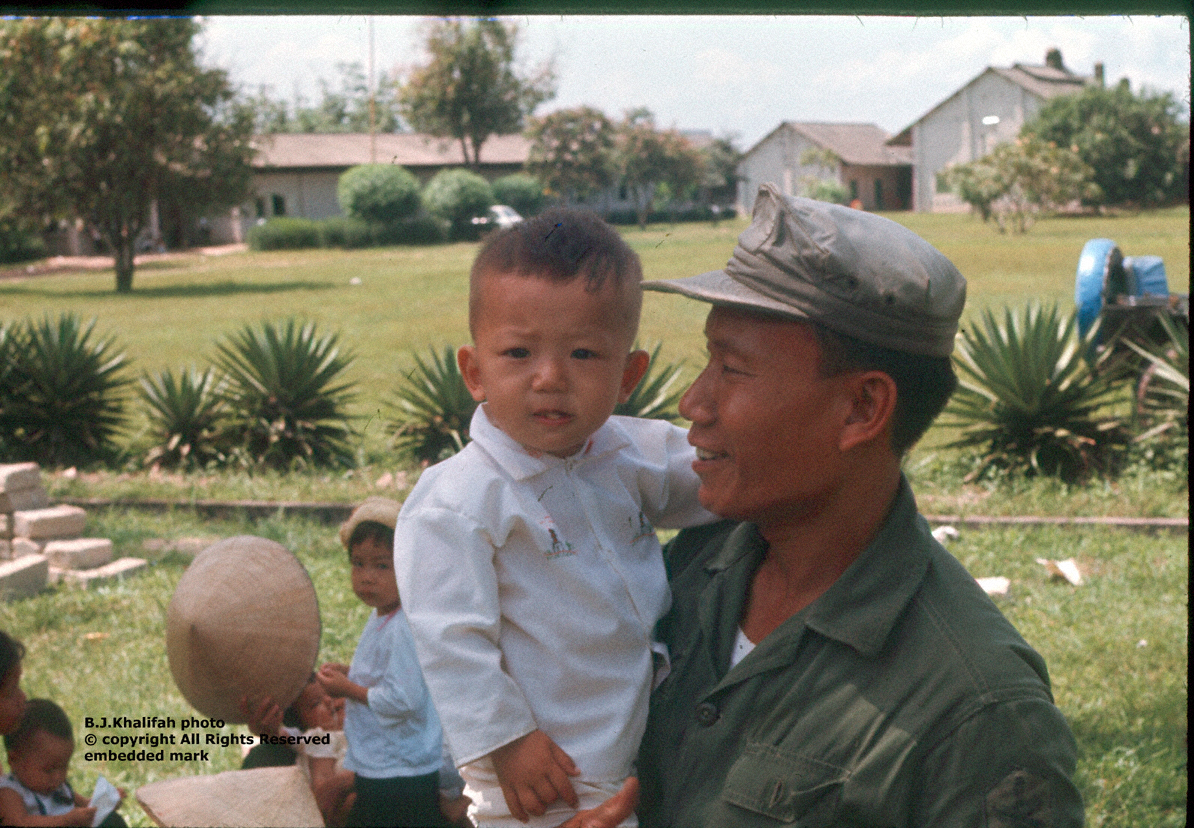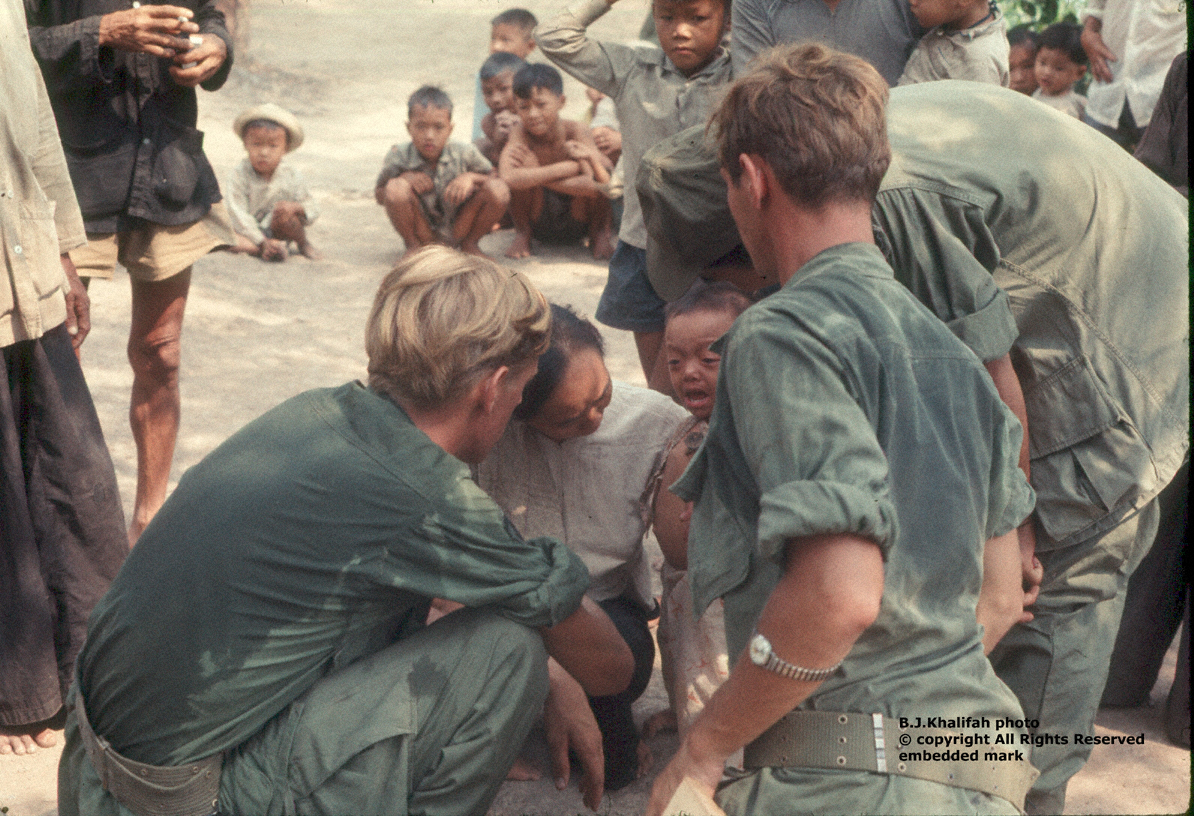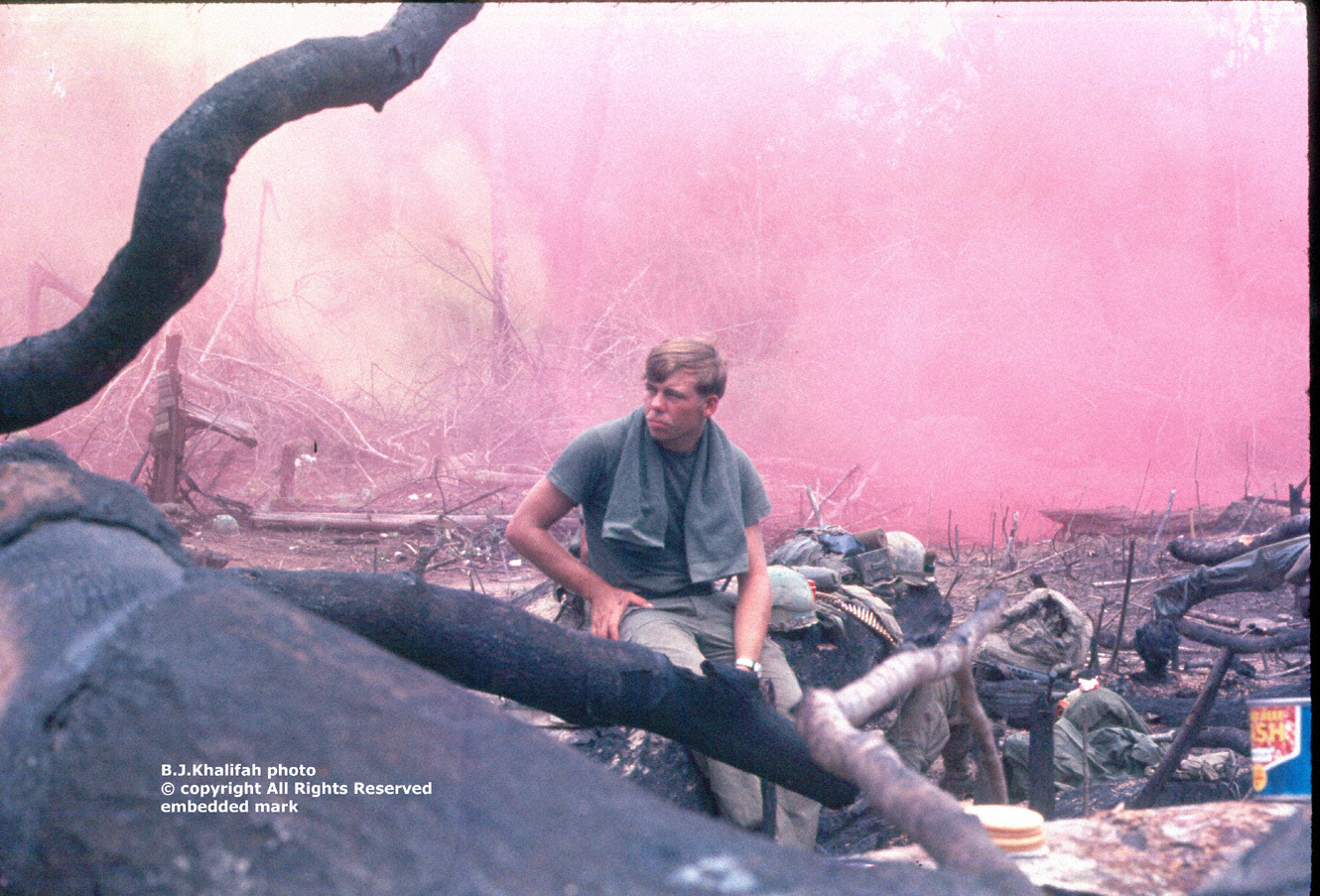 Popped smoke, waiting for pick up by choppers, area had been secured a
fter a fire fight. The area had been denuded by a B 52 arc light before we got there.
Area surrounding Fire Base Libby was constant trouble.
Photo of Ken Richey.
(My job as platoon leader didn't give me a lot of free time. When I had a few free seconds I would set the camera to automatic and take a few snaps, then back to work).