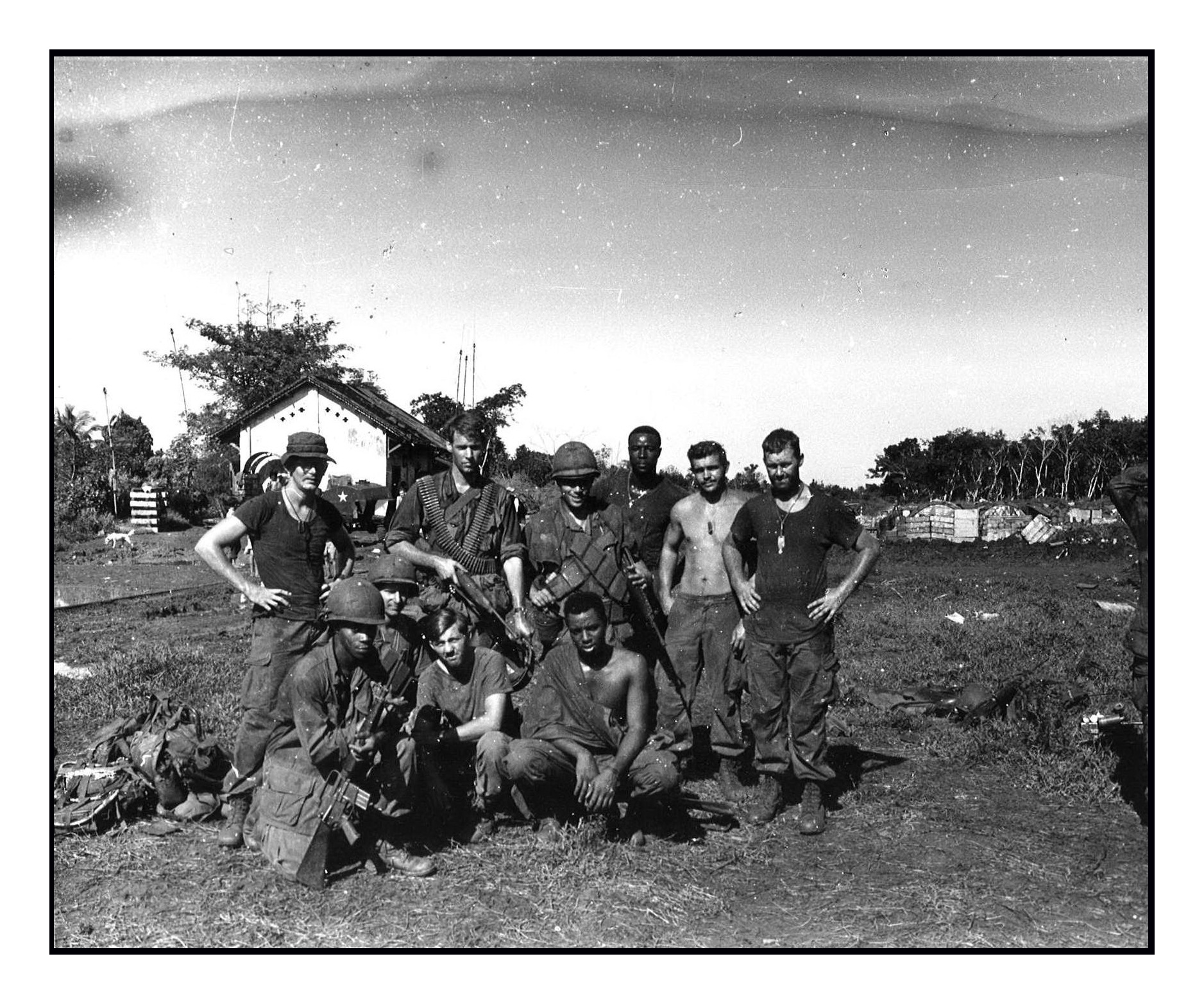 Jim Hardy, top-second from left, USARV

Army Artist Team #9, and members of Alpha Company, 2nd Battalion, 3rd Infantry, 199th LIB in the field, late October 1969 at An Loc Railroad Station near Tan Lap. Left to Right: Mark Muehe, Jim Hardy, Albert Beltran, SGT Perry, Lamar Watts, and Tracy Sunde.



Hello TOC,

This is a long letter. I hope you will read it.

I was drafted in September 1968 and did two tours in Vietnam, DEROS'ing in September of 1970.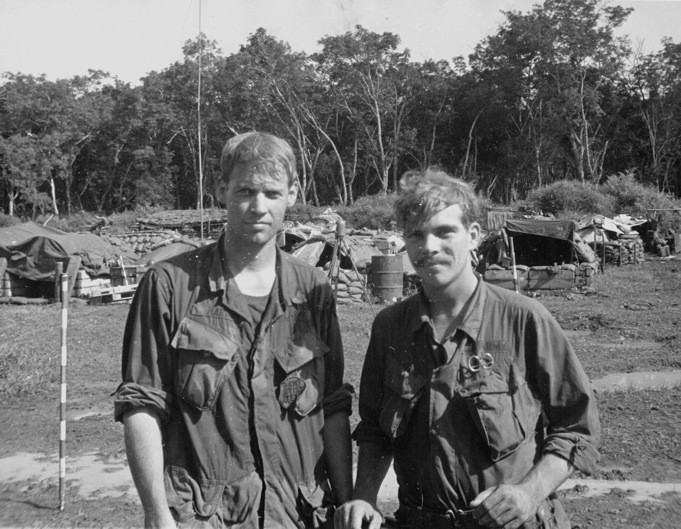 Jim Hardy and Doc Mollett, Alpha Company, 2-3rd Infantry.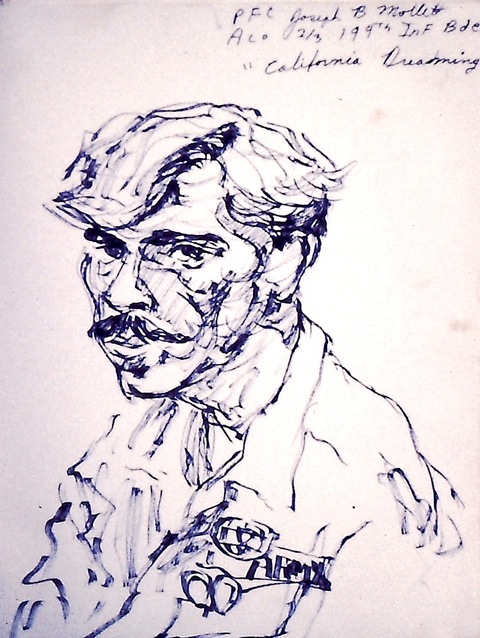 PFC Joseph B. Mollett, A Co., 2/3, 199th Inf Bde, "California Dreaming."



Surfing the web recently, I typed in FSB Libby out of curiosity and came across your website. In "2-3 Infantry Faces 1969," I found a few of the grunts I had sketched during a period of about a week when I was assigned TDY to your unit as a member of Army Artist Team #9 in October, 1969.

I accompanied an Alpha Company squad on an ambush patrol in a rubber plantation and was with Charlie Company when it was on a joint operation with the 11th Armored Cavalry. One evening, I rode out with Major Loeffke in his jeep as he met up the owner of the rubber plantation, and after that, with one of his units where he dropped me off. As I recall, his driver was getting short and not happy about the late hour we were heading out into the jungle.

Today is Memorial Day and I am thinking about Vietnam and the soldiers I was with, especially PFC Mark Muehe and Lieutenant Bill Little who were both killed shortly after I'd left them. I do not see their photos among the others or their names on your memorial page. I sketched both of them. I always asked the soldiers to sign my drawings as it seemed to me that it gave them more meaning. They'd write things like, "Hi Mom," or jot down their hometowns, or something to their sweethearts back in the world.
If not too much trouble, can you can add some of these sketches and photos, especially Mark's and Bill's, to your website to honor their memory? The original drawings were sent back to Washington as part of the Army's Art Collection.

In the late 1980s, I'd learned of Lt. Little's death while reading Michael Lanning's book, "Vietnam, 1969-1970: A Company Commander's Journal." Attached is Lieutenant Little's sketch and a photo of him signing it about 2 weeks before he was killed.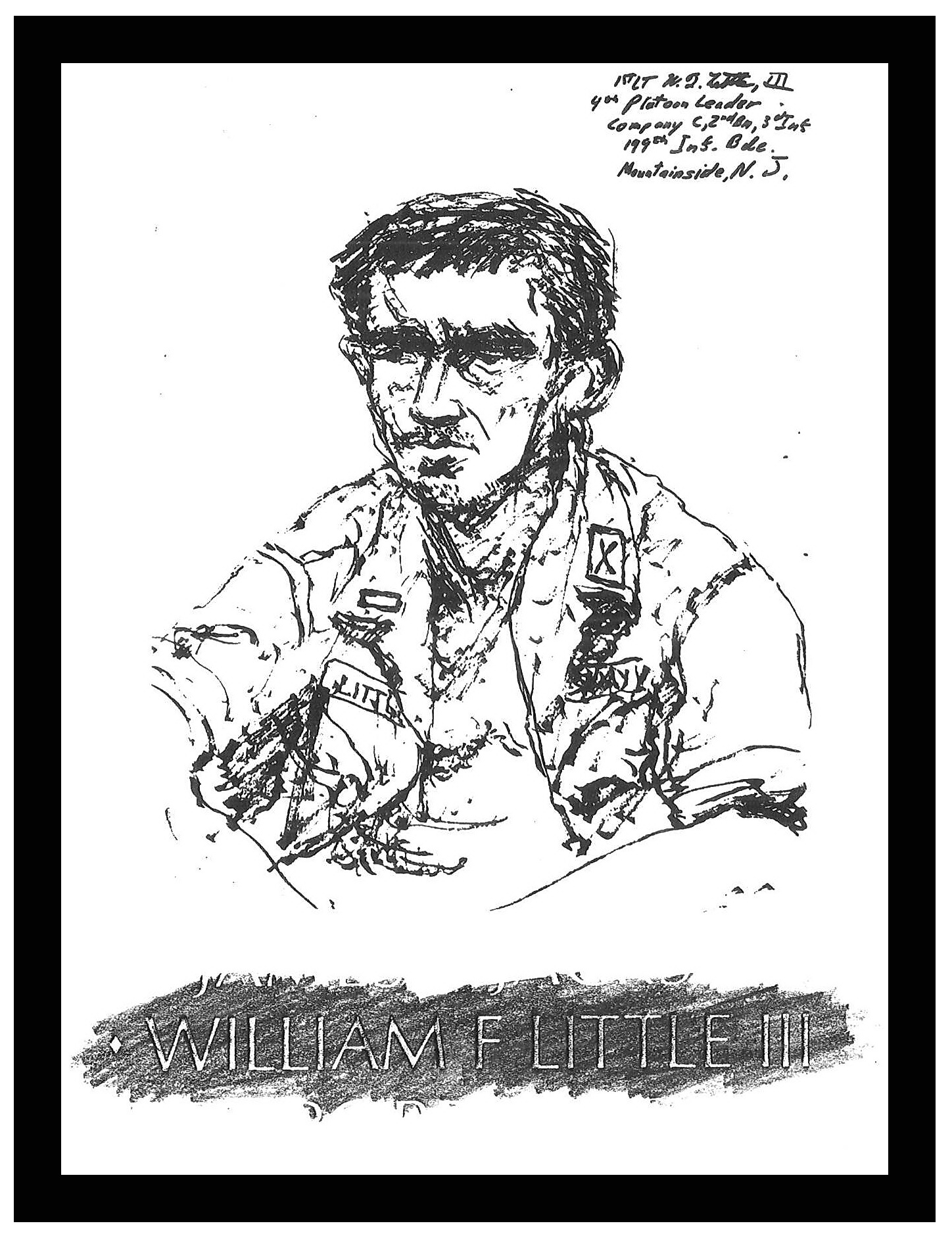 Sketch of 1LT Bill Little, 4th Platoon Leader, Company C, 2nd Bn, 3rd Infantry

.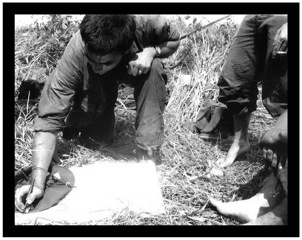 Lt. Little signs the above sketch.



In the morning after the ambush assignment with Alpha Company's squad, we were eating, taking in the claymores, and cleaning up the site before moving out. During that time, I sketched Mark Muehe and he had written, "I want to go home," under his name on the drawing.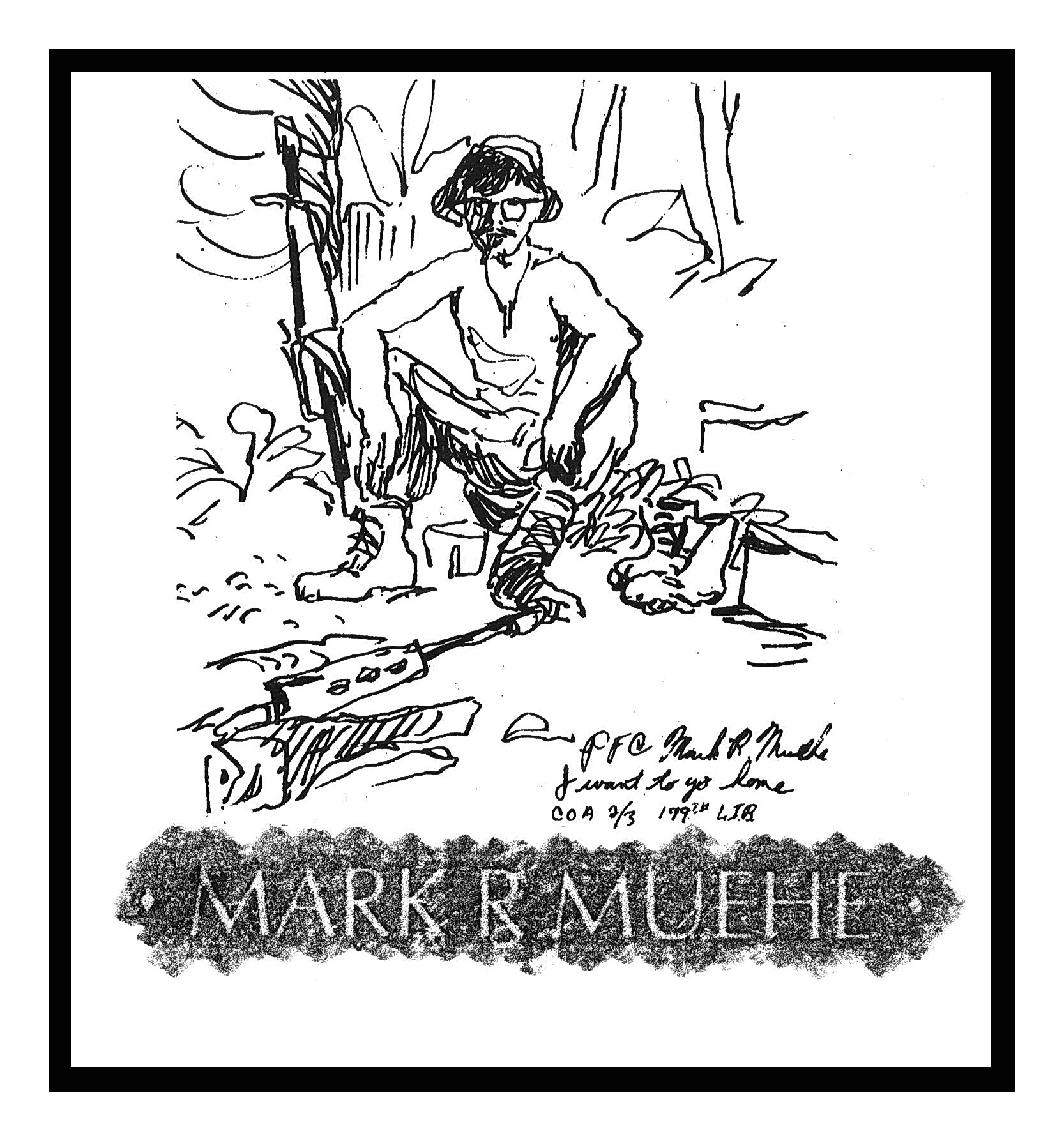 On the way to my next assignment, the 82nd Airborne, the LOACH pilot told me to switch over to his radio frequency.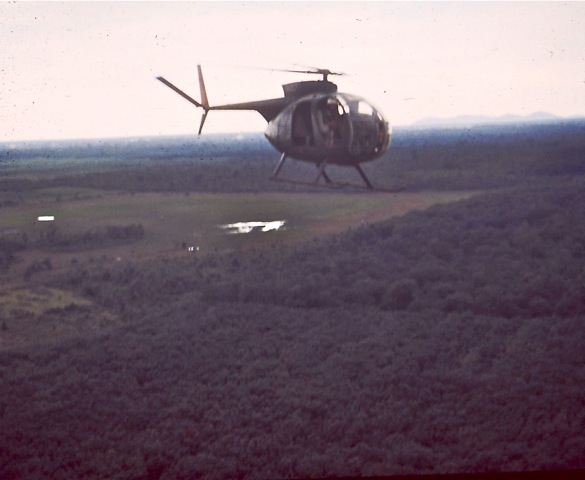 I was listening to the Rolling Stones on my frequency and he was getting directions where to take me on his. He said, "your buddies just got ambushed." I was shocked and wanted to go back to help but he said we were overdue at my next assignment and his orders were to deliver me to the 82nd. The squad had cut off radio communication during the night of our ambush and I couldn't be located by those looking for me. I was told Charlie could tap into our frequency and find us from our own communications. The chopper pilot then said he'd made a mistake and that it was another unit that had just been ambushed. I didn't know what to believe and felt guilty for not having been with them or gone back to help if it had, in fact, been the squad I'd been with.

Back home around 1973, I had noticed in my sketch of Albert Beltran that he had Palo Alto written on his helmet liner. I was attending the San Francisco Art Institute at that time on the GI Bill. I looked him up in the phone book, called him, we got together, and he told me about Mark's death. Albert himself had taken four bullets in his chest and somehow survived. He couldn't talk much about the ambush then, but said that it was a good thing for me that the helicopter arrived when it did and took me out. I told him that I had heard about the ambush in the chopper, but it had turned out to be another unit.

The time sequence of it all is still confusing as Mark was killed on December 5th, a month after I'd been with him. It wasn't until the middle 1980's when I saw Albert again that he could bring himself to talk to me about Mark's death. His wife later wrote a letter telling me that Albert had never talked about the ambush with her until talking about it with me. She thanked me for asking as she too had always wanted to know. Albert said he would never talk about it again. He was nearly breaking down reliving the moment and again, I felt ashamed of myself for wanting to know the details.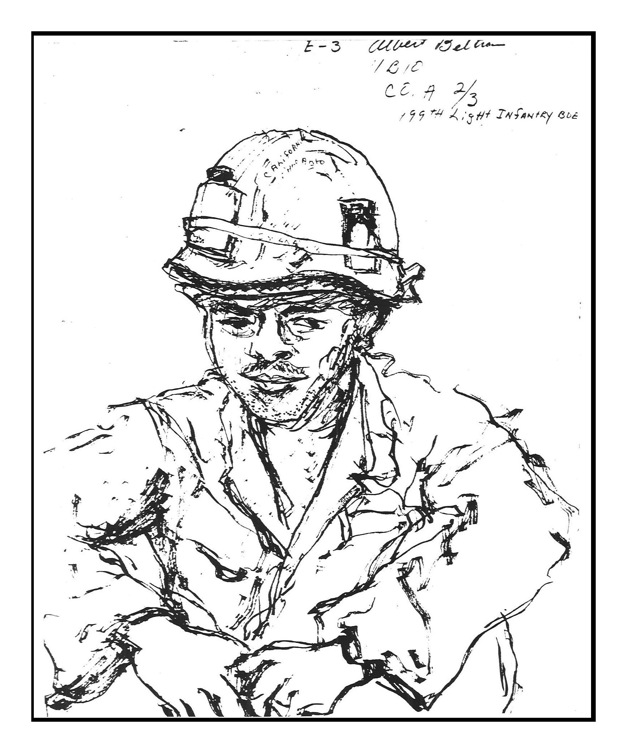 PFC Albert Beltran, Co. A 2/3
Mark's parents had come out from Bridgeview, Illinois, to visit and were with us at the dinner that night. I can only imagine what must have been going through their minds. In the mid 1980s, I found Mr. Muehe in the phone book and called him. I told him I had a copy of the sketch I'd done of his son and asked if he would like it. He said yes and I sent him a copy. He too wanted to know about what had happened. Art, Mark's father, told me that the day Mark was killed, he had been asleep in his bed in Bridgeview. He told me he felt something touching his toe, and he woke up and looked at the foot of his bed where he saw Mark standing. He said that Mark had said, "I'm home, Dad. Don't worry, everything's OK."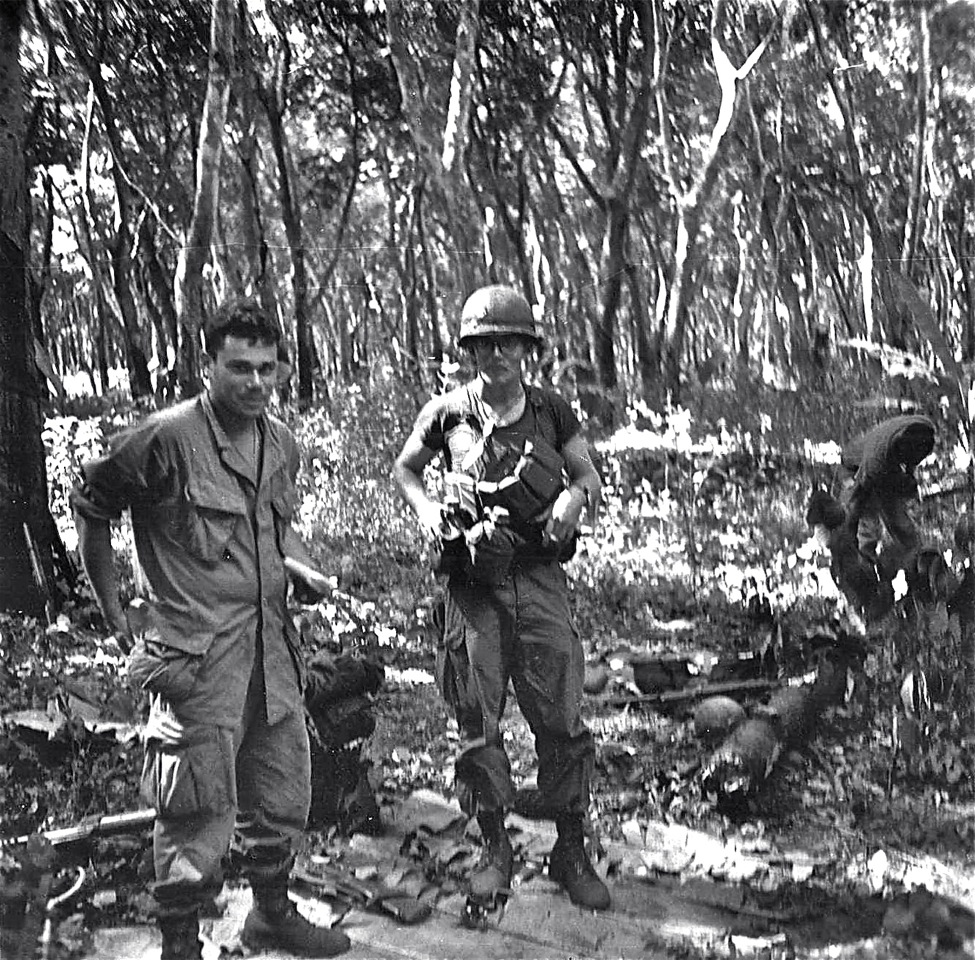 CPL Mark Muehe, center and Albert Beltran, left, both of Alpha Company.



I was reassigned to a laundry detail at my original training company at Fort Ord, California, after my TDY tour. As strange as it sounds, I missed the grunts in Vietnam and felt I should be back there with them. I don't know if it had to do with the adrenaline rush or guilt or what? Nothing made much sense to me back at Fort Ord.

I went back to Vietnam in March and was assigned to the 1st Aviation Brigade as a photographer- combat artist and participated in various operations and the Cambodia Invasion, where I lost a few more buddies. I never believed in our mission in Vietnam or believed in the Falling Dominoes Theory as did my dad who had been a WW2 Navy pilot. It's the old story about soldiers; they fight for each other and not the cause, if the cause means anything at all.

I always ask myself, why Mark? Why Lt. Little? Why the others and not me? It's all luck.

That's all,

Thank you for listening,
Jim Hardy
Sketches done in the field by Jim Hardy, USARV Army Artist Team #9, in late October, 1969, with Alpha and Charlie Company, 2-3rd Infantry personnel.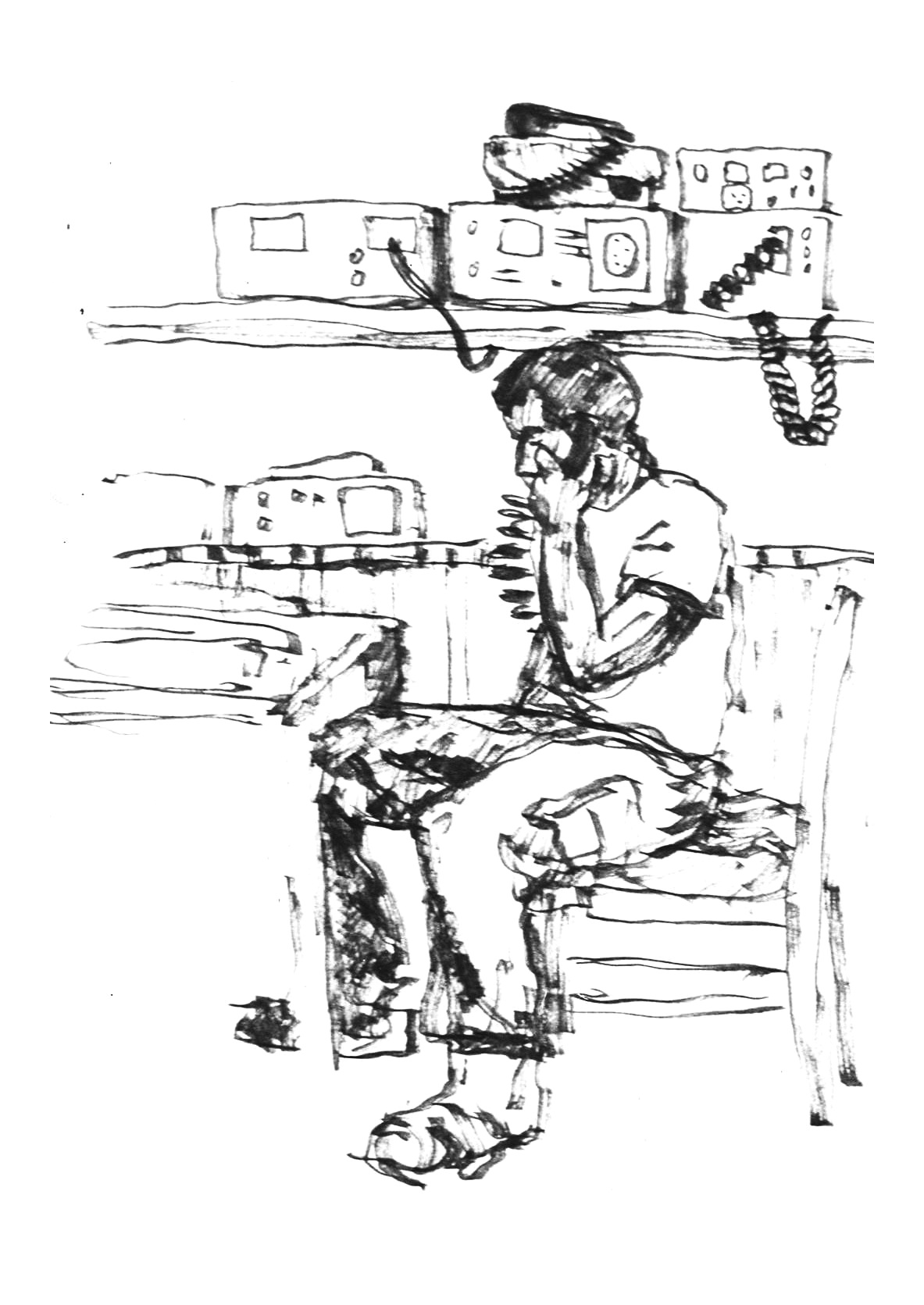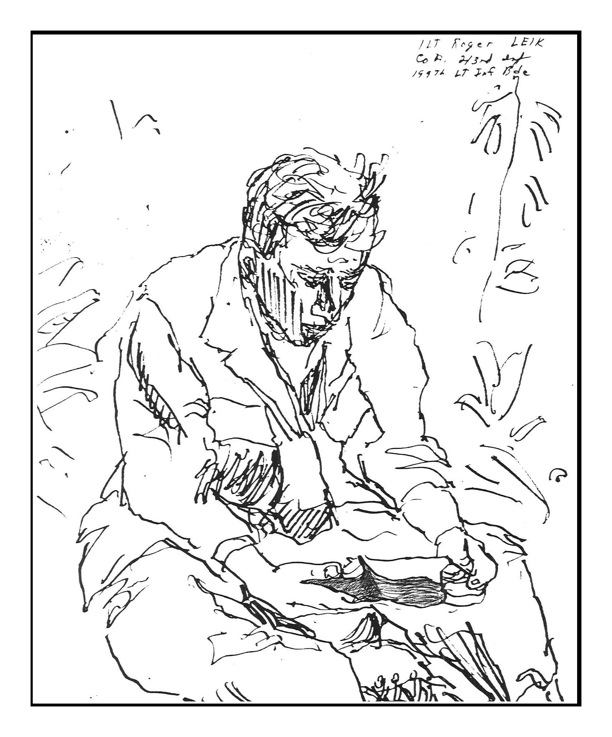 1LT Roger Leik, Co. A 2/3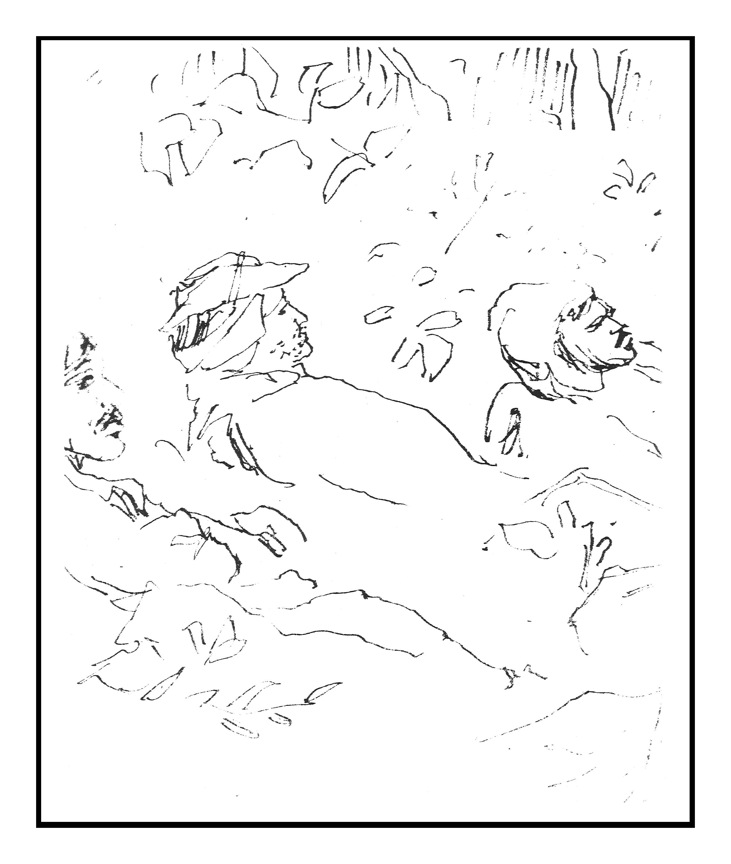 Night ambush. Claymores set, security out and LP's/OP's in position. Three tired grunts from A/2-3 huddle under ponchos for another miserable night in the bush.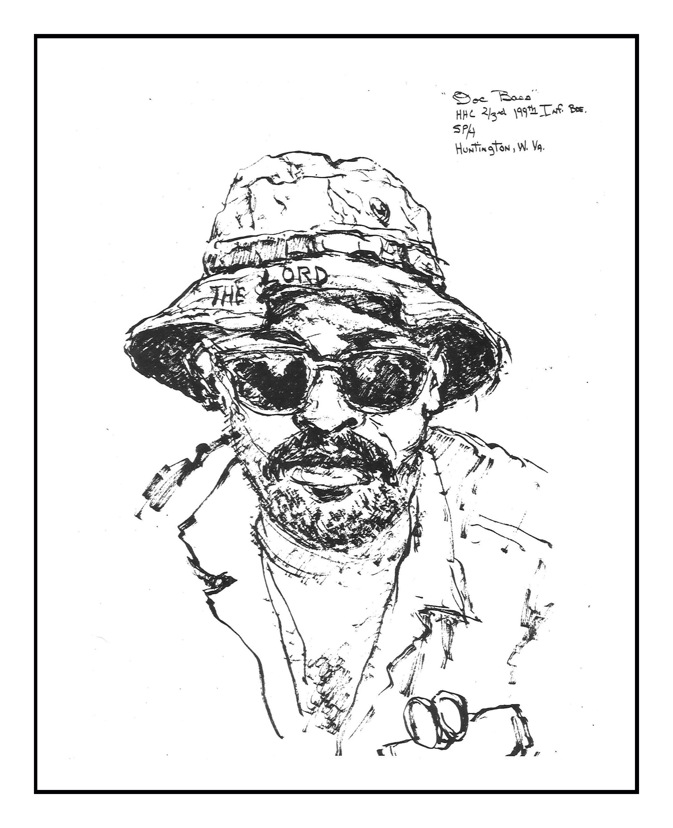 "Doc" Bass, HHC 2/3rd Infantry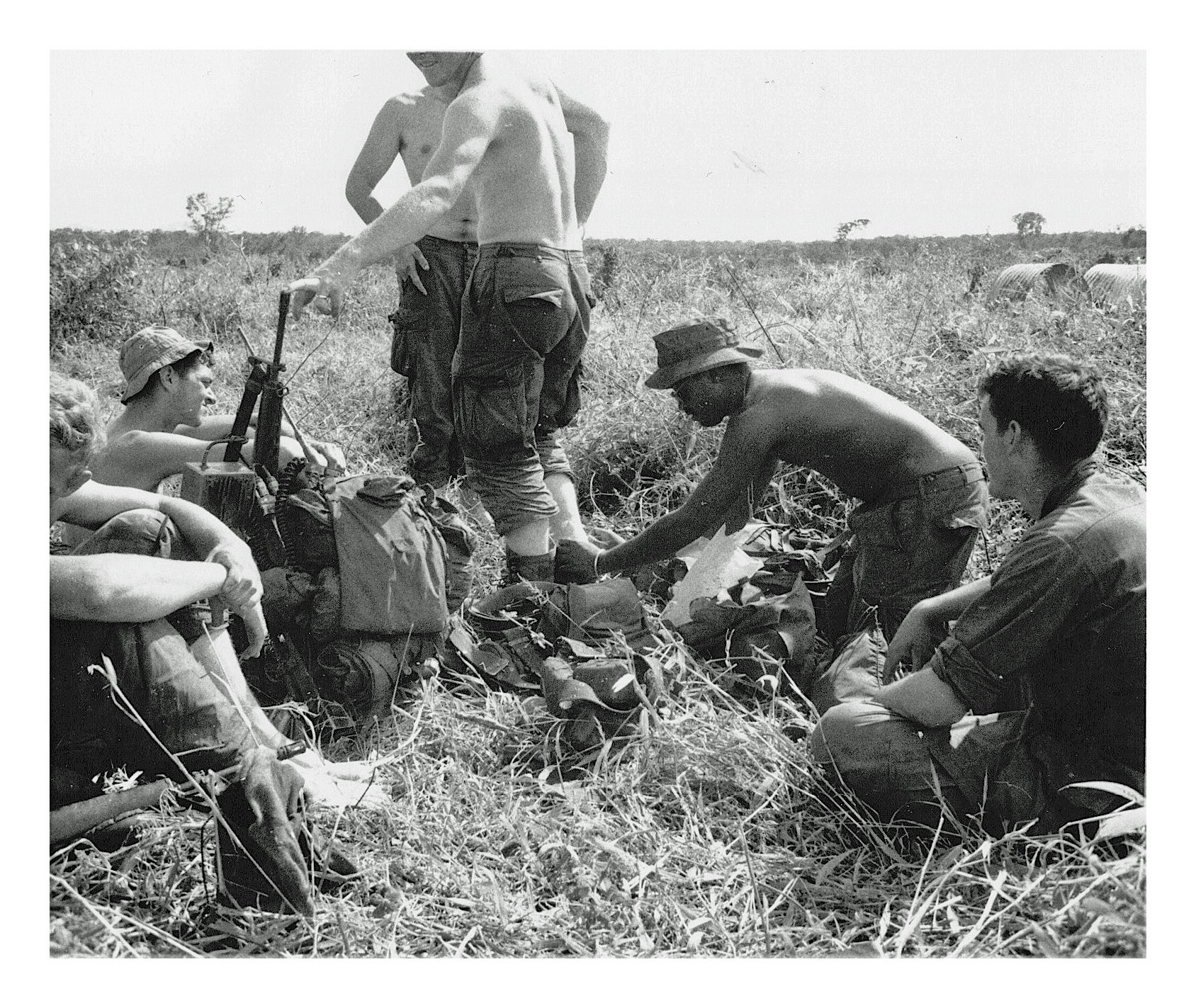 Doc Bass, center, taking care of a soldier with jungle rot.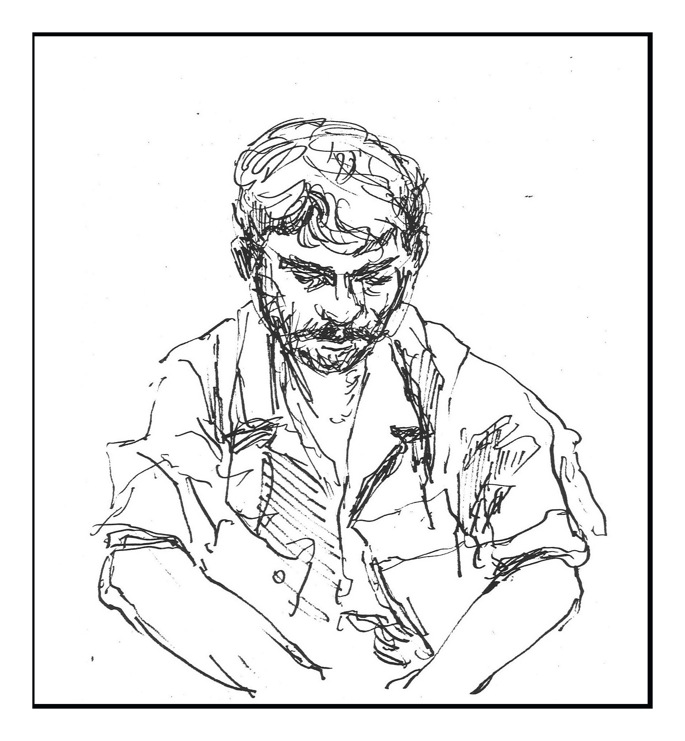 PFC Lamar Watts, Co. A 2/3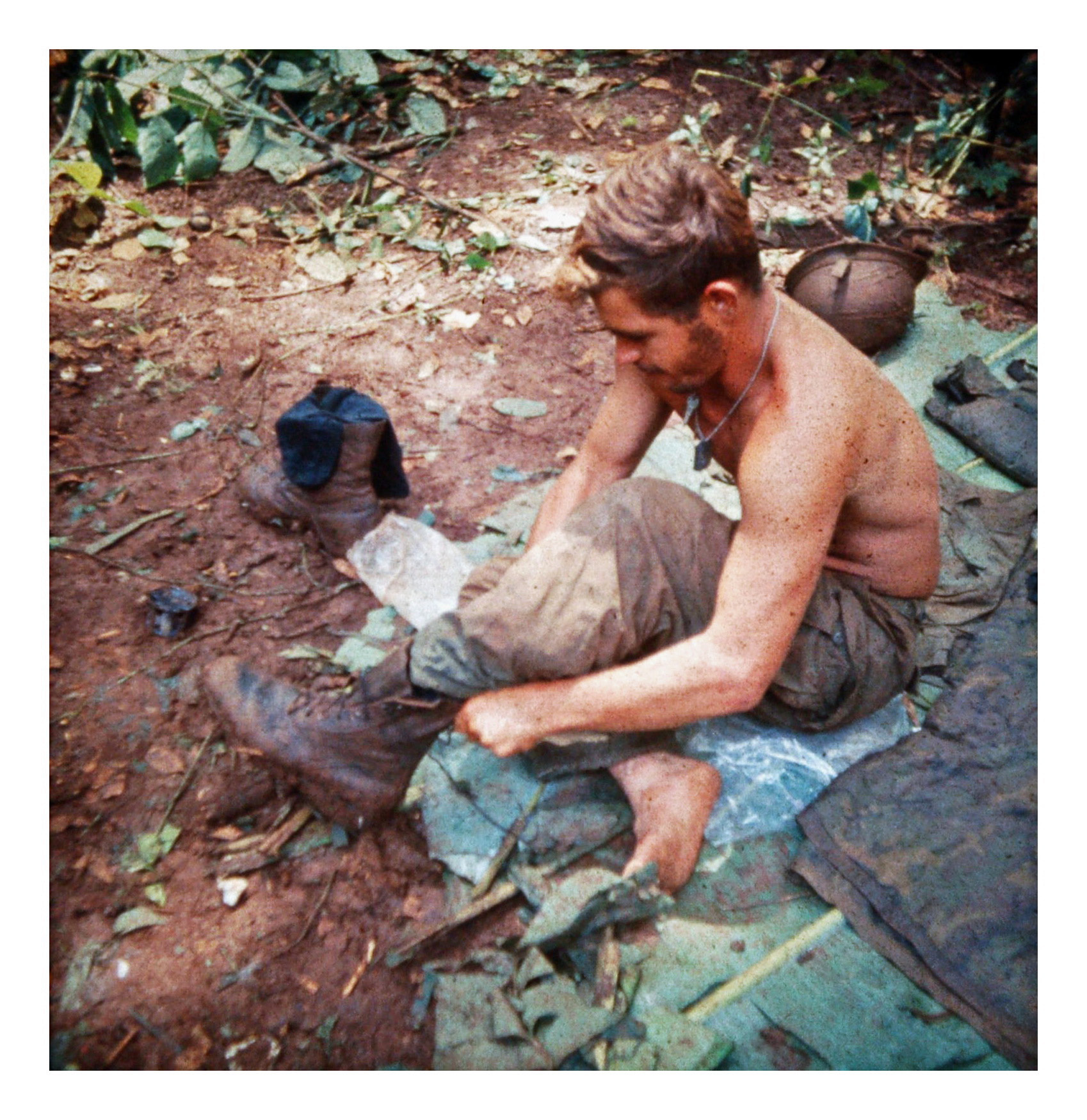 Kit Carson Scout working with Co. A 2/3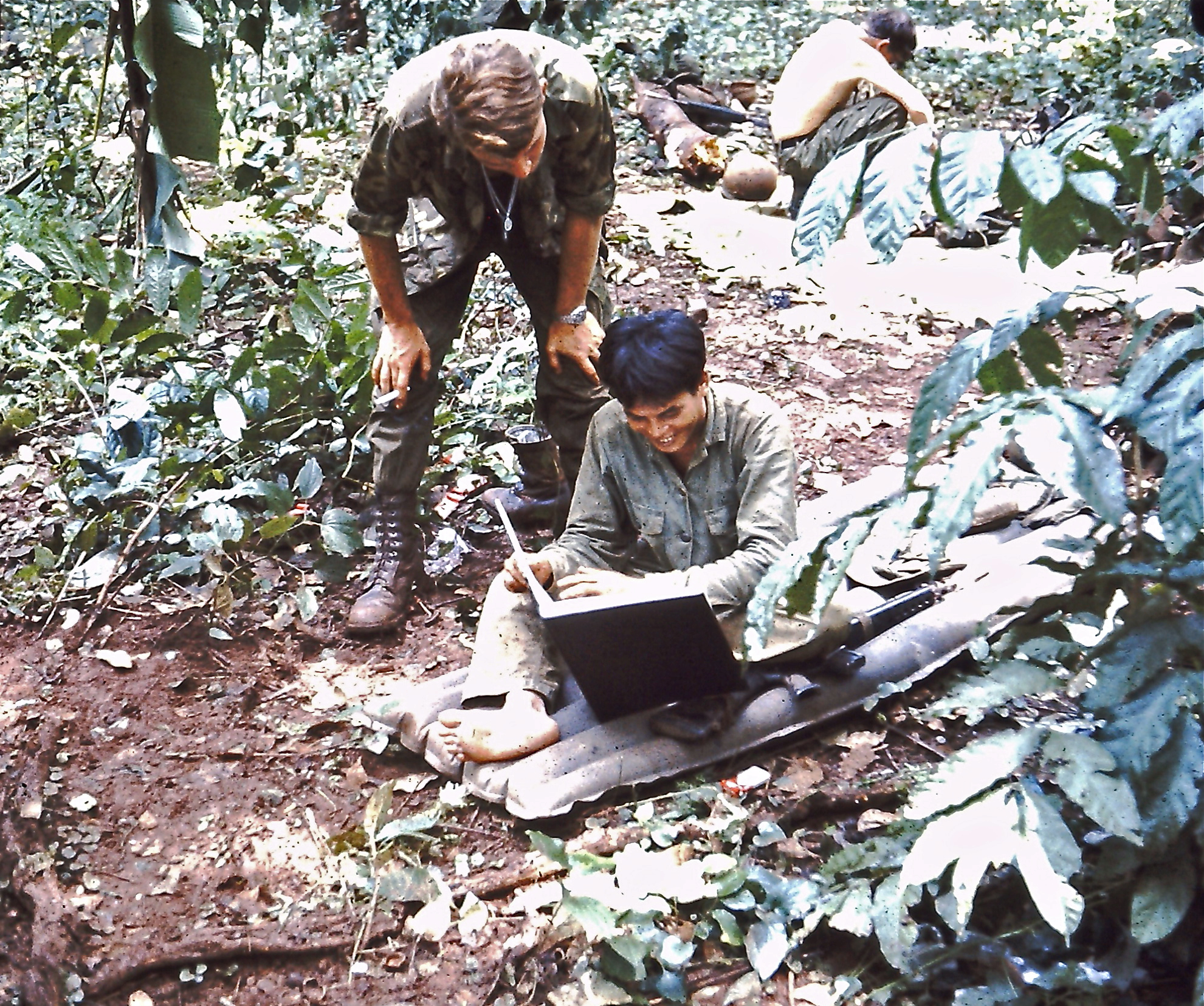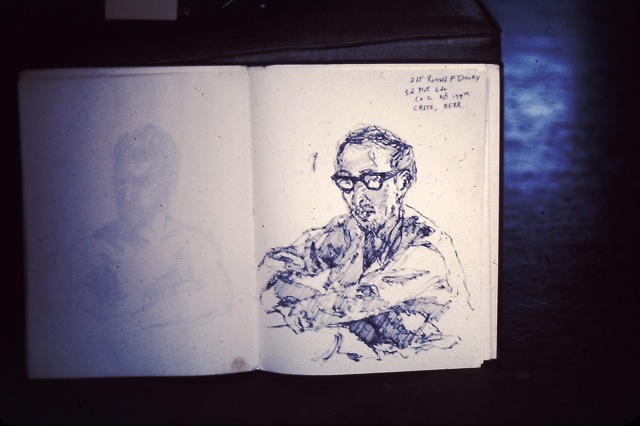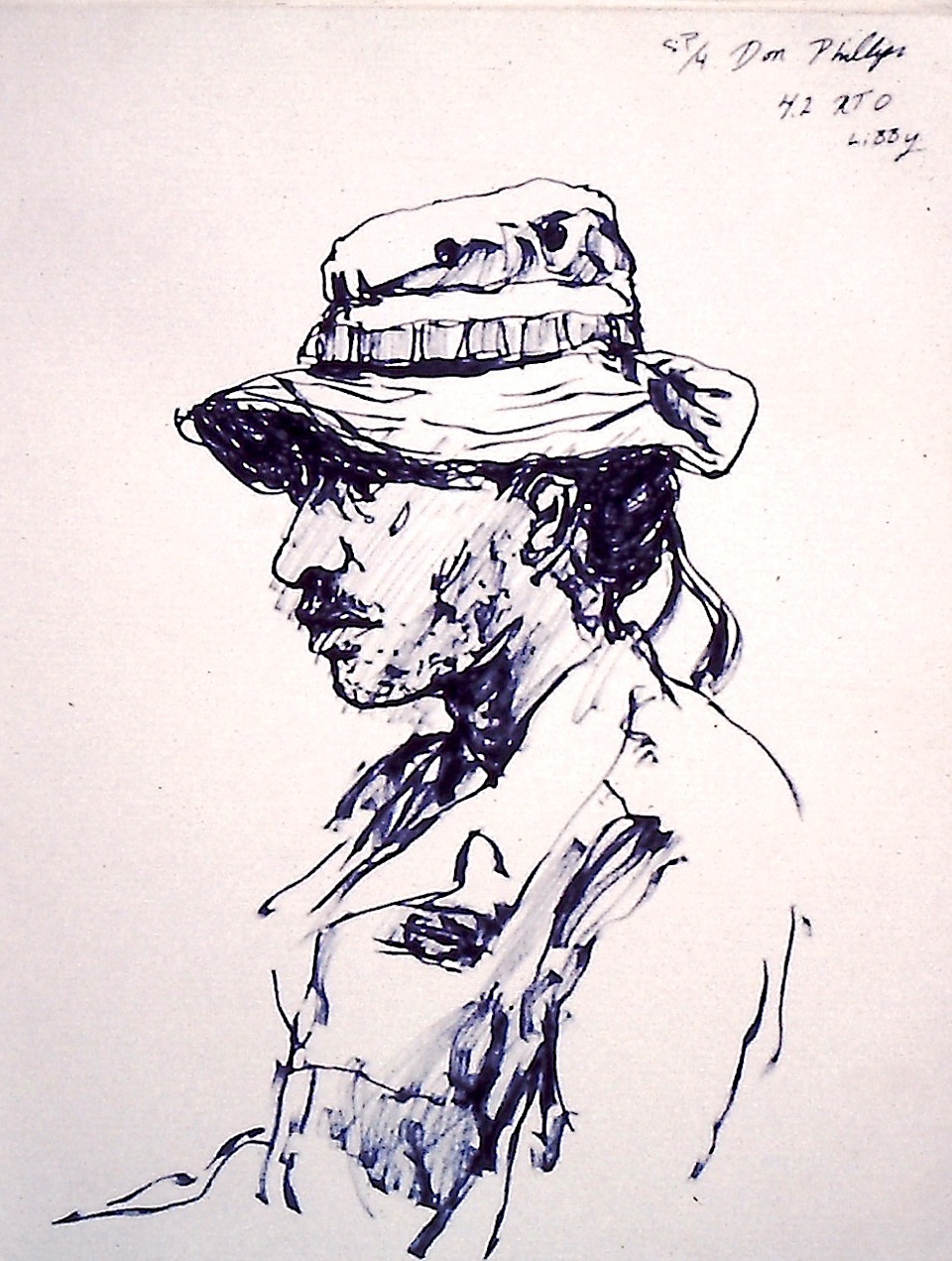 SP4 Don Phillips, RTO, FSB Libby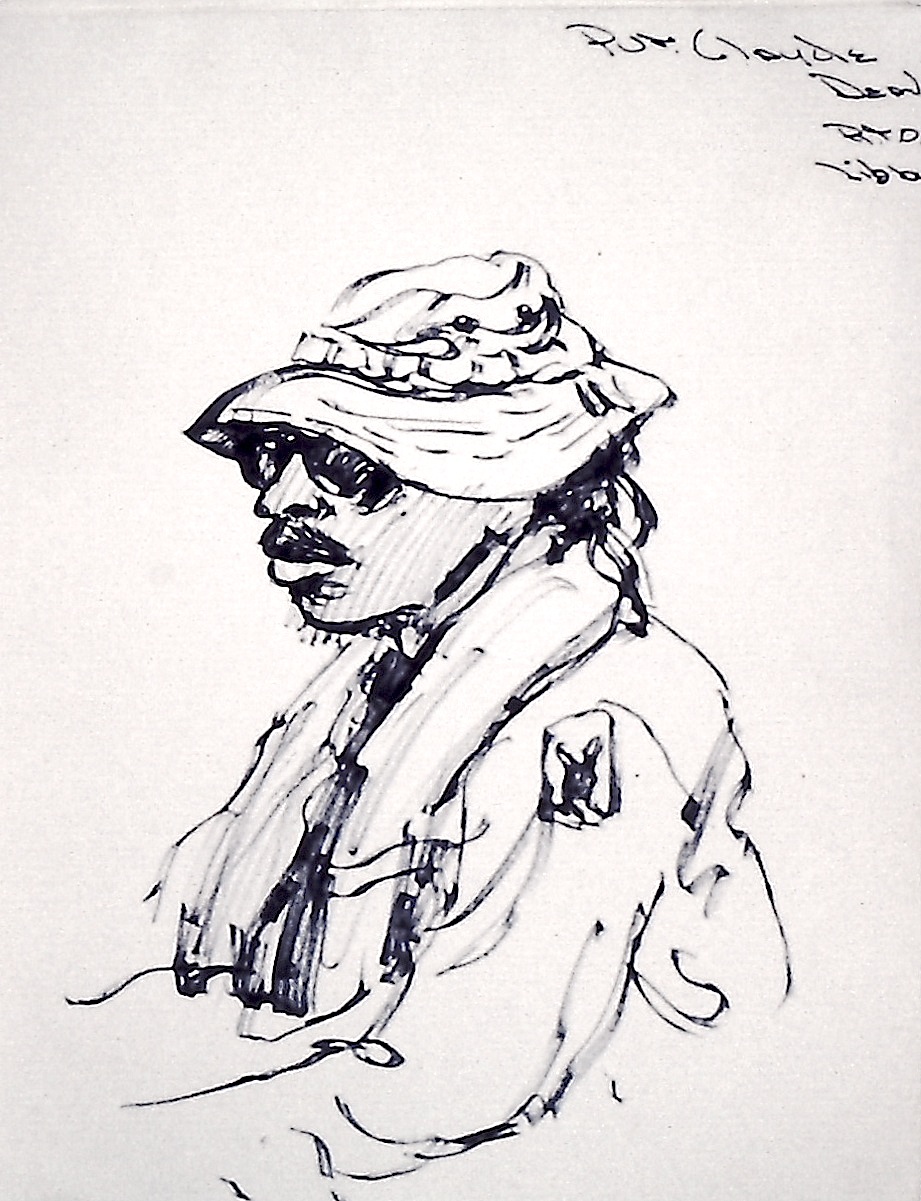 PVT Claude Dean, FSB Libby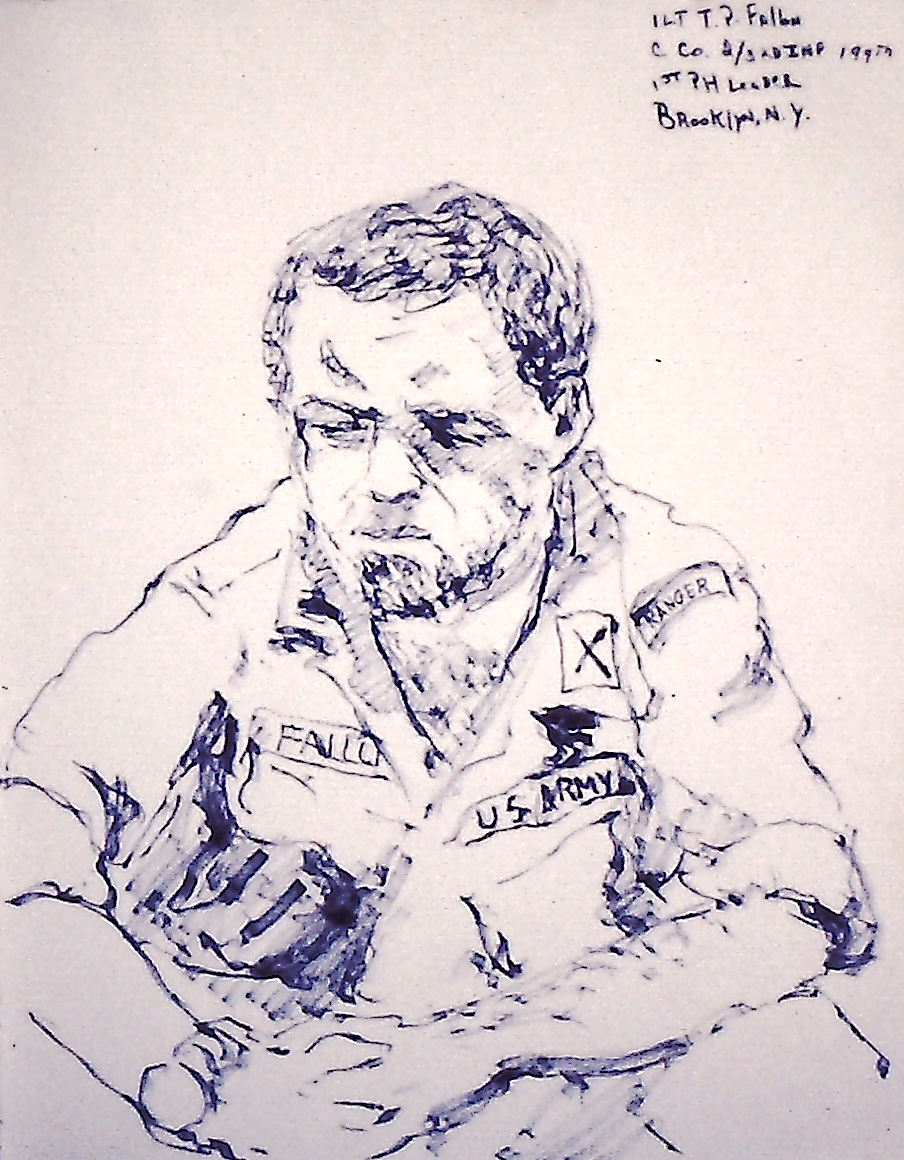 1LT T.P. Fallon, C Co. 2/3



Lt. Fallon signs the above sketch as members of his platoon, including Lt. Little, left, look on.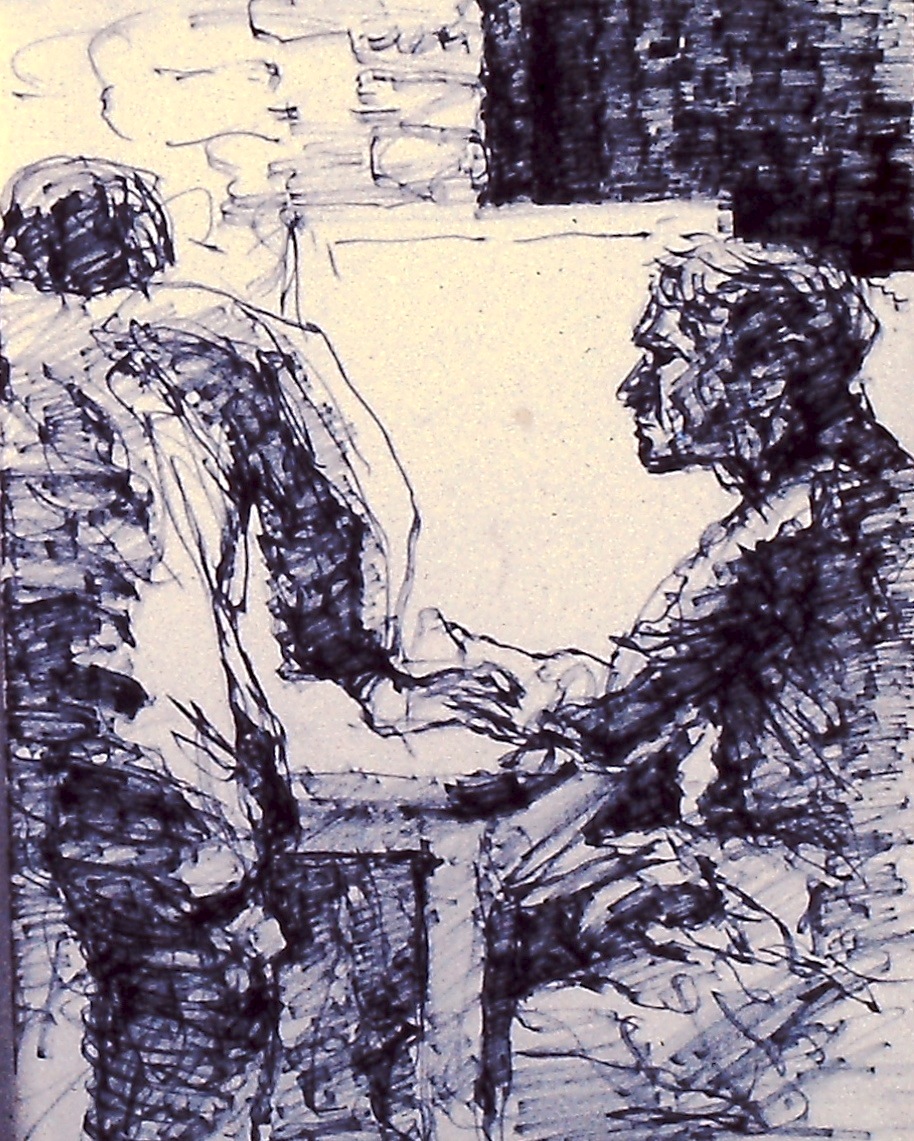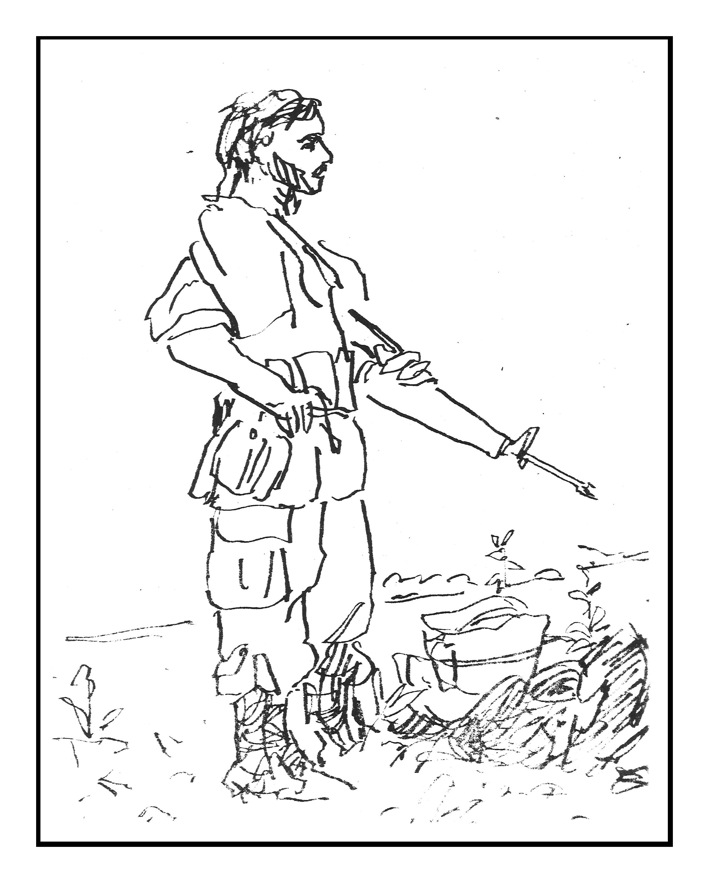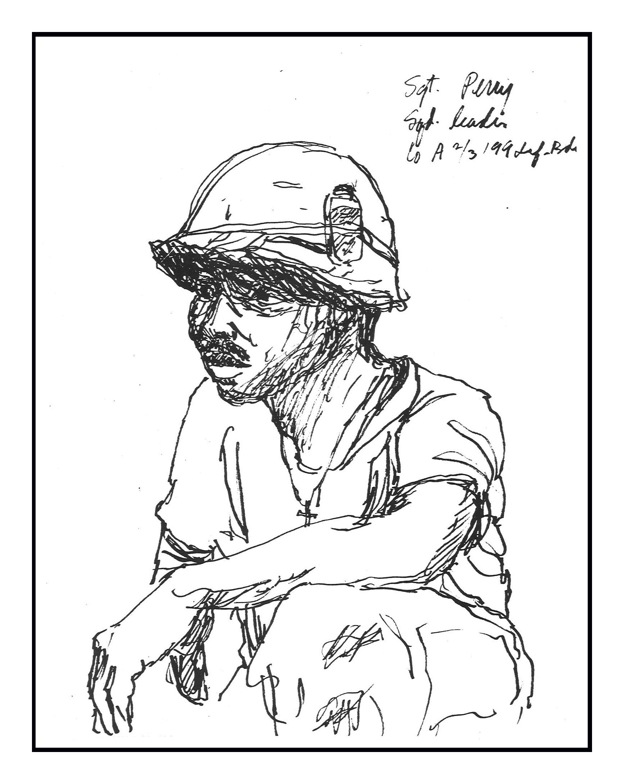 SGT Perry, Squad Leader, Co. A 2/3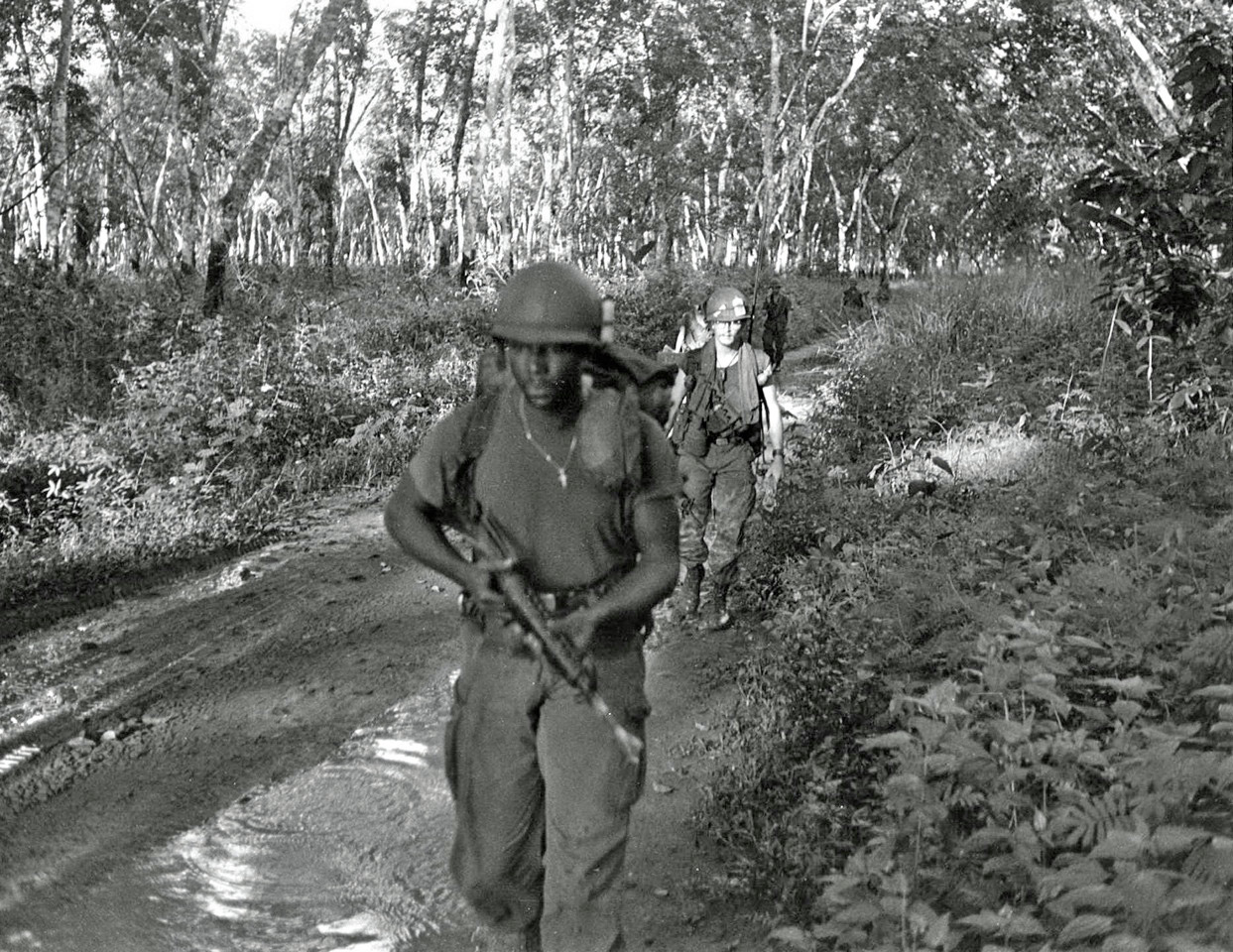 SGT Perry, front and Mark Muehe

.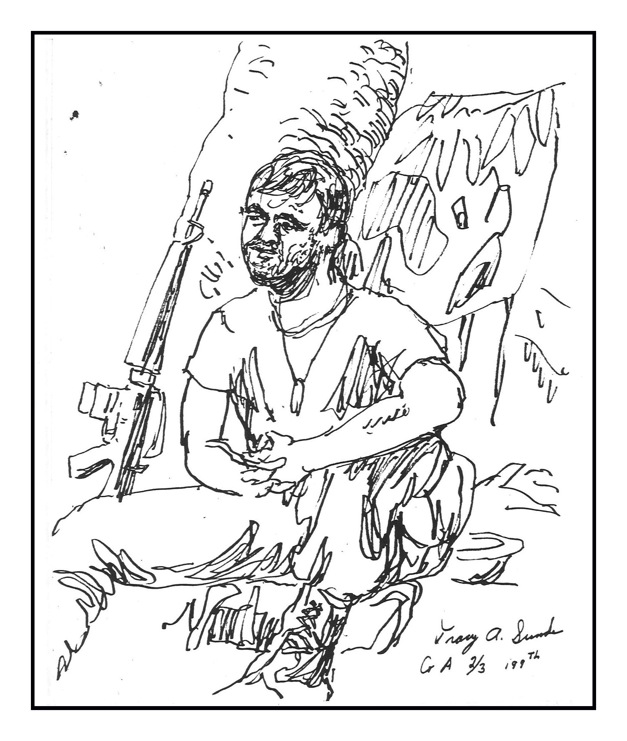 Tracy A. Sunde, Co. A 2/3 Infantry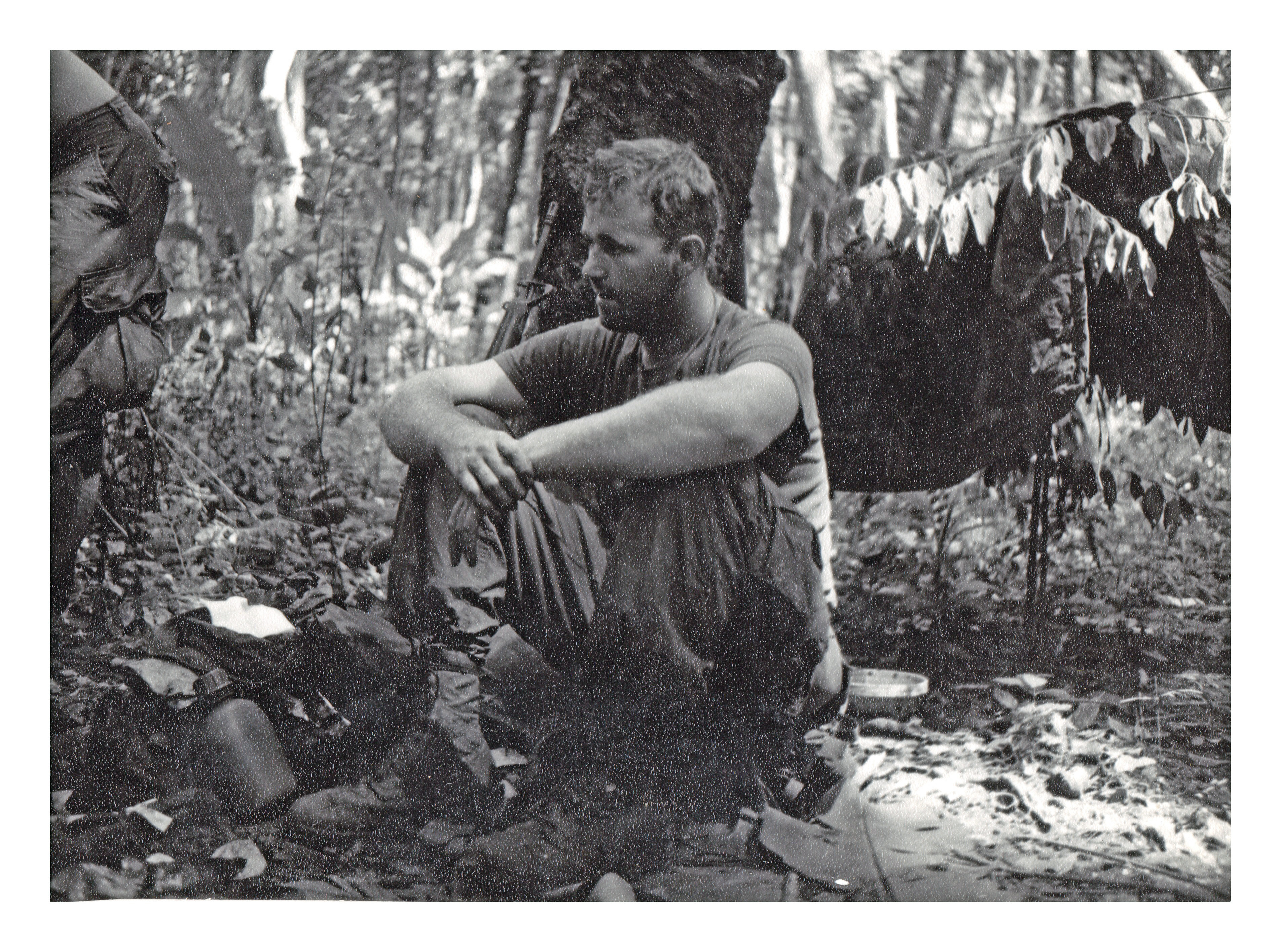 Tracy A. Sunde, above and below.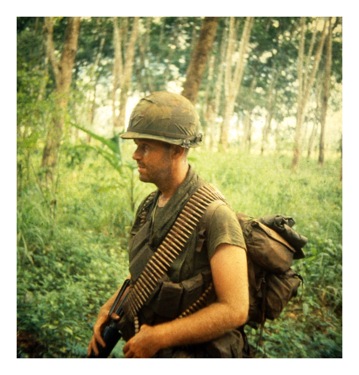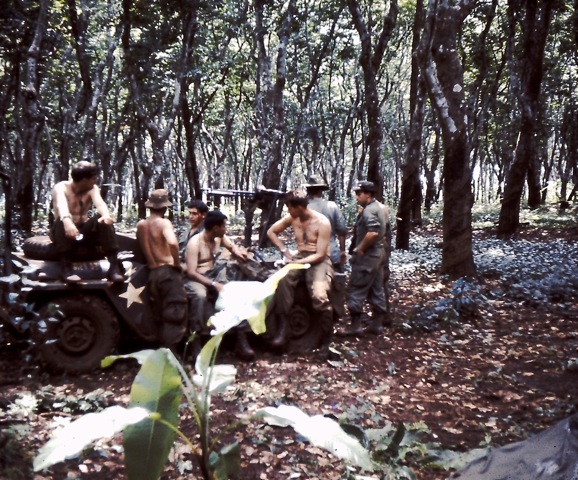 Jeeps from 2-3rd Infantry "Rat Patrol" that delivered Jim Hardy into the field with Alpha and Charlie Companies.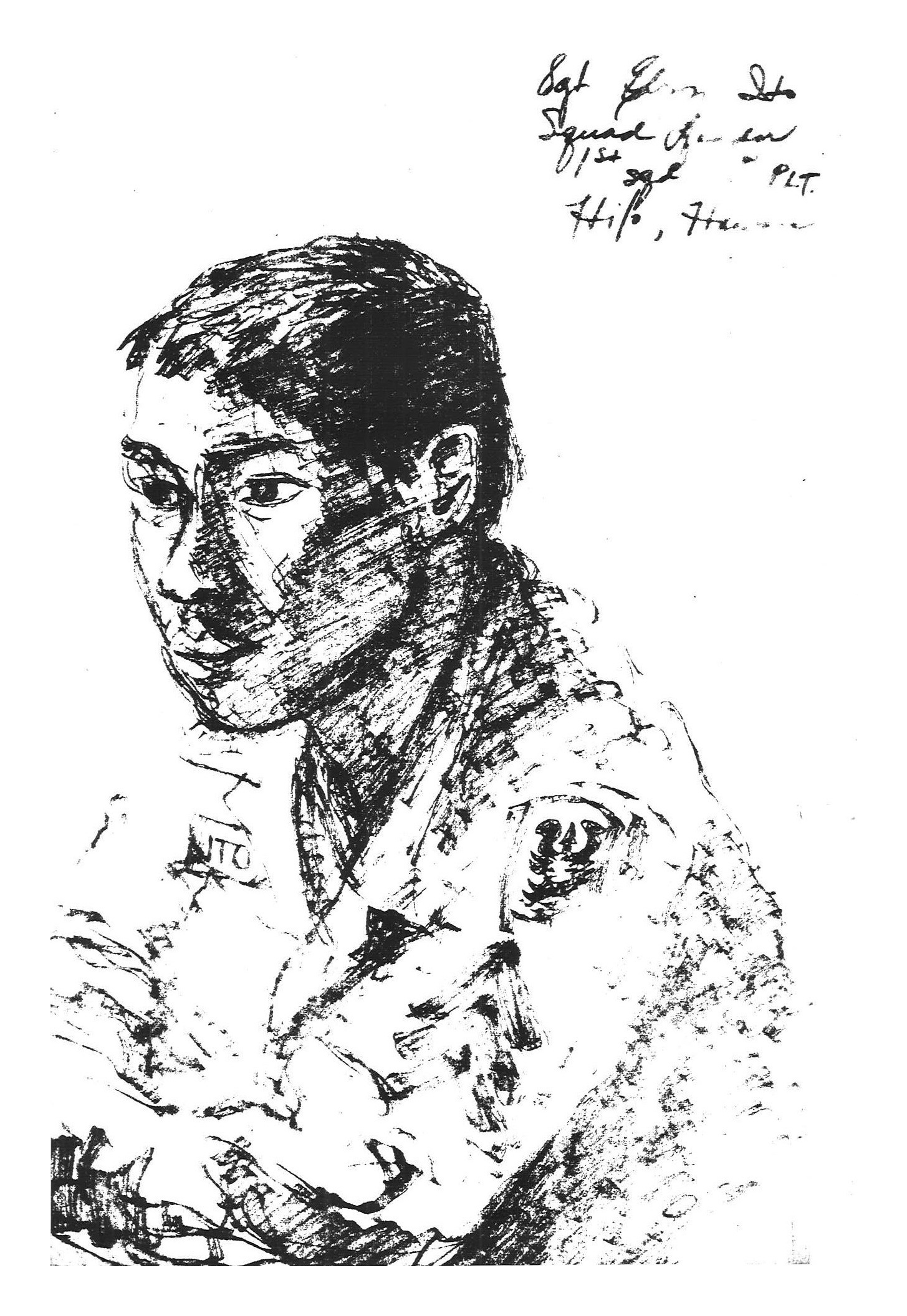 SGT Elroy Ito, 1st Squad, Co. C 2/3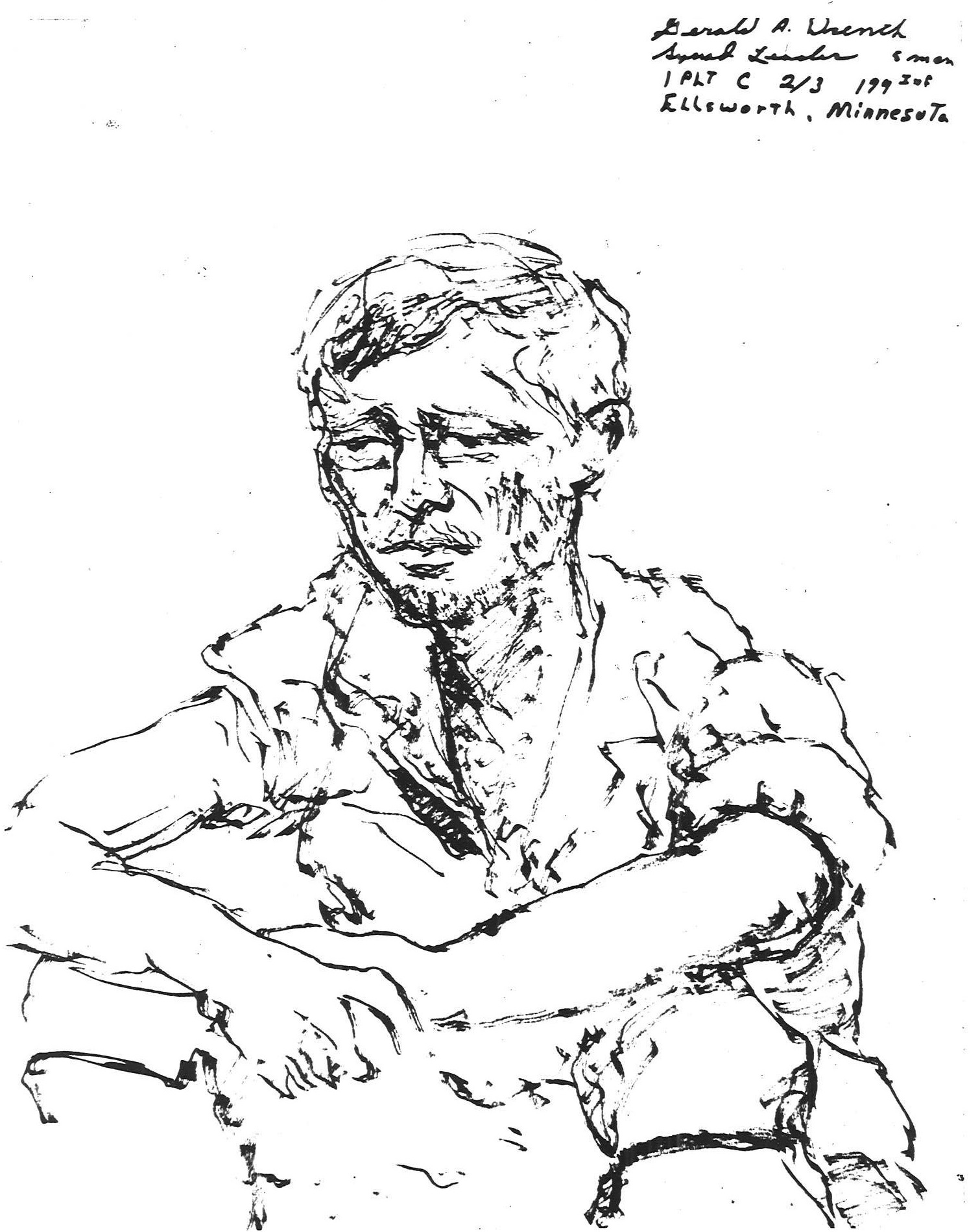 Gerald A. Wrench, Squad Leader, 1st Platoon, Co. C 2/3